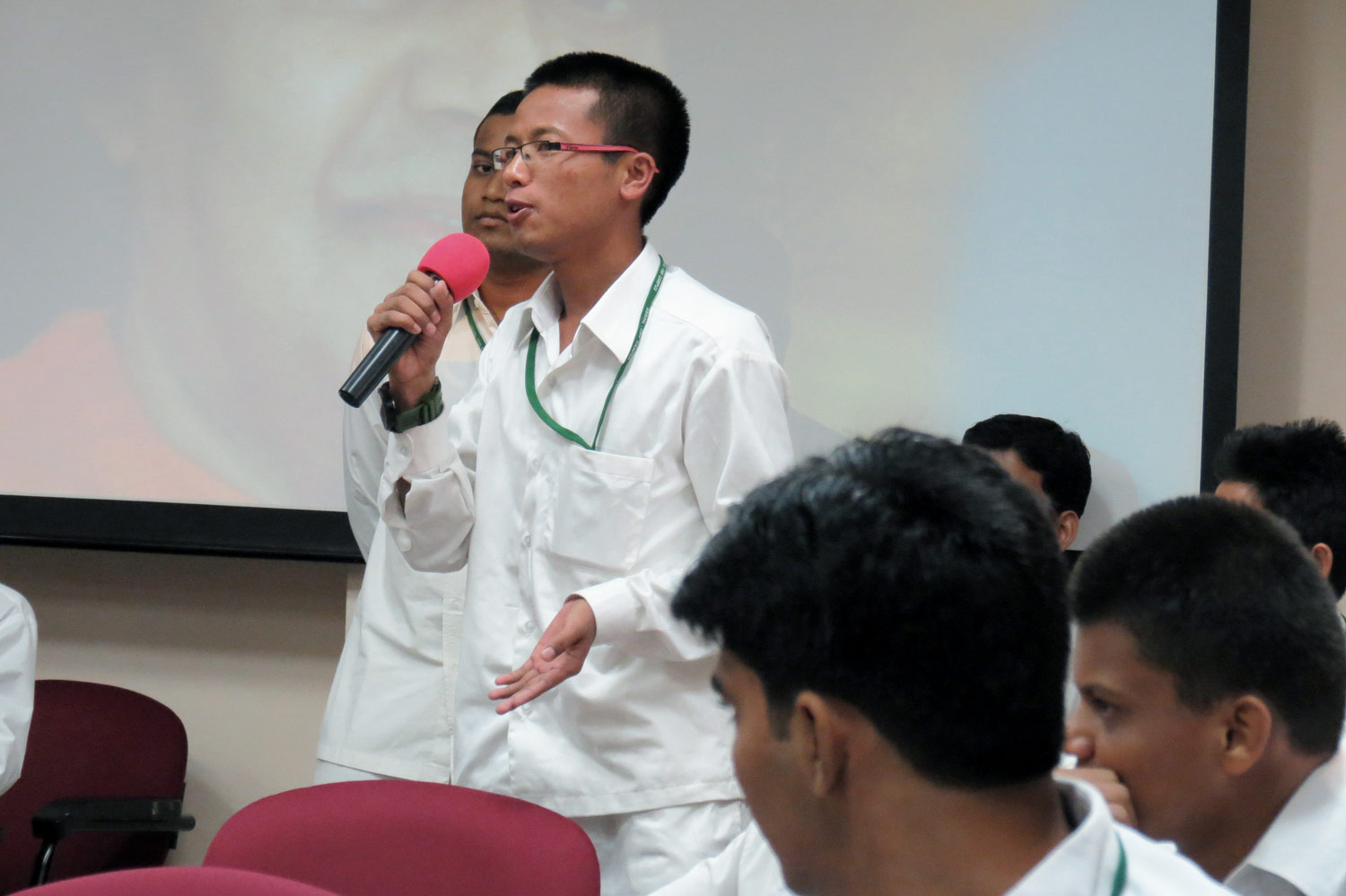 The Department of Economics aims to equip students with suitable quantitative and analytical skills to enable them to successfully handle the complex economic challenges of the modern global world. Specially designed courses have been developed to sensitize students to the ethical and human dimensions of Economics.
The fine element of this design is to strike a balance between a rigorous training that has been made essential to acquire adequate skills in the use of computer software and large scale databases to arrive at scientifically correct solutions and promoting deep understanding of theories, providing a wide-view of Economics as a Social Science.
The core courses offered are intended to provide a well-balanced training in Economic Theory, contemporary applied economic problems, including Finance, Public Economics, and Quantitative Methodology so as to build the essential tools for economic analysis of problems arising in a variety of contexts. Electives or optional courses permit students to acquire a more advanced training in the branches of their choice. In a majority of the courses, the Indian Economy is kept in clear focus.
From June 2019 onwards, two streams of specialisations are being offered, namely Applied Economics or Financial Economics. The elective courses from the Economics stream deal with application of Economic Theory and Econometrics to address practical issues in a range of fields like demography, labour, industry, agriculture, development, education and health economics. The elective courses from Financial Economics deal with the allocation and deployment of economic resources, both spatially and across time, in an uncertain environment. In both streams, the electives enable the students to acquire more advanced training in branches of their choice.
Vision
To produce socially responsible students with sound knowledge in economic theory and its applications in order to equip them to serve positions of responsibility in government, international bodies, the corporate sector, universities and research institutions.
Programmes Offered
Undergraduate
B.A. (Hons.) in Economics
B.Sc. (Hons.) in Economics
Postgraduate
M.A. in Economics
Research
Ph.D.
For full details on all individual SSSIHL programmes for admissions, click here.
Facilities
The Department of Economics is equipped with the facilities such as:
Department Library
Internet Connectivity, Laptop and LCD Projector in every classroom
Multimedia Learning Centre with Video Conferencing and Whiteboard facilities
Online access to International Journals and books such as EBSCO, UGC JCC, Inflibnet, Springerlink, Taylor and Francis, Elsevier and many more
Faculty
Achievements & Participation 2019/20
Dr. G Raghavender Raju
Peer Reviewer for the Journal, Journal of Economic Policy and Research.
Dr. Gopakumar K U
Faculty advisor for RBI Policy Challenge (a National-level competition). Winners at the State level and South Zone level.
Students
Achievements 2019/20
Projects & Dissertations
Listed below are the postgraduate and professional programme projects and dissertations for the academic year 2018/19:
SSSIHL Projects & Dissertations – 2019/20 – M.A. in Economics
National Examinations
A high percentage of SSSIHL postgraduate students qualified in national exams such as the GATE/JEST or the CSIR-UGC NET in 2019/20. The list below includes the national rank for each exam (if available):
UGC-NET (JRF)
Kurup Unninarayanan Sreenivasan (Economics)
UGC-NET (LS)
Rohit Kumar Rajak (Economics)
Nimesh Subba (Economics)
Research Areas
To access the Research Areas for the department, click here.
Research Publications
Publications 2019/20
Sparsh Thakur, Raghavender Raju G, Accumulation, Adequacy and Utilisation of India's Foreign Exchange Reserves, Journal of Economic Policy and Research, 14(1), 2-17, (2019). Link to Publication
Sivakiran Guptha, R Prabhakar Rao, Analysis of Stock Market Efficiency in Emerging Markets: Evidence from BRICS, The Romanian Economic Journal, 22(72), 60-77, (2019). DOI: https://doi.org/10.13140/RG.2.2.27543.83365
M Mallikarjuna, R Prabhakara Rao, Application of Data Mining Techniques to Classify World Stock Markets, International Journal of Emerging Trends in Engineering Research, 8(1), 46-53, (2020). DOI: https://doi.org/10.30534/ijeter/2020/09812020
Sayel Basel, K U Gopakumar, R Prabhakara Rao, Broad-based index for measurement of development, Journal of Social and Economic Development, 22, 182-206, (2020). DOI: https://doi.org/10.1007/s40847-020-00093-2
M Mallikarjuna, R Prabhakara Rao, Evaluation of forecasting methods from selected stock market returns, Financial Innovation, 5(40), 1-16, (2019). DOI: https://doi.org/10.1186/s40854-019-0157-x
Sivakiran Guptha K, Prabhakar Rao R, GARCH based VaR estimation: An empirical evidence from BRICS stock markets, Theoretical and Applied Economics, 26(4), 201-218, (2019). DOI: http://dx.doi.org/10.13140/RG.2.2.25286.70727
R Prabhakar Rao, Brajendra C Sutradhar, Multiple Categorical Covariates-Based Multinomial Dynamic Response Model, Sankhya A: The Indian Journal of Statistics, 82(1), 186-219, (2020). DOI: https://doi.org/10.1007/s13171-019-00168-1
Arunsai Rankireddy, M Mallikarjuna, R Prabhakara Rao, Sectoral Analysis of the Indian Stock Market: A Network Algorithm Perspective, International Journal of Business Insights and Transformation, 13(1), 20-32, (2020). Link to Publication
Sivakiran Guptha K, Prabhakar Rao R, Stock Market Volatility and Mean Reversion of BRICS Before and After Global Financial Crisis, Journal of Academic Research In Economics, 11(2), 330-354, (2019). DOI: http://dx.doi.org/10.13140/RG.2.2.15220.37763
Rajbhushan J Nayak, V Pandit, Rajendra N Parmanik, Sustainability of Public Debt: An Analytical Framework, Arthavijnana, 61(3), 239-260, (2019). Link to Publication
Sayel Basel, Gopakumar K U, R Prabhakara Rao, Testing club convergence of economies by using a Broad-Based Development Index, GeoJournal, (2020). DOI: https://doi.org/10.1007/s10708-020-10198-0
M Sri Saikiran, M Mallikarjuna, R Prabhakara Rao, Testing the Weak-form Efficiency of BRICS Stock Markets, Asian Journal of Economics, Finance And Management, 1(3), 115-223, (2019). Link to Publication
M Mallikarjuna, R Prabhakara Rao, Volatility experience of major world stock markets, Theoretical and Applied Economics, 26(4), 35-52, (2019). Link to Publication
Funded Research Projects
A Structural Model of the Current Account of India's Balance of Payment Under the New Economic Policy Regime
Indian Council of Social Science Research (ICSSR) – ₹3 Lakhs (Jul 2019 – Jan 2021)
Principal Investigators: Dr. G Raghavender Raju and Dr. Gopakumar K U
The work will identify and quantify linkages between the domestic and world economic developments on the one hand and the current account of India's BoP on the other, so as to make them more meaningful in terms of policy initiatives. Applied econometric methodology, in keeping with the modern time series analysis, will be utilised to ensure rigorous analysis and valid inferences. Utilising the available econometric techniques an attempt will be, first to analyse the trends, growth rates, composition & direction of India's exports and imports of goods and services so as to be able to identify the determinants of these flows at aggregate and disaggregate levels.
A substantive objective of this study (to be taken up later) is to work out a structural model for current account of India's balance of payments. The estimated models will be subjected to meaningful simulation exercises in order to bring forth the important policy implications. This will be done by exploring the inter dynamics among the current account variables and macroeconomic variables using VAR model and Impulse Response Function By highlighting the dynamics between Current Account Balance (CAB) and Gross Domestic Product (GDP) through Structural Break Analysis and Regime Switching Models. And Finally, by identifying the major issues relating to the Sustainability Current Account Deficit (CAD) for India.
This research work is highly relevant to pursue sustained economic growth, an equitable income distribution and overall stability for the economy and the society. The IMPRESS integration of the domestic economy through the twin channels of trade and capital flows have accelerated in the past two decades for India and other emerging market economies. It also has lot of policy implications and thus effects the economy and society at large. In particular, it will be useful for policy analyses of our economy with regard to the external sector, which is going to be increasingly important in shaping the future prospects of India's growth. This comprehensive structural model will help deal with different policy issues in an integrated manner.
Doctoral Research Scholars
Sri M Mallikarjuna
Financial Economics
Supervisor: Prof. R Prabhakara Rao
Sri Sayel Basel
Developmental Economics
Supervisors: Prof. R Prabhakara Rao & Dr. K U Gopakumar
Sri Suresh Kumar Dahal
Exchange rates, International Economics
Supervisor: Dr. G Raghavender Raju