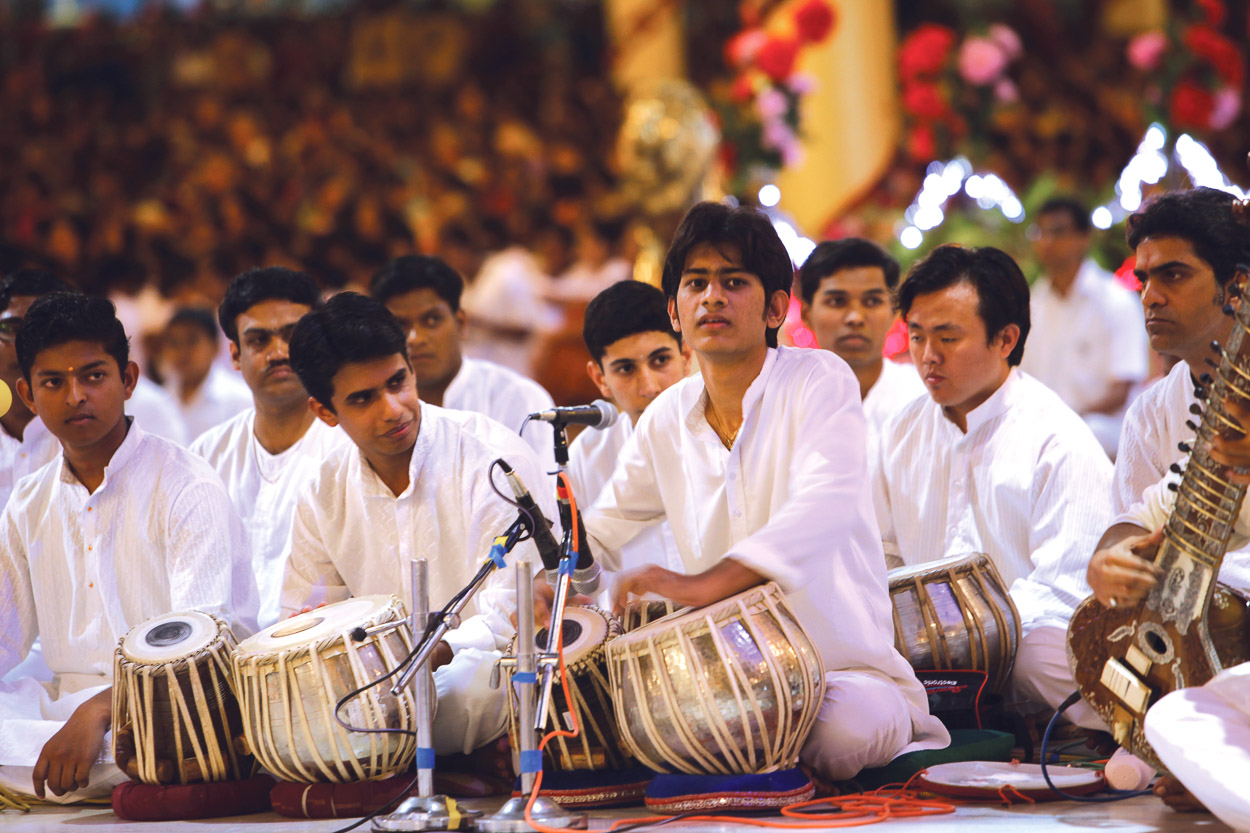 Sathya Sai Mirpuri College of Music commenced in the year 2000, with the blessings of Bhagawan Sri Sathya Sai Baba. Foundation and Diploma courses were offered initially, and in 2017, the college evolved into a Department, with the introduction of the Bachelors of Performing Arts programme.
The Bachelor of Performing Arts (Music) is a comprehensive professional course. This course enables the student to pursue post-graduate studies in the respective disciplines of music. The theoretical and practical aspects of music with major and elective courses, along with language subjects, provide an opportunity to explore the various facets of music for its overall expression.
Programmes Offered
Diploma
Diploma in Music
Undergraduate
Bachelor of Performing Arts (Music)
For full details on all individual SSSIHL programmes for admissions, click here.
Facilities
Computers & Multimedia
Eight computer systems including one for audio-visuals on music
Three computers for audio-visuals, sessional/project work and internet
Four computers for teachers
Projector and a screen for showing visuals on music, where we have an appreciation and learning of music audios and videos
Sony HDR handycam for recording and documenting music programs/demonstrations/speeches by students, faculty and visiting artists
An Audio system with a 12-channel mixer, professional amplifier and JBL active speakers, along with mikes and accessories
DVD player and cassette player
Library
An exhaustive collection of books including all music subjects taught in the curriculum, both for theory and practicals, dictionary of Music and Musicians, music CDs and cassettes with computer system and CD/cassette player. The library also stocks a good collection of books on literature of Bhagawan Sri Sathya Sai Baba.
Faculty
Achievements & Participation 2019/20
Dr. (Ms.) K Kanaka Durga
Awarded a Ph.D. (Music) on Pedagogical Aspects of Manodharma Sangitam in Karnatic Classical Music, Potti Sreeramulu Telugu University, Hyderabad, Aug 2019.
Sri Prafulla Kumar Meher
Qualified candidate at UGC National Eligibility Test (NET) in Music, Dec 2019.
Sri Raghavendra
Awarded 'B-High' grade by Prasar Bharati, All India Radio under the Hindustani Classical Vocal Music category, 11 Sep 2019.
Awarded 'Grade-2' (B-High) by Prasar Bharati, All India Radio under the Music Composership category, Jan 2020.
Delivered a Solo Performance at the prestigious 85th Akhila Bharatha Kannada Sahitya Sammelana, Kalburgi, Karnataka, 5 Feb 2020.
Received the Lalita Chetana Prashasti award for contribution to the field of Music, 25 Sep 2019.
Sri Nishikant Barodekar
Invited Panelist, Member of External Examination, Dr Gangubai Hangal Music & Performing Arts University, Mysuru, Karnataka, Jan 2020.
Sri S Sai Ram
Invited Talk on Aesthetics in Music and Spirituality, Fifth International Conference on Music and Dance (ICMD) 2020, organised by Indiranagar Sangeet Sabha, Bangalore, 3-8 Jan 2020.