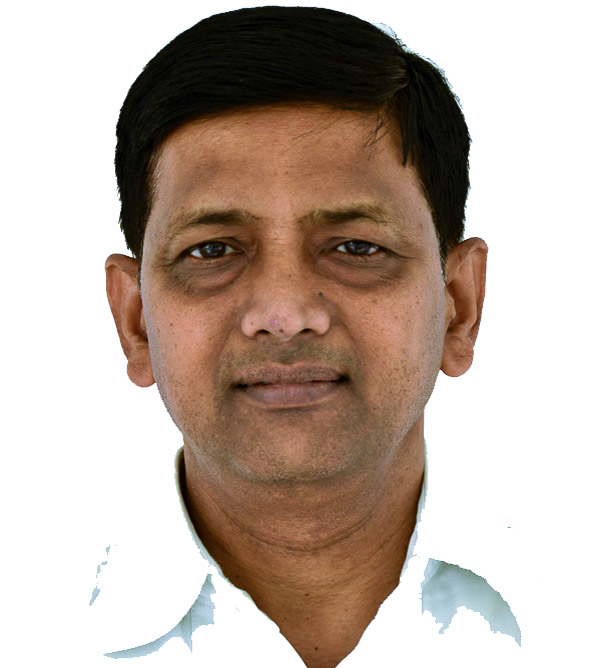 Prof. Siva Sankara Sai currently works in research fields of Nuclear Medicine and Optical Networking. He obtained his Bachelor's degree from Bangalore University in 1981 and Masters in Physics (specialization in Photonics) in 1984. He completed his Ph.D. in the area of Fiber Optics Sensors in the year 1989. He then joined as a faculty member at the Dept. of Physics at SSSIHL, where he has also served as the Head of Department. After his tenures as Dean, Faculty of Sciences, SSSIHL for four years, he is currently the Convener of Central Research Instruments Facility (CRIF), SSSIHL.
He has developed a portable Nuclear Medicine diagnostic imaging device, Small Area Imaging Gamma Camera (SAI-GC) for which he has filed a patent.
Prof. Sai has vast research and administrative experience and mentors a number of students and faculty. His work in the field of Nuclear Medicine is in the domain of Gamma Imaging using CZT semiconductor detector. A portable, Small Area Imaging Gamma Camera (SAI-GC) was designed and developed. SAI-GC was clinically validated in HCG cancer hospital in Bangalore. A patent has also been filed. Six students have received their Ph.D. degrees under his supervision.
He has successfully completed more than ten funded research projects (values over Rs. 5 crores) from Government agencies like DST, UGC, NRB and DRDO.
Photonics, Fiber Optic Sensors, Computer Networks, Optical Networks
Medical instrumentation, Nuclear Medicine, Fiber Optic Sensors (specifically in the fields of Intensity and Interferometric fiber sensors), Optical Image Processing using Fourier analysis, Optical Image processing (to develop gadget for early detection of micro-calcifications in screen film mammograms and in Hybrid digital image processing), Fourier Optical image processing technique, Development of a Multimodal Optical Microscope, Optical Networking, Internet of Things (IoT), Nuclear Medicine (Gamma Imaging using CZT semiconductor detector).
Current Postdoctoral Supervision
Dr. Sadhu Sai Pavan Prashanth
Dr. (Mrs.) Bharathi P
Current Research Projects
Design and Development of Gamma-Florescence Dual Imaging Sentinel Lymph Node Navigation Surgery Intraoperative Probe
DAE-BRNS – ₹94 Lakhs (2018-2021)