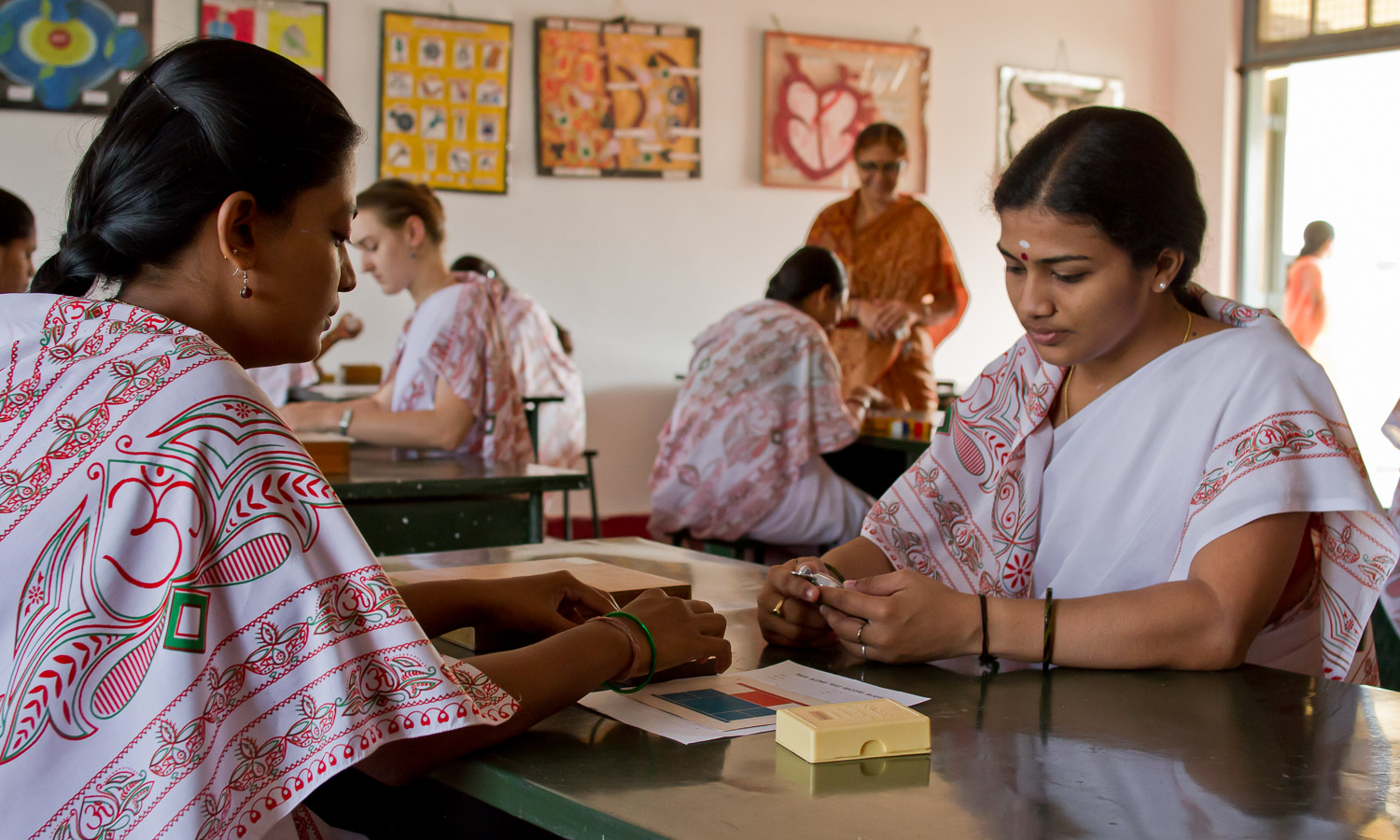 Professional Programme
For Women
The B.Ed. programme prepares teachers for Upper Primary or Middle Level (Class VI- VIII), Secondary Level (Class IX-X) and Senior Secondary Level (Class XI-XII). Since the programme is two years, it allows the time for student-teachers to become reflective practitioners. The course structure offers comprehensive coverage of themes and rigorous field engagement with the child, school and community. It also includes special courses for enhancing the professional capacities of the student-teachers. The unique aspect of this programme is that it stresses the importance of imparting values-based education to students, resulting in their wholesome and balanced development.
10+2 years of schooling and 3 years of university (total 15 years) as recognized by SSSIHL
Either passed or appeared for Final exams at the Bachelor's degree level before the date of Admissions Test
Bachelor's degree (BA/BA (Hons.)/B.Sc./B.Sc. (Hons.)/B.Com. (Hons.)/BBA/BE/B.Tech.): 50% or more (English) and 60% or more (Aggregate incl. English); or 5 or more in English and CGPA aggregate of 6 or more (10-point scale).

If not appeared for Bachelor's degree final exams, aggregate marks in all the preceding Years/Semesters put together marks will be considered)

Age: preferably below 28 years on 31 May in the year of admission
Note: All applicants of the B.Ed. programme must choose one of the four pedagogy subjects (Mathematics, Physical Sciences, Biological Sciences or Social Studies) for the entrance test and indicate the same on the application form.
YEAR 1
Semester 1
Childhood and Growing Up, Basics in Education, Technology of Teaching and Learning, Pedagogy of Teaching – Group I: Pedagogy of English or Pedagogy of Physical Science, Pedagogy of Teaching – Group II: Pedagogy of Mathematics or Pedagogy of Biological Science or Pedagogy of Social Science, Critical Understanding of ICT, Psychological Testing, Internship Phase I (3 weeks)
Semester 2
Learning and Teaching, Contemporary India and Education, Assessment for Learning, Pedagogy of Teaching – Group I: Pedagogy of English or Pedagogy of Physical Science, Pedagogy of Teaching – Group II: Pedagogy of Mathematics or Pedagogy of Biological Science or Pedagogy of Social Science, Language Across Curriculum, Internship Phase II (8 weeks)
YEAR 2
Semester 3
School Organization, Supervision and Administration, Knowledge and Curriculum, Reading and Reflecting on Text, Internship Phase III (4 weeks)
Semester 4
Education In Human Values: Peace Education, Creating an Inclusive School, Yoga Education, Gender, School and Society, Optional Course: Guidance and Counseling or Environmental Education or Health and Physical Education, Community Work, Drama and Art in Education, Internship Phase IV (5 weeks) – Final Practice Teaching: Practical in Two Pedagogies