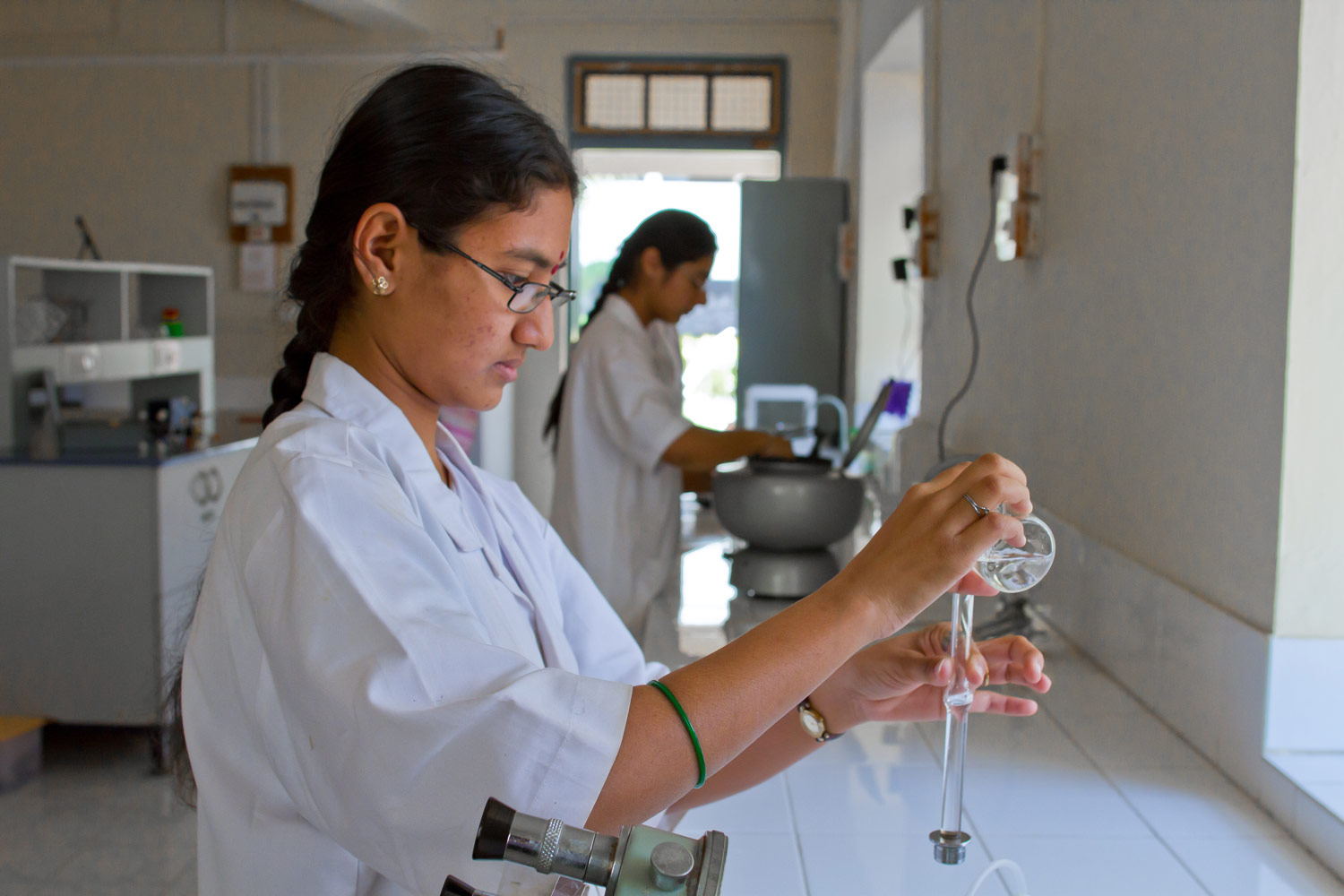 Undergraduate Programme
For Women and Men
This programme leads to the integrated postgraduate programmes in (subject to meeting the eligibility criteria): M.Sc. in Biosciences (Women and Men) / M.Sc. in Chemistry (Men only)
In the first two years of study, both subjects (Biosciences and Chemistry) are taught
In the third year, the subject of specialization will determine the final degree awarded: B.Sc. (Hons.) in Biosciences or B.Sc. (Hons.) in Chemistry.
Honours in Biosciences (Year 3): Much emphasis is laid on getting students abreast with the newly emerging areas of Biological Sciences. Practical courses—including hands-on training in laboratory techniques—enhance students' understanding of the basic and applied theoretical concepts. These include morphological and anatomical aspects gained earlier along with structure-function relationships that exist among organisms and applications developed in the field of Biological Sciences for improving the quality of Man's life.
Honours in Chemistry (Year 3): The three year B.Sc. (Hons.) programme in Chemistry aims to provide the basic concepts and principles underlying the major branches of Chemistry. The programme offers a basket of fundamental and applied theory courses complemented with hands-on laboratory sessions. The student is trained to design and perform experiments, both wet-lab and simulation based, in different branches of chemistry. Electives are also offered to expose the students to emerging fields of chemistry. The curriculum provides for training in research methods with a research project in the final year. The graduating student would have a basic and advanced understanding of every aspect of the subject and will be equipped to pursue higher studies and undertake research in any specialised branch of Chemistry.
10+2 years of schooling from a recognized board (CBSE or equivalent)
Either passed or appeared for Final exams at XII level before Admissions Test. If not appeared for XII Standard exams, X and XI Standard marks will be considered.
Age: preferably below 19 years on 31 May in the year of admission
For details, please click on the below links.