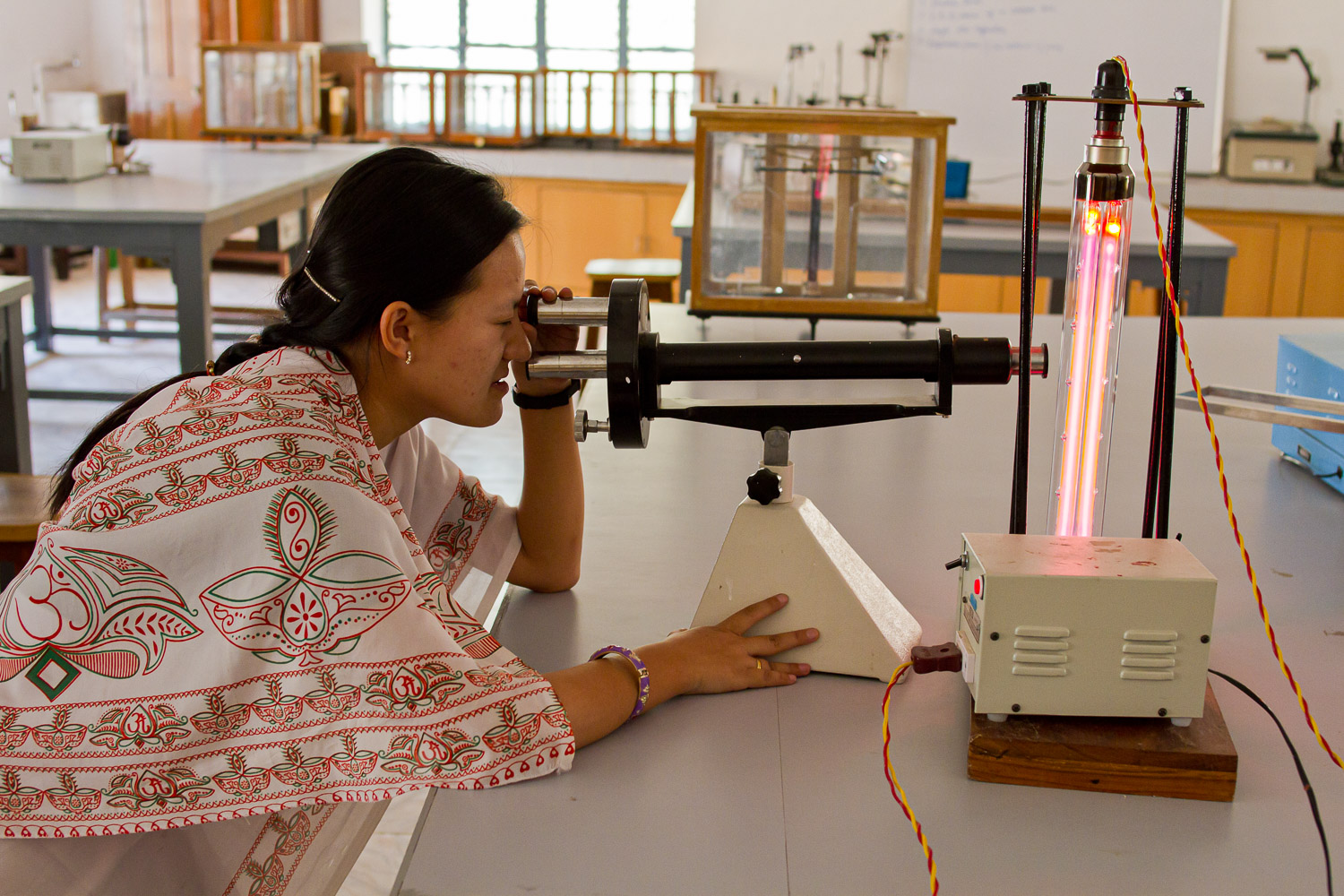 Undergraduate Programme
For Women and Men
This programme leads to the integrated postgraduate programme in (subject to meeting the eligibility criteria): M.Sc. in Mathematics (Women and Men) / M.Sc. in Physics (Men only) / M.Sc. in Chemistry (Men only)
In the first two years of study, all three subjects (Mathematics, Physics and Chemistry) are taught
In the third year, the subject (students will take courses in only that subject) of specialization will determine the final degree awarded: B.Sc. (Hons.) in Mathematics, B.Sc. (Hons.) in Physics, or B.Sc. (Hons.) in Chemistry
Honours in Mathematics (Year 3): Students strengthen their basics of Mathematics as they pursue advanced courses such as Abstract Algebra, Linear Algebra, sophistications of Complex analysis, Topology, Numerical Methods etc. and software laboratory courses such as Introduction to C Programming and Data Structure and File handling using C during the last two semesters. Those who wish to pursue Computer Science may choose elective courses from a list of well structured elective courses. Moreover, students with eligible CGPA at the Honours level with creditable performance will get admitted to the M.Sc. in Mathematics programme. Besides getting very good training in Mathematics, this programme provides opportunities to Mathematics graduates for specialization in Computer Science or Actuarial Science.
Honours in Physics (Year 3): The programme has been designed to provide a strong foundation in fundamental physics concepts that form the very basis of advanced scientific inventions. The curriculum presents a blend of science and technology, with the physics courses complimented by adequately equipped laboratory experiments and supplemented by lessons in advanced electronics and microprocessors. The program aims at inspiring students to further pursue science at the Masters level and beyond.
Honours in Chemistry (Year 3): The emphasis is on teaching the fundamental principles of Chemistry that cover topics under each of the major branches of Chemistry such as Inorganic, Organic and Physical, and giving training in appropriate experimental methods. Electives (including interdepartmental) are being introduced for Chemistry Honours students that enable the incorporation of emerging fields into the syllabus as and when the need arises. The graduating student will be exposed to almost every aspect of the subject – Theoretical, Applied, Instrumental, Computational and Experimental.
10+2 years of schooling from a recognized board (CBSE or equivalent)
Either passed or appeared for Final exams at XII level before Admissions Test
XII Standard: 55% or more (English) and 60% or more (Aggregate including English). If not appeared for XII Standard exams, X and XI Standard marks will be considered
Age: preferably below 19 years on 31 May in the year of admission
YEAR 1
Semester 1
Mathematics: Multivariable Calculus, Foundations of Mathematics
Physics: Electronics I: Analog and Digital, Electronics Laboratory I (Practical)
Chemistry: Principles of Structure and Bonding, Laboratory Course in General Chemistry (Practical)
Semester 2
Mathematics: Probability, Methods of Ordinary Differential Equations
Physics: Optics, Optics Laboratory (Practical)
Chemistry: Chemical Thermodynamics, Laboratory Course in Titrimetry and Thermodynamics (Practical)
YEAR 2
Semester 3
Mathematics: Introduction to Real Analysis, Introduction to Linear Algebra
Physics: Classical Mechanics, Mechanics Laboratory (Practical)
Chemistry: Chemical Kinetics and Equilibria, Laboratory Course in Chemical Kinetics and Equilibria (Practical)
Semester 4
Mathematics: Real Analysis, Algebraic Structures I
Physics: Electromagnetism, Electromagnetism Laboratory (Practical)
Chemistry: Chemistry of Organic Functional Groups, Laboratory Course in Methods and Synthesis in Organic Chemistry (Practical)
YEAR 3
Semester 5
Mathematics: Complex Analysis, Topics in Linear Algebra, Topology, Elective I, Elective II, Software Lab I – Introduction to C Programming (Practical)
or
Physics: Mathematical Physics I and Mathematical Physics II, Quantum Mechanics, Electronics II: Operational Amplifiers, Computational Techniques in Physics, General Physics Laboratory I (Practical), Electronics Laboratory II (Practical), Software Laboratory I (Practical)
or
Chemistry: Chemistry of Elements, Applications of Thermodynamics and Surface Chemistry, Dynamic Aspects of Organic Chemistry, Chemistry of Biological Molecules, Quantum Chemistry, Environmental and Green Chemistry, Laboratory Course in Inorganic and Physical Chemistry (Practical), Laboratory Course in Organic Chemistry and Biochemistry (Practical), Project / Laboratory Course in Computer Applications I (Practical)
Semester 6
Mathematics: Algebraic Structures II, Numerical Methods, Methods of Differential Equations, Elective III, Elective IV, Software Lab II – Data Structure and File Handling using C (Practical)
or
Physics: Solid State Physics, Nuclear Physics, Thermal and Statistical Physics, Elements of Atomic and Molecular Spectroscopy and Lasers, Microprocessors, General Physics Laboratory II (Practical), Microprocessors Laboratory (Practical), Software Laboratory II (Practical)
or
Chemistry: Advanced Inorganic Chemistry, Analytical Chemistry, Synthetic Organic Chemistry, Applications of Spectroscopy, Theoretical Aspects of Spectroscopy, Materials of Industrial Importance,
Laboratory Course in Inorganic and Analytical Chemistry (Practical), Laboratory Course in Synthetic Organic Chemistry and Spectroscopic Techniques (Practical), Project / Laboratory Course in Computer Applications II (Practical)
ELECTIVES
Mathematics
Geometry, Combinatorics, Elementary Number Theory, Graph Theory, Continuum Mechanics, Operations Research, Linear Programming, Introduction to Coding Theory, Discrete Mathematics
Computer Science
Introduction to Computer Science, Fundamentals of Computer Systems, Data Structures and Algorithms, Mathematical Logic for Computer Science, Design of Algorithms