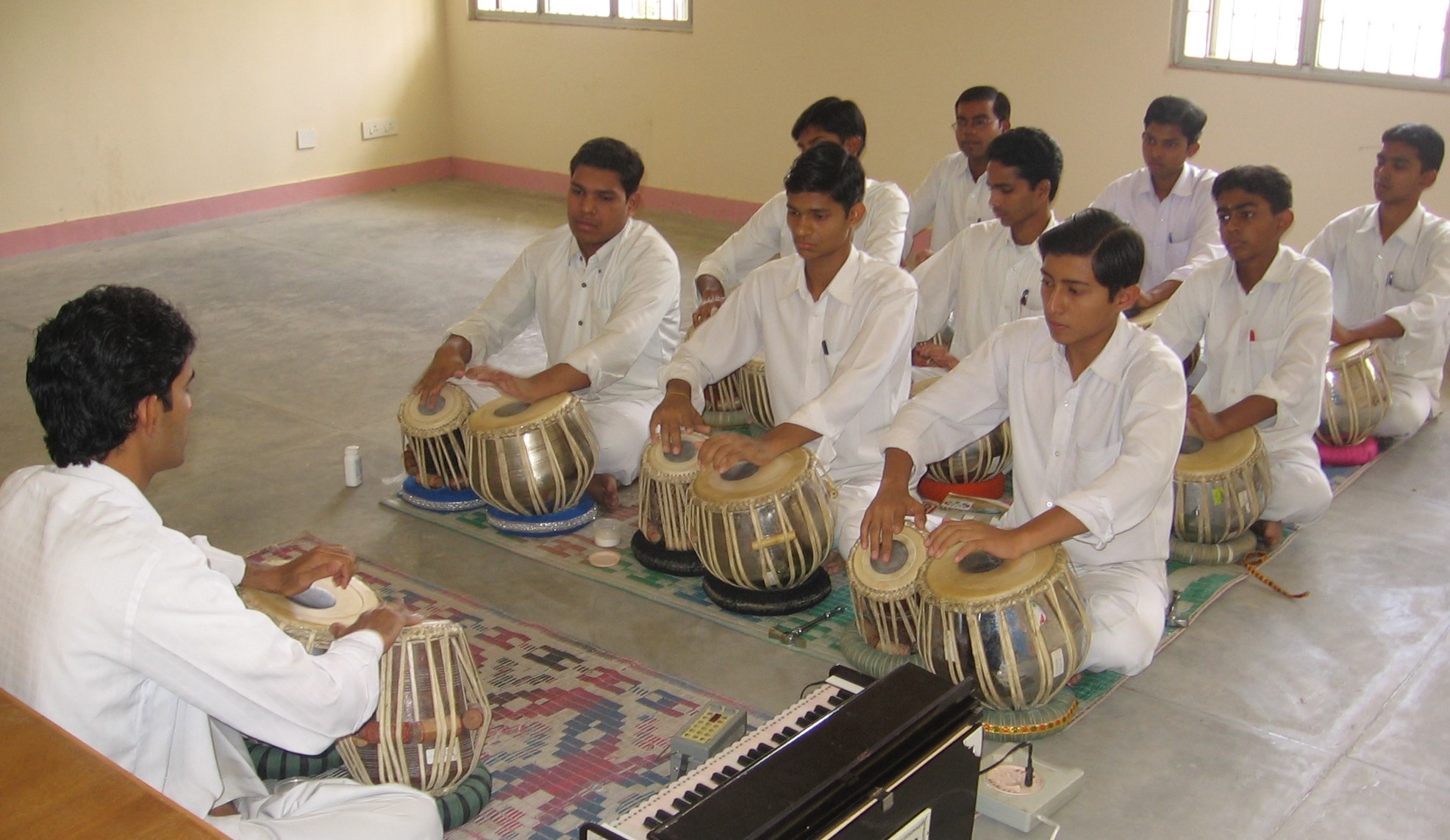 Undergraduate Programme
For Men
The Department of Music at the Prasanthi Nilayam Campus for Men offers full-time residential programmes in music in Carnatic (South Indian) system as well as Hindustani (North Indian) system in Vocal and Instrumental streams. The department offers four major disciplines.
Facilities: The Department of Music has facilities not just for imparting education in Music but is also equipped with computerized audio recording facility, a well-equipped library with a good number of books relating to Music as well as Sai spiritual literature. A huge digital music collection of great maestros with a latest multipurpose music system are available in the library for the benefit of the students. Musical instruments required for the purpose of classroom teaching and for practice sessions are provided.
Visiting Artistes: Artistes from various corners visit Prasanthi Nilayam as pilgrims. They are invited to visit the Sri Sathya Sai Institute of Higher Learning, from time to time and give lecture demonstrations. Great maestros like Sri Umayalpuram Sivaraman (Mridangam Vidwan), Sri Komanduri Sheshadri (Violin Vidwan), Sri Hariharan (Ghazal Singer), Sri Naiveli Santana Gopalan (Carnatic Vocal Vidwan), Suresh Wadkar (North Indian Classical Singer), Smt Anuradha Krishnamurthy (Carnatic Vocal Vidwan), Padmashri Palanivel (Thavil Vidwan) and Prof. Yella Venkateswara Rao (Mridangam Vidwan) are some of the artists whose expertise richly benefits students, particularly during interactive sessions. 
10+2 years of schooling (with music as one of the subjects) from a recognized board (CBSE or equivalent) or
10+2 years of schooling with a Diploma in Music from a recognized board (CBSE or equivalent) or
10+2 years of schooling from a recognized board (CBSE or equivalent) with a minimum of two years of training from a reputed Guru*
Either passed or appeared for Final exams at XII level before Admissions Test. If not appeared for XII Standard exams, X and XI Standard marks will be considered
Age: preferably below 19 years on 31 May in the year of admission. Age may be relaxed to 21 years

depending on the merit of the case
* Candidates who have not studied Music as one of the subjects in the X/XII qualifying examination must have studied Music for not less than two years in a recognized Institution OR got training in Music for not less than two years from a well-known teacher/guru. Such candidates shall be required to submit a certificate issued by the teacher/ institution