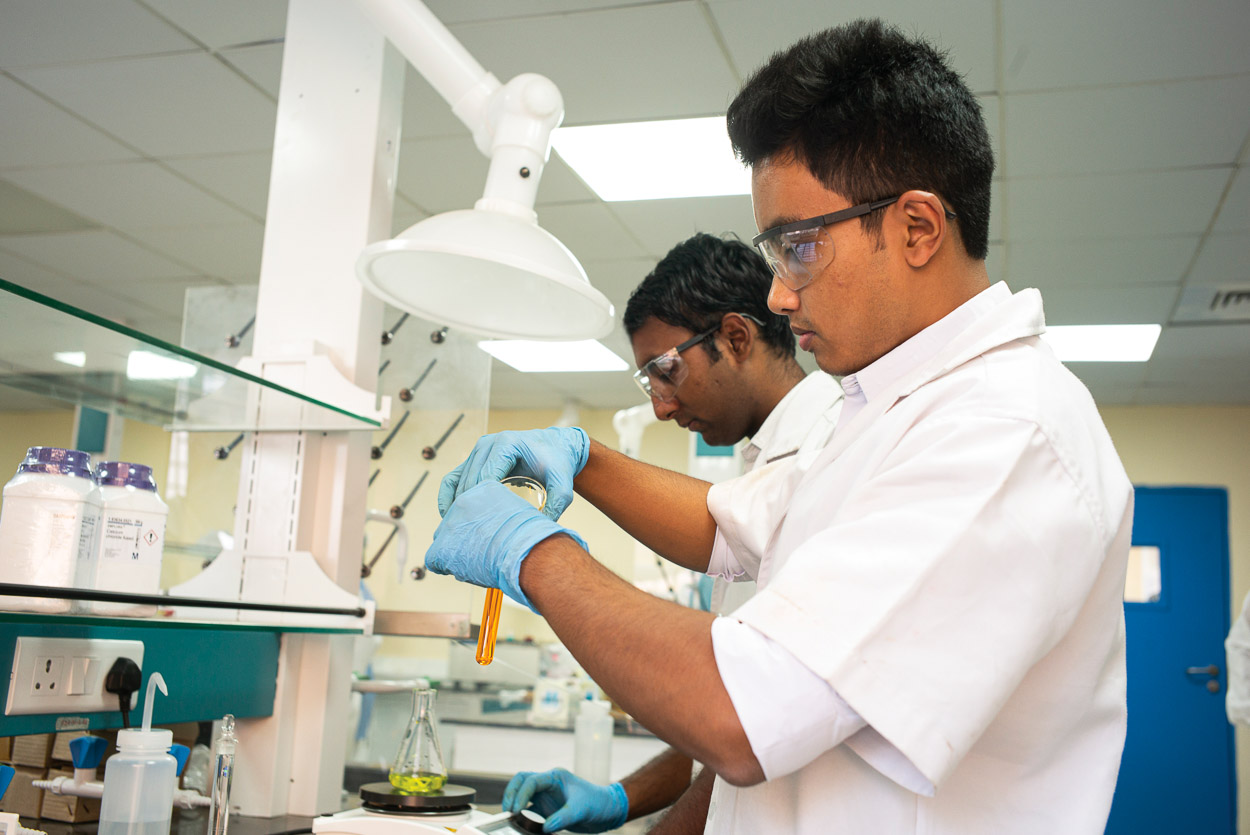 Vision, Mission & Values
Vision
To positively enrich, explore and excel in new chemical frontiers through socially relevant research, innovation, and collaboration
Mission
In-depth Understanding and Training
Teach basic concepts and educate to retain knowledge
Synergy in theory and experiment
Training in appropriate computational and experimental methods
Inspiring Design and Innovation
Inspire a learning program that aids an inventive culture
Design and model molecules that mimic biological processes
Educate about how chemistry is the essence of all living systems and physical processes
Create and Collaborate
Create materials for energy storage, drug delivery, molecular imaging and water purification
Remove the barriers of traditional major branches of Chemistry and explore collaboration within and outside of SSSIHL
Mould students into able and noble scientists of the future
Values
Applications of research, relevant towards society
Mentoring students that education is for life and not for living
Value orientation by blending human values in the subjects taught in innovative ways, is a constant endeavour
To achieve these aims, the Dept. of Chemistry of SSSIHL pledges to grow and strive with cutting-edge facilities, sincere and committed faculty, and world-class researchers along with a vibrant student body that will make transformative science possible.
Programmes Offered
Undergraduate
B.Sc. (Hons.) in Chemistry
Postgraduate
M.Sc. in Chemistry
Research
Ph.D.
For full details on all individual SSSIHL programmes for admissions, click here.
Facilities
The Chemistry Department has modern and well equipped laboratories across all campuses. Some of the laboratories which are part of Dept. of Chemistry include Organic Chemistry Lab, Inorganic Chemistry Lab, Physical Chemistry Lab, Analytical Chemistry Lab, Natural Products Lab, Water Analysis Lab, Computational Lab and Bioprocessing Lab along with sample preparation rooms and store rooms. Apart from these, the department also has a departmental library with numerous books and back volumes of several journals available to all the students and faculty.
The laboratories hosted by the department are:
Organic Chemistry Lab: The lab possess the equipment and glassware useful for carrying organic chemistry practicals at Bachelor's and Master's level and for carrying organic synthesis and preparations at semi-micro level and their characterization which include UV-Vis, IR, NMR, MS etc.
Inorganic Chemistry Lab: Equipped with equipment and glassware needed for conducting Under-Graduate and Post Graduate inorganic and coordination chemistry practicals with apparatus and equipment needed for preparing various inorganic and coordination complexes and their characterization which include UV-Vis, IR, Raman, NMR etc.
Physical Chemistry Lab: The lab is equipped with facilities such as Spectrophotometer, Spectrofluorometer, Atomic Absorption Spectrophotometer, Flame Photometer, Digital Polarimeter, Conductivity Meters, Glass Electrodes, Ion-Selective Electrodes and many more, necessary for carrying out practicals at Under-Graduate (Hons) and Post-Graduate level in areas of Spectroscopy, Thermodynamics, Electrochemistry and Chemical Kinetics.
Analytical Chemistry Lab: Equipped with instruments necessary for qualitative and quantitative analysis of various types of samples. Some of the equipment used for analysis include HPLC, Electrochemical Work Station, Conductivity meter, Ion Chromatography setup etc.
Natural Products Lab: Equipped with facilities required for isolation, separation and purification of natural products. These include Rotary Evaporators, Chromatographic Columns and Preparative TLC along with various detection techniques.
Water Analysis Lab: Equipped with instruments necessary for water analysis such as Digital pH Meters, Turbidity Meters, Fluoride-Ion Sensing Electrodes, Millipore Water Purifier, Flame Photometer and Atomic Absorption Spectrophotometer.
Computational Lab: Equipped with high speed computing systems with Licensed /Open Source software some of which include Gaussian, Gaussview, Gromacs, Auto Dock, Pymol etc used for conducting computational practicals at Masters and Undergraduate (Hons) level.
Bioprocessing Lab: Equipped with Bacterial/Fungal Culture growth apparatus which include Laminar Flows, Autoclaves, Shaker Incubators, Microscope with imaging system, Refrigerators etc.
Instrumentation Lab: The important departmental facilities which are housed in Instrumentation Lab are:
High Performance Liquid Chromatography (HPLC, Bio-Rad)
Atomic absorption Spectrophotometer (Varian)
Luminescence Spectrophotometer (Perkin Elmer)
Electrochemical Workstation (Ivium Technologies)
Ion Chromatography Setup (Metrohm)
Flash Chromatography Setup (Teledyne ISCO)
Bio-Reactor (Scigenics)
Ultracentrifuge (Beckman)
Digital Polarimeter (JASCO)
ATR-IR Spectrometer (Perkin-Elmer) and
UV-VIS Spectrophotometer (Shimadzu & Hitachi) with low temperature option
In addition to this, the department has central facilities available at the Central Research Instruments Facility. Kindly see the links below for further details:
Transmission Electron Microscope (JEOL HRTEM JEM-2100 Plus)
Scanning Electron Microscope (JSM-IT300 InTouchScope™)
Nuclear Magnetic Resonance (NMR) Spectrometer (Bruker Ascend 400 MHz)
Gas Chromatography Mass Spectrometer (GC/MS) – QP2010 SE
X-Ray Diffractometer (PANalytical Multifunctional X'PERT3 XRD)
Thermal Gravimetric Analyzer (TGA/DSC-1, Mettler Toledo)
DSC 200 F3 Maia Thermal Analyzer (Netzsch)
Q600 SDT Simultaneous DSC-TGA (TA instruments)
Agilent Cary Eclipse Fluorescence Spectrophotometer
Cary 630 FTIR/ATR dual core Spectrometer (Agilent)
Cary 60 UV-Vis Spectrophotometer (Agilent)
Muffle furnace (Delta power controls) and Tubular Furnace
Thermo Scientific BB 150 CO2 Incubator
Nitrogen generators: Noblegen (Khione- LN20)
Thermofischer DSR Raman microscope
Faculty
Achievements & Participation 2019/20
Dr. V N Ravi Kishore Vutukuri
Selected as Honorary Member of the Editorial Board of the International Journal of Biosciences and Technology (IJBST) Journal Group, a Non-profit Peer Reviewed Open Access Journal Group, Nov 2019,
Invited to Resource Generation Camp (RGC) for India's Chemistry Olympiad Program at Homi Bhabha Centre for Science Education (HBCSE), a National Centre of the Tata Institute of Fundamental Research (TIFR), Mumbai, 22-25 Sep 2019.
Dr. (Mrs.) G Pavana Kumari
Invited talk on Stereo Chemistry and Asymmetric Synthesis and Positive Thinking for Students, National Seminar on Emerging Trends in Chemical and Environmental Sciences, Govt. College, Anantapur, 6-7 Feb 2020.
Dr. (Mrs.) V Prathyusha
Attended a virtual Faculty Development Programme on Managing Online Classes and co-creating Massive Open Online Courses (MOOCs) 2.0, Teaching Learning College, Ramanujan College (University of Delhi), 18 May – 1 Jun 2020.
Doctoral Research Scholars
Achievements & Participation 2019/20
Sri Seemesh Bhaskar
Attended a workshop on Spectroscopic Ellipsometry, Jawaharlal Nehru Centre for Advance Scientific Research (JNCASR), Bangalore, 4 Nov 2019.
Miss Sai Kiran M
Attended DAE-BRNS 5th National workshop on Materials Chemistry (NWMC-2019) (and recipient of the best answer in the quiz), Manipal University, Jaipur, Rajasthan, 8-9 Nov 2019.
Attended a workshop on Characterization Techniques, Jawaharlal Nehru Technological University, Anantapur, Andhra Pradesh, 7 Dec 2019.
Recipient of DST Innovation in Scientific Pursuit for Inspired Research (INSPIRE) Fellowship.
Sri Ram Murthy, Sri Sai Prasad Nayak
Attended a virtual Conference on Materials for Energy Harvesting and Catalysis, organized by IISER Kolkata and TIFR Mumbai, 1-3 May 2020.
Miss K V Seetarama Mani Chandrika
Attended a workshop in Computer-Aided Drug design and Computational Biology, Schrodinger Inc., Bangalore, 7-9 Aug 2019.
Attended a Technical Education Quality Improvement Programme on Analytical Techniques, Jawaharlal Nehru Technological University, Anantapur, Andhra Pradesh, 7 Dec 2019.
Dr. Chelli Sai Manohar
Conducted a workshop, Recent Trends in Chemistry, St. Xavier's College, Thumba, Kerala, 26-27 Sep 2019.
Miss Amitananda Dash
Completed an Internship, Dr. Reddy's Institute of Life Sciences, Hyderabad, 21 Oct – 8 Nov 2019.
Attended a workshop on Characterization Techniques, Jawaharlal Nehru Technological University, Anantapur, Andhra Pradesh, 7 Dec 2019.
Sri Undavalli Venkata Gopi
Attended a workshop on Materials For Energy Storage Devices, Jawaharlal Nehru Technological University, Anantapur, Andhra Pradesh, 27-28 Dec 2019.
Qualified for the National-level examination, GATE (All India rank 2805) in Chemistry, 2019.
Students
Achievements 2019/20
Projects & Dissertations
Listed below are the postgraduate and professional programme projects and dissertations for the academic year 2018/19:
SSSIHL Projects & Dissertations – 2019/20 – M.Sc. in Chemistry
National Examinations
A high percentage of SSSIHL postgraduate students qualified in national exams such as the GATE/JEST or the CSIR-UGC NET in 2018/19. The list below includes the national rank for each exam (if available):
GATE
Hariharan M (Chemistry) – 529
M S Vijaya Bhaskar (Chemistry) – 947
Sumiran Tamang (Chemistry) – 6892
CSIR UGC-NET for JRF
Hariharan M (Chemistry)
Research Areas
To access the Research Areas for the department, click here.
Research Publications
Publications 2019/20
Seemesh Bhaskar, Pratyusha Das, Venkatesh Srinivasan, Shivakiran Bhaktha B N, Sai Sathish Ramamurthy, Bloch Surface Waves and Internal Optical Modes-Driven Photonic Crystal-Coupled Emission Platform for Femtomolar Detection of Aluminum Ions, The Journal of Physical Chemistry C, 124(13), 7341-7352, (2019). DOI: https://doi.org/10.1021/acs.jpcc.9b11092
Bhaskar Seemesh, Sai Sathish Ramamurthy, Mobile Phone-Based Picomolar Detection of Tannic Acid on Nd2O3 Nanorod–Metal Thin-Film Interfaces, ACS Applied Nano Materials, 2(7), 4613-4625, (2019). DOI: https://doi.org/10.1021/acsanm.9b00987
Suvarcha Chauhan, Anand Kumar Manglam, Santosh Kumari, Pooja Kaundal, Chittor N Sundaresan, Effect of Benzheterazoles on the Micellar Behavior of Sodium Dodecylsulfate in Dimethylsulfoxide: A Conductometric and Spectroscopic Approach, Journal of Surfactant Detergents, 23, 195-206, (2020). DOI: https://doi.org/10.1002/jsde.12358
Seemesh Bhaskar, N Charan S S Kowshik, S Prathap Chandran, Sai Sathish Ramamurthy, Femtomolar Detection of Spermidine Using Au Decorated SiO2 Nanohybrid on Plasmon-Coupled Extended Cavity Nanointerface: A Smartphone-Based Fluorescence Dequenching Approach, ACS Langmuir, 36(11), 2865-2876, (2020). DOI: https://doi.org/10.1021/acs.langmuir.9b03869
Seemesh Bhaskar, Ramay Patra, N Charan, S S Kowshik, K M Ganesh, Venkatesh Srinivasan, Prathap Chandran S, Sai Sathish Ramamurthy, Nanostructure effect on quenching and dequenching of quantum emitters on surface plasmon-coupled interface: A comparative analysis using gold nanospheres and nanostars, Physica E: Low-dimensional Systems and Nanostructures, 124, 114276, (2020). DOI: https://doi.org/10.1016/j.physe.2020.114276
K V S Manichandrika, Sahida Sharma, Promising antifungal agents: a minireview, Journal of Bioorganic and Medicinal Chemistry, 28(7), 115398, (2020). DOI: https://doi.org/10.1016/j.bmc.2020.115398
Seemesh Bhaskar, Maku Moronshing, Venkatesh Srinivasan, Pradeep Kumar Badiya, Chandramouli Subramaniam, Sai Sathish Ramamurthy, Silver Soret Nanoparticles for Femtomolar Sensing of Glutathione in a Surface Plasmon-Coupled Emission Platform, ACS Applied Nano Materials, 3(5), 4329-4341, (2020). DOI: https://doi.org/10.1021/acsanm.0c00470
Kar S, Ramamoorthy G, Mitra K, Shivalingegowda N, Mahesha, Mavileti S K, Krishnappagowda L N, Doble M, Golakoti Nageswara Rao, Synthesis of novel spirobibenzopyrans as potent anticancer leads inducing apoptosis in HeLa cells, Bioorganic & Medicinal Chemistry Letters, 30(12), 127199-127205, (2020). DOI: https://doi.org/10.1016/j.bmcl.2020.127199
Andar A, Hasan M S, Srinivasan V, Al-Adhami M, Gutierrez E, Burgenson D, Ge X, Tolosa L, Kostov Y, Rao G, Wood Microfluidics, Analytical Chemistry, 91(17), 11004-11012, (2019). DOI: https://doi.org/10.1021/acs.analchem.9b01232
Krishna Prasad Gannavarapu, V Ganesh, Rajesh Babu Dandamudi, Zirconia nanocomposites with carbon and iron(III) oxide for voltammetric detection of subnanomolar levels of methyl parathion, Nanoscale Advances, 1, 4947-4954, (2019). DOI: https://doi.org/10.1039/C9NA00589G
Conference Presentations / Proceedings 2019/20
Badiya P K, Bebeto R, Ramamurthy S S, Gold nanoparticles from floral extracts of Tagetus erecta as novel spacer for enhancements in plasmon-coupled fluorescence emission enhancements, National Conference on Current Trends and Advances in Chemical Science (CTACS-19) (19 Sep 2019), Salem, Tamil Nadu.
U Venkata Gopi, Rajesh Babu Dandamudi, S Chandra, Bio diversity of fresh water algae of some ponds of Anantapur District, International Conference on Environmental, Agricultural, Chemical and Biological Sciences-2020 (24-25 Jan 2020) Puducherry, India. Abstracts: https://cead.org.in/pdf/ICEACBS%202020_%20final.pdf
Funded Research Projects
Synthesis of Novel Andrographolide derivatives as potential anticancer and antibacterial agents
CSIR – ₹24 Lakhs (2017-2020)
Principal Investigator: Prof. G Nageswara Rao
Studies have reported that andrographolide and its analogues possess a wide range of biological activities such as anticancer, antidiabetic, anti-inflammatory, etc. Hence, our objective is to isolate of the active compound andrographolide from Andrographis paniculata. Also, synthesizing various compounds from this lead compound to enhance biological activity and synthesis of pharmacologically important semi-synthetic compounds.
Objective: Provide new compounds with good anti-cancer and anti-bacterial activity which are less toxic.
Social Relevance: Cancer and resistant bacterial infections are two of the major health problems in the world today. This work aims at synthesizing compounds to address this problem
Surface Plasmon-Coupled Emission based Benchtop Device for Cardiac Troponin T Quantification
DST-IDP (TDT) – ₹45.68 Lakhs (2017-2020)
Principal Investigator: Dr. R Sai Sathish
Troponin T (cTnT) measurement is important for ruling in or ruling out heart attacks and evaluation of patients with acute coronary syndromes. With the inclusion of high-sensitivity cTnT (hs-cTnT) assays, an early and more frequent diagnosis of AMI has been made possible. However, there is an increased need for individualized care in patients with heart disease, especially in resource limited settings. Ironically, the reliability, sensitivity and rapid diagnostics of current cTnT detection platforms come with the need for sophisticated instrumentation due to the non-specificity of the existent low-cost methods and increasing health care expenditure.
Deliverables: The project envisages the design and development of SPCE based benchtop device for cTnT quantification resulting in near real-time cardiac damage assessment and clinical decision making in rural India and emergency conditions.
Social Relevance: The current capital-intensive technology that's in use towards quantification of cardiac Troponin T, restricts its reach to a large segment of the Indian population. A low-cost affordable technology would help widen the impact and also to render timely treatment during first Aid and emergency conditions.
ANIRVID: A Cellphone based Point-of-Care Diagnostic Device to Evaluate the Effect of Alternative Therapeutic Interventions on Depression and Heart Ailments
Tata Education and Development Trust – ₹97 Lakhs (2017-2020)
Principal Investigator: Dr. R Sai Sathish
Mobile health (m-Health) technology is predominantly significant to India, where cellphone ownership is growing rapidly, but access to health care is inadequate.
Deliverables: The main goal of this project is to develop a rapid, hand-held, m-Health diagnostic device- 'Anirvid' for monitoring of perinatal depression biomarkers, at low-cost than current existing systems. This device will facilitate early diagnosis, prognosis and modification in the management of depression (during pregnancy and in postpartum mothers) and heart ailments.
Social Relevance: A forecast of an increase in depression to 5.7% of the total burden of disease in India by 2020 is indicative of the requirement of an m-Health technology for catering to this major public health concern, especially for rural and emergency health.
Water Treatment of Identified Physico-chemical parameters in the three mandals of Ananthpur district of Andhra Pradesh
4S Foundation – ₹5.03 Lakhs (2018-2020)
Principal Investigator: Prof. Chelli Janardhana
A proper geo-spatial mapping of geo-genic minerals and water quality assessment would tremendously aid in planning and implementation of water catchment for water-shed management in this drought prone area of Anantapur District.
In the 1st phase, Puttaparthi mandal, Bukkapatnam mandal and Kothacheruvu mandal surrounding Puttaparthi town are being analyzed for their drinking and irrigation water quality vis-à-vis the geo-spatial mapping and identification of recharge and discharge zones.
SONEERA: Surface-water quality observation 'N' elimination of effluents using radio-frequency transmitter technology
Prasanthi Trust, USA – ₹31.34 Lakhs (2018-2020)
Principal Investigator: Dr. R Sai Sathish
About 25% of global carbon dioxide (CO2) emissions, the leading greenhouse gas causing climate change, is absorbed by water bodies. This leads to significant imbalance within the environment. Intense pollution has worsened the problem, particularly in rivers and freshwater lakes. In some urban areas, pollution has become so intense that some lakes have even caught on fire.
Deliverables: We will evaluate the ability of novel radio-frequency technology to reduce the concentration of CO2 and other pollutants within freshwater bodies.
Social Relevance: On completion of the project, we intend to deploy the RF transmitter device on autonomous fixed platforms such as buoys, or access points in freshwater lakes in the area.
Hand-held mobile for non-invasive monitoring of Bilirubin in neonates
Indian Council of Medical Research – ₹64.45 Lakhs (2018-2021)
Principal Investigator: Dr. R Sai Sathish
Rapid advances in spectroscopy have enabled the development of technologies with great impact on healthcare; however, there are tremendous opportunities to source new technologies for integrated development. In the proposed research, our deliverable is a non-invasive transcutaneous bilirubinometer for neonates.
Deliverables: Development of a rapid, non-invasive smartphone spectrometer based transcutaneous bilirubinometer for neonates at low-cost & high-sensitivity than current existing systems specifically for use in resource limited settings.
Social Relevance: The proposed device addresses the concerns and gaps in technology in a developing country like India and will replace the capital-intensive imported equipment in healthcare centers and present a novel and unique 'Make in India' product.
Mobile Dengue Diagnostic Technology (m-DDT): A Smartphone-based Point-of-care Diagnostic Device
Defense Research and Development Organisation (DRDO) – ₹40.67 Lakhs (2018-2021)
Principal Investigators: Dr. R Sai Sathish and Dr. S Venketesh
Dengue is a debilitating viral disease caused by dengue virus that is transmitted by mosquitoes. The symptoms of dengue are observable from days 3-14 after onset of infection and turns fatal in the absence of proper medical attention. World Health Organization recently declared dengue as hyper-endemic in India and there is no specific treatment available yet. Proper care can be taken to avoid severe effects with early detection of the infection.
Deliverables: Development of a rapid, low-cost, mobile health, plasmonic platform for dengue diagnosis and prognosis.
Social Relevance: The present study would lead to development of a quick detection tool for dengue, thus facilitating early diagnosis, finding out the disease state and modification in the treatment of the disease.
REsCUE Device: Rapid Estimation of COVID-19 based on Ultrasensitive Emission Detection
SSSIHL-CSR – ₹120 Lakhs (2020-2021)
Principal Investigator: Dr. R Sai Sathish
COVID-19 is a recently emerged highly infectious coronavirus that has never been found in humans before. The World Health Organization has classified the COVID-19 outbreak as public health emergency of international concern. The growing number of suspected cases are exceeding the capacity of many hospitals, leaving many patients untested, challenging the control of the disease.
Our research work aims to deliver a point-of-care, mobile health diagnostic device for ultrasensitive identification of selected COVID-19 virus antigen and relevant antibodies in real time clinical samples using aptamer systems studied on Surface Plasmon-Coupled Emission SPCE platform. This will enable screening of huge populations in India in near real time.
Research Associates
Dr. Sasidhar Siddabattuni
Dr. S Venkatesh
Dr. Pradeep Kumar Badiya
Dr. K M Ganesh
Dr. Rajasekhar Bhimi Reddi
Dr. Naga Sai Visweswar K
Doctoral Research Scholars
Sri Swayamsiddha Kar
Synthesis of novel biological agents
Supervisor: Dr. G Nageswara Rao
Sri Nishant Kumar Kolli
Biomaterials
Supervisor: Dr. Santanu Roy and Dr. Swarup Kundu
Sri Aayush Rai
SPCE sensors
Supervisors: Dr. R Sai Sathish
Sri Bebeto Rai
Plasmonics, Biomedical Research
Supervisor: Dr. R Sai Sathish
Sri Prashant Rai
Synthesis of organic compounds with potent biological activity
Supervisor: Prof. G Nageswara Rao
Sri Nitesh Tamang
Natural products, Semisynthesis
Supervisor: Prof. G Nageswara Rao
Sri Ranendra Pratap Biswal
LCMS based Metabolomics
Supervisor: Dr. V N Ravi Kishore Vutukuri
Miss Sai Kiran M
Water Research – Defluoridation, Dye removal, Heavy metal removal and Oil spill removal
Supervisor: Dr. (Ms.) Rajni Bhandari
Sri Ram Murthy
Synthesis of sulphur based compounds and their derivatives for electrochemical and biological application
Supervisor: Dr. C N Sundaresan
Sri Sai Prasad Nayak
Electro-catalysis
Supervisors: Dr. J Krishna Kiran Kumar and Dr. R Sai Sathish
Sri Seemesh Bhaskar
Plasmonic and photonic substrates for sensing applications
Supervisor: Dr. R Sai Sathish
Sri Rokkam Siva Kumar
Synthetic and semi-synthetic organic chemistry
Supervisors: Prof. G Nageswara Rao
Miss K V Seetarama Mani Chandrika
Organic Chemistry, Bioactive molecules, Molecular modelling and Drug design, Computational Chemistry
Supervisors: Dr. (Mrs.) V Prathyusha
Sri Cheerala Vijay Sai Krishna
Synthetic Organic Chemistry
Supervisor: Dr. C N Sundaresan
Sri Abhinash Subba
Organic Chemistry
Supervisor: Prof. G Nageswara Rao
Sri Manohar Bhujel
Bioactive molecules
Supervisor: Prof. G Nageswara Rao
Sri Patnana Durga Prasad
Metabolomics – Development of Analytical methods
Supervisor: Dr. B Praphulla Chandra (TBC)
Sri Undavalli Venkata Gopi
Energy Storage
Supervisor: Dr. Kumar Sai Smaran
Sri Pulipaka Srihari Mahesh Sarma
Organic Light Emitting Diodes and Organic Solar Cells
Supervisor: Dr. V N Ravi Kishore Vutukuri
Miss Amitananda Dash
Exploration of natural products and their derivatives as potential bio-active compounds
Supervisor: Dr. (Mrs.) G Pavana Kumari