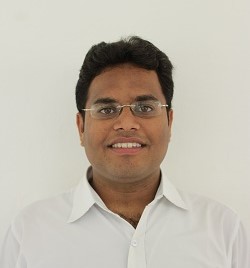 Designation
Asst. Professor
Email
Professional Pages
Dr. Balaram completed his schooling at Jawahar Navodaya Vidyalaya, Odisha. He graduated with a B.Sc. (Hons.) in 2014 and went on to complete his M.Sc. in Biosciences in 2016 with a Gold Medal from the Sri Sathya Sai Institute of Higher Learning, Prasanthi Nilayam. In the same year, he successfully cleared the CSIR-NET JRF exam with an all-India rank of 69 and The GATE (Life Science) exam with an all-India rank of 303.
In 2021, he completed his Ph.D. in Biosciences (Molecular Microbiology) from SSSIHL and worked as the project coordinator of a DBT-BIRAC funded project for a year before starting his teaching career.
During his student days, Dr. Balaram discovered a new form of expression through a recently popular unusual art form called 'Agar art'. In 2020, he received 2nd place in the annual Agar art contest organised by the American Society for Microbiology (ASM) for his work 'Microbial Peacock' among 189 participants from 30 countries. He has been featured in the Hindustan Times, NPR, Smithsonian Magazine, Better India, HistoryTV18 (video series called OMG! Yeh Mera India), and many other forums for his art with bacteria.
Dr. Balaram is currently working as Assistant Professor with the Department of Biosciences, SSSIHL.
Biotechnology, Biostatistics, and hands on practical training on Molecular Biology and Microbiology
Antimicrobial Resistance (AMR); Molecular Diagnostics and Prediction Modelling of AMR for early detection and treatment