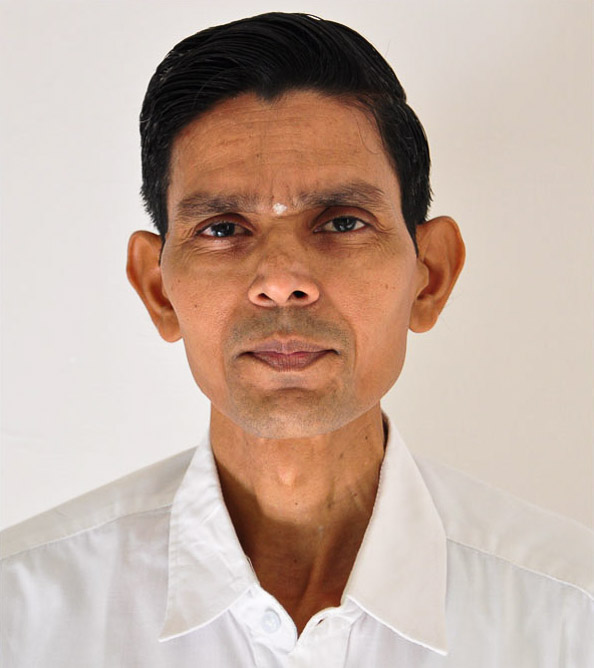 Designation
Professor (Hon.)
Email
Telephone
+91 8555 287235, Ext. 222
Professional Pages
Prof. G Nageswara Rao is an Organic Chemistry (Synthesis and Semi-synthesis) expert. His expertise in the field is reflected in over the numerous publications spread across different facets of organic chemistry. He is actively involved in research work apart from his full-time teaching duties.
He graduated from the Andhra University in 1981 with a B.Sc. (Hons.) in Chemistry. He pursued his masters in Chemistry and then went on to complete his Doctorate degree in 1989 from Sri Sathya Sai Institute of Higher Learning, Prasanthi Nilayam. He then joined Sri Sathya Sai Institute of Higher Learning as a Lecturer in 1989.
Organic Chemistry, Natural Products, Spectroscopy, Medicinal Chemistry
Design and synthesis of novel synthetic and semi-synthetic compounds with potential biological activities like anticancer, antibacterial, anti-inflammatory, antimalarial, anti-neurodegerative properties, Organic complexes for anion sensing, Designing molecules with nonlinear optical applications like second harmonic generation and third order NLO, Extraction, purification and characterization of active compounds from medicinal plants.
His research expertise has led him to file two Patents:
Spirobibenzopyrans and Analogues as Multitherapeutic Agents in India (IN-201741020910, published), and the US (WO/2018/229665, published)
Andrographolide and Analogues as Multitherapeutic Agents IN-6104/CHE/2014 (Complete specification), published.
Current Ph.D. Supervision
Sri Rokkam Siva Kumar (Synthetic and semi-synthetic organic chemistry)
Sri Manohar Bhujel (Bioactive molecules)
Sri Nitesh Tamang
Current Research Projects
Synthesis of Novel Andrographolide derivatives as potential anticancer and antibacterial agents
CSIR – ₹24 Lakhs (2017-2020)
Gamma-Ray and Ion Beam Irradiation Studies on Lead-Free Piezoelectric Ceramics and their Polymer Composites
UGC-DAE-CSR Kolkata – ₹90.67 Lakhs (2019-2020)
Understanding the jamming dynamics and nonlinear viscoelasticity of non-equilibrium viscous liquids with non-linear dielectric and rheo-dielectric studies
DST SERB – ₹37.1 Lakhs* (2019-2020)