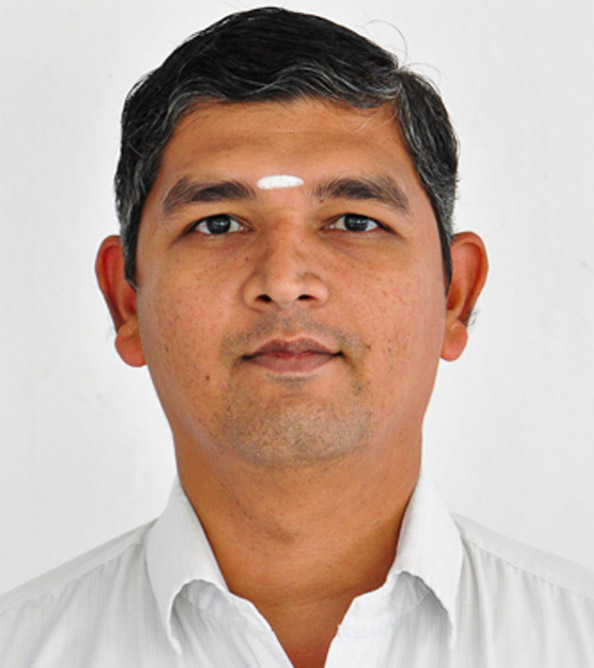 Designation
Professor & Head
Email
Professional Pages
Prof. R Gowrishankar completed his B.Sc. (Hons.) Physics in 1997 and M.Sc. Physics in 1999 from Sri Sathya Sai Institute of Higher Learning. He then joined as a teacher at the Dept. of Physics, Sri Sathya Sai Institute of Higher Learning, in July 1999. After focusing on teaching during the initial years, he pursued his Ph.D. in 2006 and obtained his Ph.D on the topic, Trace element studies on Diabetic Disorders using PIXE, from SSSIHL in 2009.
A passionate teacher, he is also currently involved in research in areas of Nuclear Structure studies, Materials Science and Photonics. He is currently the Head, Dept. of Physics, SSSIHL.
Photonics, Nuclear Physics, Statistical and Thermal Physics, Semiconductor Device Physics, Optical Networking and communications
Level structures of doubly odd deformed nuclei in rare earth and actinide regions, Radiation shielding materials, Fiber optic sensors, Laser spectroscopy.
Current Ph.D. Supervision
Sri Santosh C R (Ultrafast Fiber Lasers)
Miss Susshma N (Nuclear Physics)
Sri Jyotisankar Das
Sri Sudhanshu Tiwari
Current Research Projects
Experimental Investigations on the level structures of doubly odd Ta isotopes
UGC-DAE CSR Kolkata – ₹6.8 Lakhs (2019-2020)