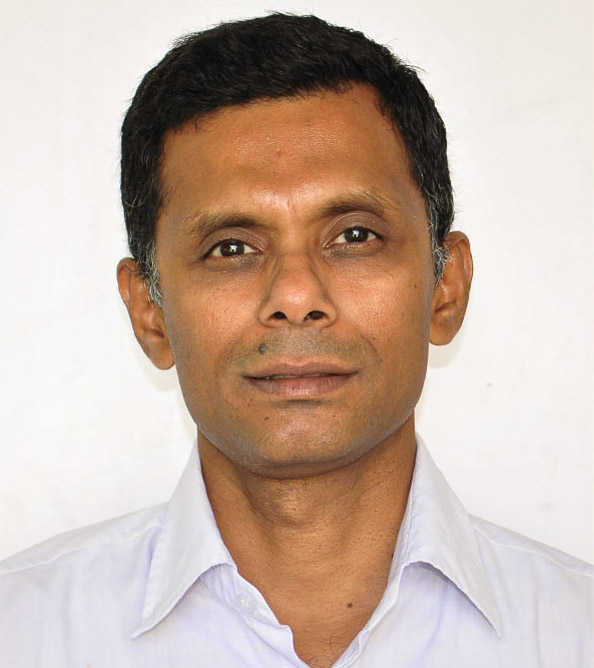 Designation
Associate Professor
Email
Professional Pages
Dr. S Venketesh pursued his M.Sc. in Zoology and his Ph.D. in Zoology from Institute of Science, Mumbai. Subsequently, he did his first Post Doc at the Indian Institute of Science, Bengaluru (Stress Biology of Malarial Parasite) and second Post Doc in the UK at the University of Leeds and University of East Anglia in Purinergic signalling.
He then joined SSSIHL and his research group is interested in understanding the biological mechanisms that eventually lead to manifestation of different diseases. They use multi-disciplinary and multi-faceted approaches which include clinical data, patient samples, Multimodal MRI imaging, biophysical, biochemical, molecular biology, fluorescence imaging, yeast and cell culture models, metabolomics, computational and animal models to understand disease biology.
The group uses the metabolomic facility (SSSIHL-Agilent Centre for excellence in mass spectrometry) to carry out metabolomic analysis of clinical samples and samples from other model systems and has forged extensive collaborations with clinicians as well as with institutions both in India and abroad. Some of the major diseases in which considerable progress has been made include bone (Avascular necrosis of femoral head, Perthes disease, Rheumatoid arthritis), Glaucoma, demyelinating disease like Multiple sclerosis as well as amyloid disease like Huntington's disease and ALS.
He is currently the Associate Head, Department of Biosciences, Prasanthi Nilayam Campus.
Biochemistry, Cell biology, Proteomics, Metabolomics
Bone Diseases (Avascular Necrosis of Femoral Head, Perthes Disease, Rheumatoid Arthritis), Ophthalmic Diseases (Glaucoma, Cardiovascular Diseases: Atherosclerosis), Neurodegenerative Diseases (Amyloid diseases: Huntington's Disease, Parkinson's Diseases, Amytropic Lateral Sclerosis), Demyelinating disease (Multiple Sclerosis, Tumefective demyelinating Lesion)
Current Ph.D. Supervision
Sri Sai Sanwid Pradhan (Systems Biology of Diseases)
Sri Saiswaroop R (Neurobiology)
Sri R Sriram (Systems Biology of Diseases)
Sri V M Datta Darshan (Protein Biology)
Sri N Venkata Sai Sree Ram Penneru
Current Research Projects
Grant for Infrastructural Support to the Department of Biosciences
UGC SAP DRS III – ₹111 Lakhs (2018-2023)
Perturbation in Metabolic pathways might drive Avascular Necrosis of Femoral Head by modulating bone biology: Mechanisms, Potential biomarkers and therapeutic targets
DST – ₹60.8 Lakhs (2018-2021)
Femtosecond laser Enabled Micro-fabrication of Micro-Total-analysis Optofluidic Systems (FEMTOS)
DST – ₹24 Lakhs (2018-2021)
FLAP-MED: Femtosecond laser Assisted Prototyping Micro Electro-Optofluidic Devices
DST – ₹48 Lakhs (2018-2020)
Design and development of Glass based optofluidic platform by Femtosecond Laser Micromachining
DST – ₹46 Lakhs (2020-2022)
Mobile Dengue Diagnostic Technology (m-DDT): A Smartphone-based Point-of-care Diagnostic Device
DRDO – ₹40.67 Lakhs (2018-2021)