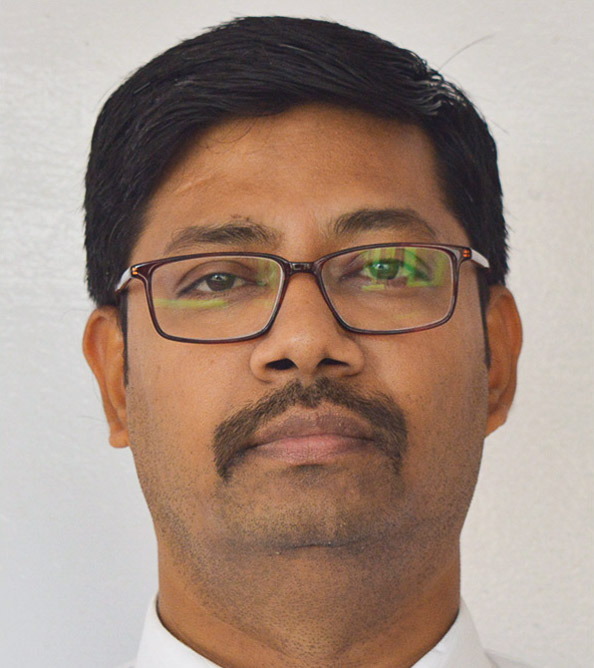 Designation
Asst. Professor
Email
Professional Pages
Dr. Santanu Roy is an expert in Physical Chemistry. Through his experience, he has been exposed to do multidisciplinary research in this area. Trained in the field of Spectroscopy and Nanochemistry, during the course of his Ph.D., Dr. Roy gained experience in the field of microchip processing and their application through electrochemical experiments in his Post-Doctoral work. He is interested in building a microchip fabrication lab and produce sensors for different analyte detection.
He has considerable experience in teaching Organic and Inorganic Chemistry at the undergraduate level.
He received his Bachelor of Science and Master of Science in Chemistry degrees from Presidency College (under Calcutta University) and Indian Institute of Technology Madras (IITM), respectively. He was a Junior Research Fellow at IITM under the guidance of Prof. U V Varadaraju for one year. He then joined as a graduate student at Kansas State University, USA in the year of 2007 and received his Ph.D. degree in 2013.
He then joined a startup company, Vajra Instruments Inc., which is incubated at the University of Nebraska, Lincoln. He then joined St. John College, Dimapur, Nagaland as an Assistant Professor in Chemistry in 2018 and SSSIHL in 2019. He is currently the Associate Head (In-Charge), Department of Chemistry, Prasanthi Nilayam Campus.
Chemical Kinetics, Chemical Thermodynamics, Physical Chemistry, Advanced Inorganic Chemistry, Structure and bonding, Analytical Chemistry
Current Ph.D. Supervision
Sri Nishant Kumar Kolli (Biomaterials)