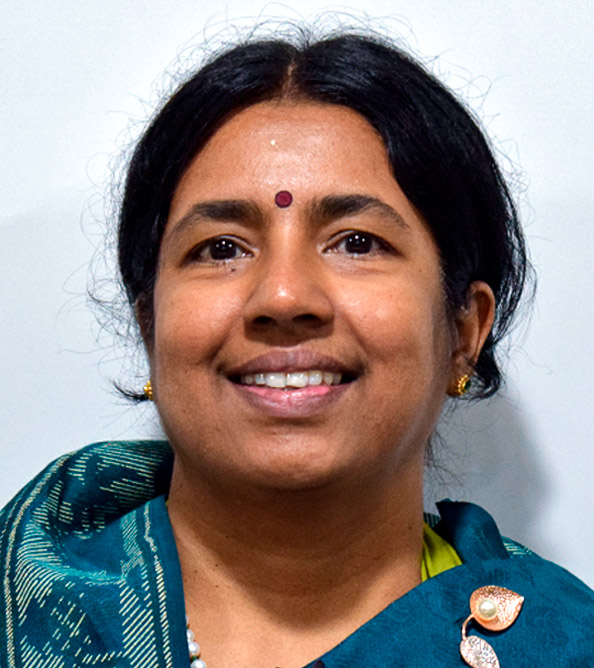 Department
English Language & Literature
Designation
Asst. Professor
Email
Dr. Vijayalekshmi Ramachandran is a generalist in English Literature and Language Studies owing to her teaching experience and educational training. Her B.A. in English (1991) was from NSS College, Pandalam, Kerala and M.A. in English (1995) from Government College for Women, Thiruvananthapuram, Kerala. Her M.Phil. in English (2000) was from Institute of English, University of Kerala and Ph.D. in English (2007) from University of Hyderabad.
She was awarded the UGC Junior Research Fellowship (JRF-NET) in English (Dec. 1993) and later a Matching Funds Tuition Grant (2017) by the School of Criticism and Theory, Cornell University, New York. She was a Lecturer in English at Sree Sankaracharya University of Sanskrit, Kerala (1997-98). In Hyderabad, she worked as Content Writer and Trainer of Editors at SIS Infotech (2006-09). She taught at Central University of Karnataka, Gulbarga for seven years (2010-17), during which period she designed and developed the syllabus and curriculum for the B.A. (Hons.), M.A., and Ph.D. programmes at the Dept. of English.
She was invited to participate in the UGC e-PG Pathshala Project for English (2015), for which she developed a module (33) on Cultural Studies, titled, Nation in Popular Cultures. She has edited a book on the Kannada writer, K P Poornachandra Tejaswi, in English translation (2017). She has also contributed a chapter in the book, Re-Defining Stereotypes: Re-Reading Texts and Contexts (2016). She has presented aspects of her research work in national and international seminars and conferences. Her early research was in the area of postmodern and postcolonial narratives. Her doctoral work examined spiritual narratives.
She joined as a faculty member in the department of English, SSSIHL, in the year 2019.
English Literary Texts, Shakespearean Works, European Classics, Postcolonial Studies, New Literatures in English, Gender Studies, Literary Criticism and Theory, Academic Writing and Critical Thinking Skills
Biography, Autobiography and Life Writing Studies, Self-Reflexivity in Research, Literary Narratives, Cultural Studies, Comparative Literature, Translation Studies
Current Ph.D. Supervision
Miss Pratiksha Pradhan (Media And Ecology)