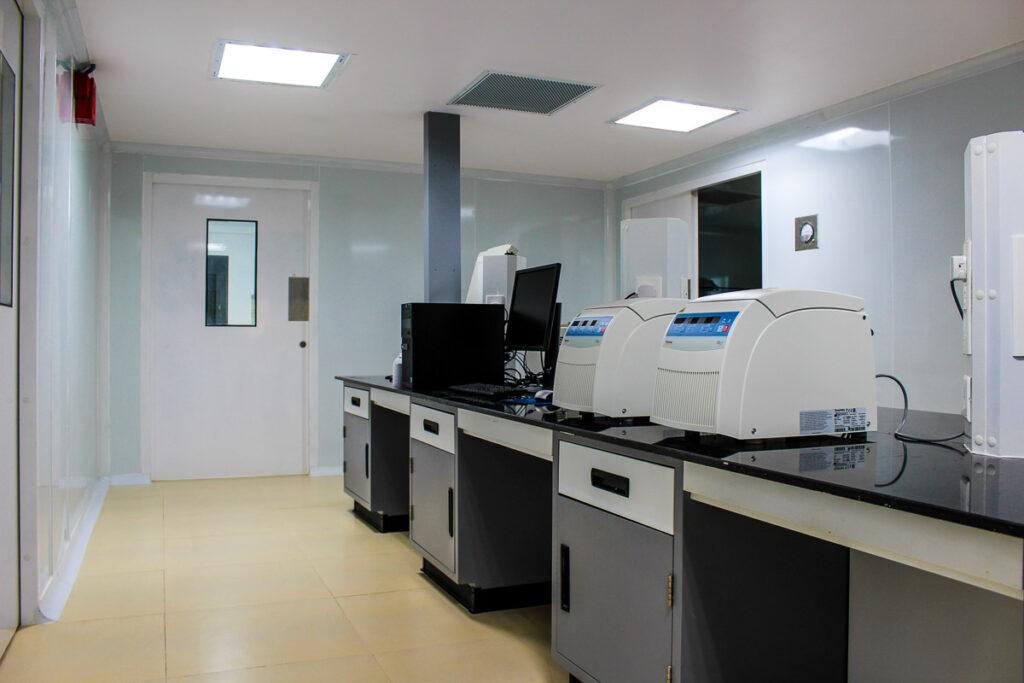 Biosafety Levels are a means to determine the level of danger (Bio-hazardous) to the researchers & others while working with biological / clinical samples that can cause diseases. Hence a clean environment is created in these laboratories through Air handling systems fitted with HEPA filters.
This facility could be used to probe materials and biological processes at the molecular and nanoscale to obtain information on the 3D structures and dynamics of molecules. This instrument is used by chemists, materials scientists, biologists and clinicians. NMR spectrometry is used to study everything from DNA to disease–causing proteins. Information obtained from NMR studies aids in the development of new drugs. NMR Spectroscopy is used to study molecular conformation in solution, quantitative analysis of mixtures, determining the content and purity of a sample.
BSL-2 facility, would be used to process clinical samples and biological specimens of Disease biology projects like Avascular Necrosis (AVN) of the femoral head, Huntington disease, Rheumatoid arthritis and Glaucoma.
Thermo Scientific BB 150 CO2 Incubator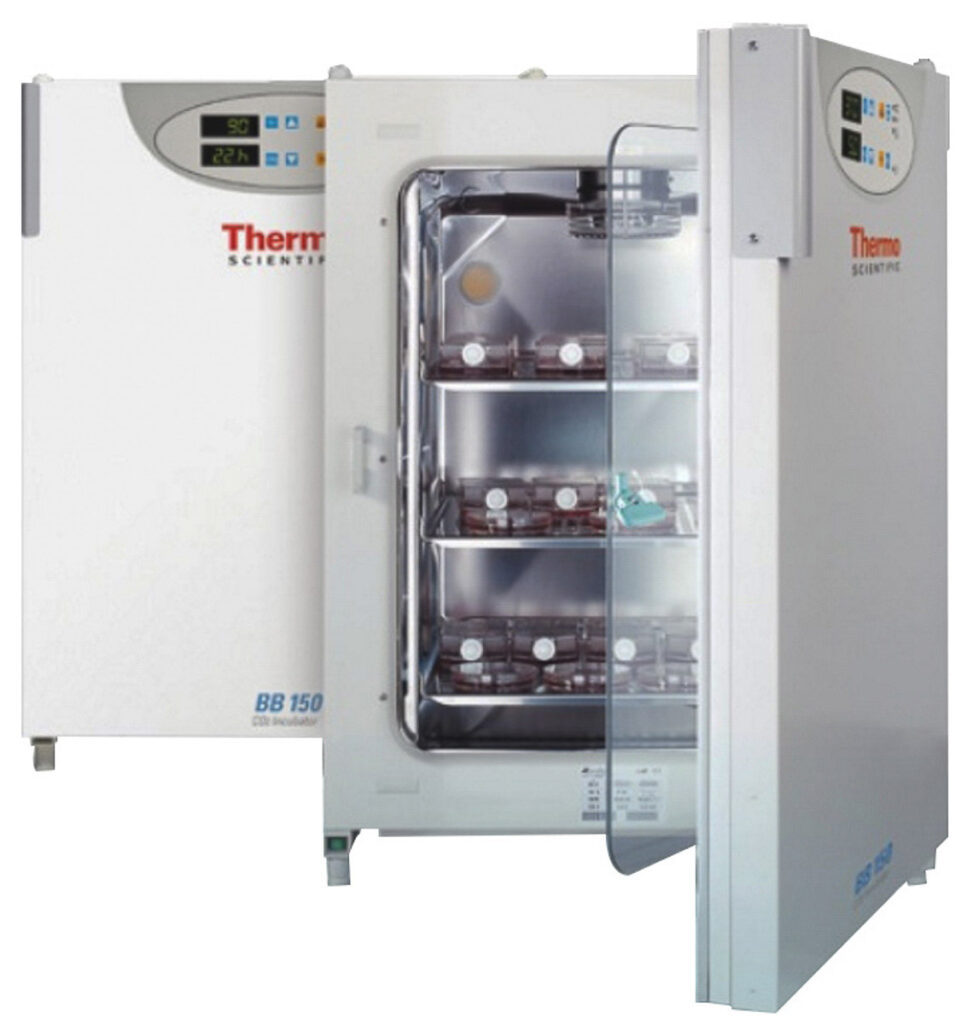 Features
Interior volume 150L / 5.3 ft3
Chamber construction Type 304 stainless steel, electropolished
Temp. above ambient -55°C
CO2 Control: 0-20%
Fan Assisted Circulation
The BB 150 CO2 incubator airflow patterns are designed for optimal distribution of critical environmental conditions. Efficient circulation minimizes variation between cultures while preventing desiccation.
Accurate temperature Control
Featuring reliable direct heat technology with high efficiency heaters on all sides of the culture chamber. In case of failure a backup circuit maintains control to ensure the stability of temperature at the desired value.
Convenient auto start technology
This provides automatic adjustment of the CO2 measuring system at temperature set point with humidity, providing system optimization for best results. Advanced design of this CO2 incubator promotes optimal growth & maintenance of cell cultures.
Real Time PCR System
(Applied Biosystems QuantStudio® 5)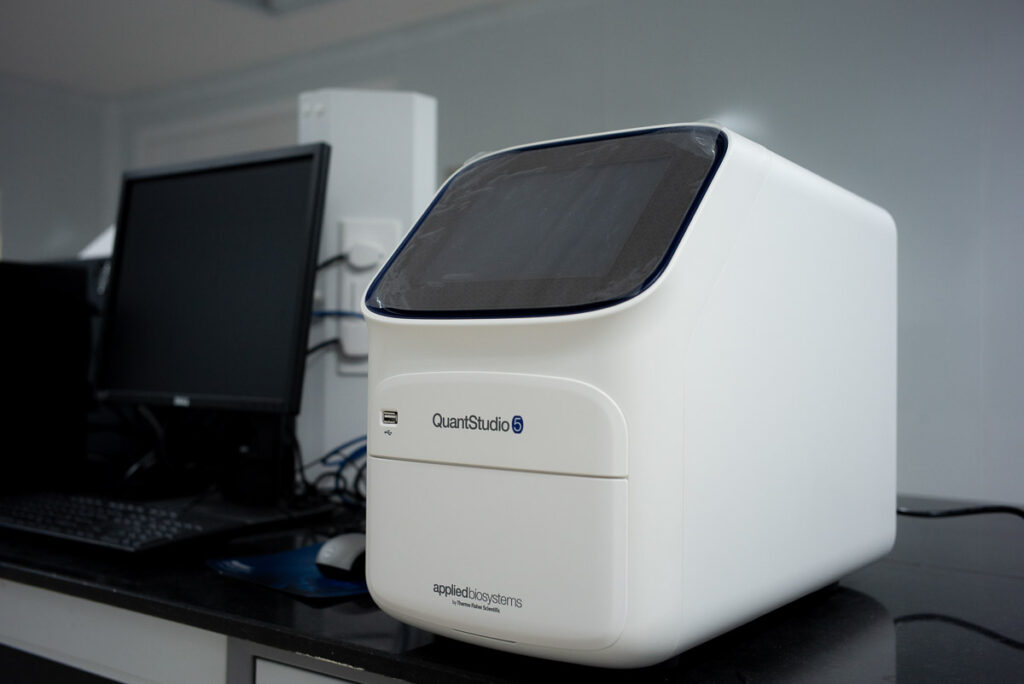 Features
Format: 384 well block
Reaction Volume: 5-10 µl
Multiplexing – Up to 5 targets
Max. block ramp rate – 6.5°C/sec
Average sample ramp rate – 3.66°C/sec
Temp. Uniformity – 0.4°C
Temp. accuracy – 0.25°C
384 wells peltier based heating and cooling
OptiFlex® technology – 5 coupled excitation and emission filters with bright white LED as light source
Advanced CMOS imager system for data acquisition
Excitation/detection range – 450–650 nm/500–700 nm
Heated cover temperature range of 50-110°C
Run time: <30 min
Dye Compatibility: FAM™/SYBR® Green, VIC®/JOE™/HEX/TET, ABY®/NED™/TAMRA™/ Cy®3, JUN®, ROX™/ Texas Red®, Mustang purple, Cy5/Liz, Cy5.5
Can detect as low as 1 copy of and sense as small as 1.5-fold in target quantities
Capabilities
Gene Expression, Genotyping, Copy number variation, Pathogen detection, Strain typing, and miRNA Profiling
Protein thermal shift analysis
This facility is used to qualitatively measure the amplification of DNA/RNA using fluorescent dyes.
Incubated/Refrigerated Stackable Shakers
(MaxQ™ 6000)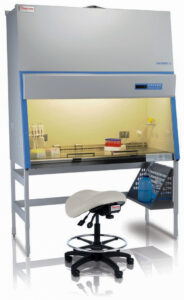 Features
Rotation range: 15 to 300 rpm
Temp. Range: -15°C to 60°C
Offers sample storage and orbital shaking.
Biological Safety Cabinet
(1300 Series Class II, Type A2)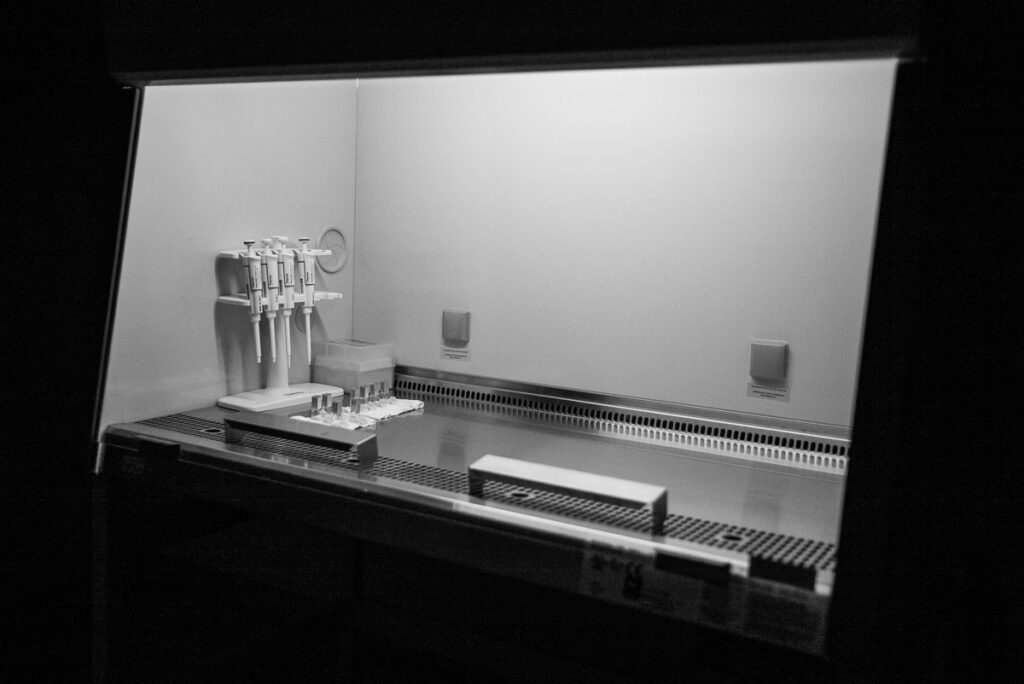 Capabilities
Materials contaminated with pathogens requiring a defined biosafety level can be handled safely, ensuring personnel, sample and environment protection.
This helps in preventing the escape of biological aerosols into the laboratory environment.
Heraeus Megafuge 8R Centrifuge
ND-2000C-IND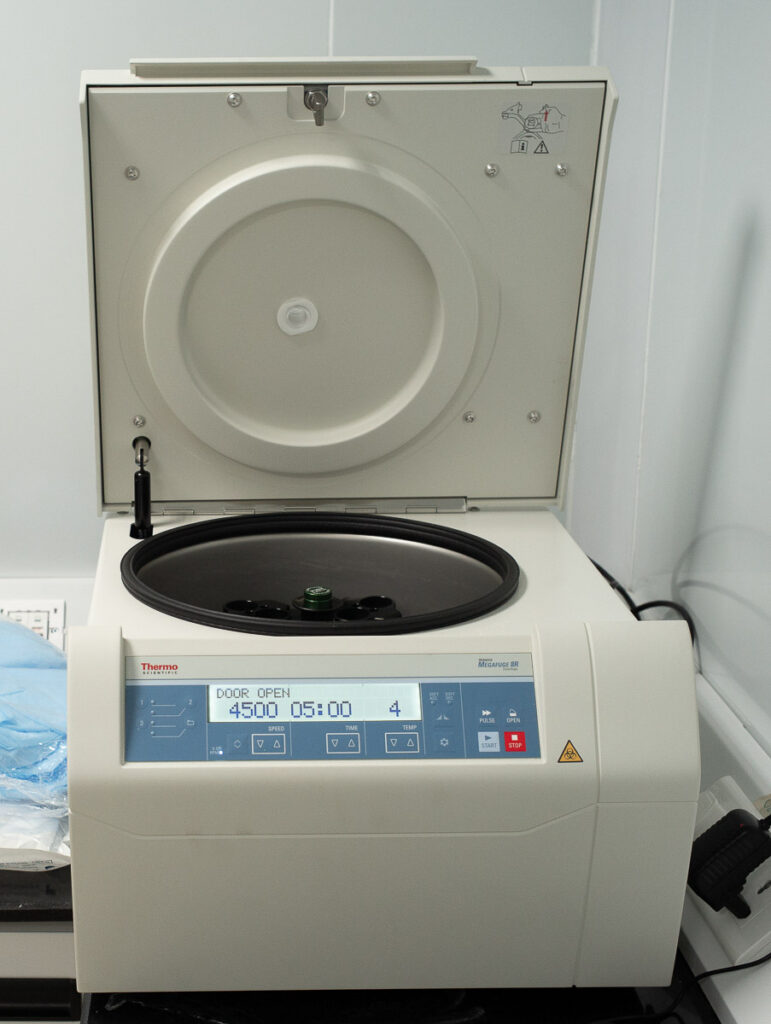 Features
580mL capacity (4 x 145 mL)
99-program memory
15 optional rotor systems
Powerful refrigeration system for precise control of temperature
Capabilities
Aerosol biocontainment facility
Runs up to 24 x 5/7mL blood tubes at a time in swinging bucket configuration
Quick switch between applications- from conical tubes to blood tubes, and from microtubes to microplates
NanoDrop 2000C Spectrophotometer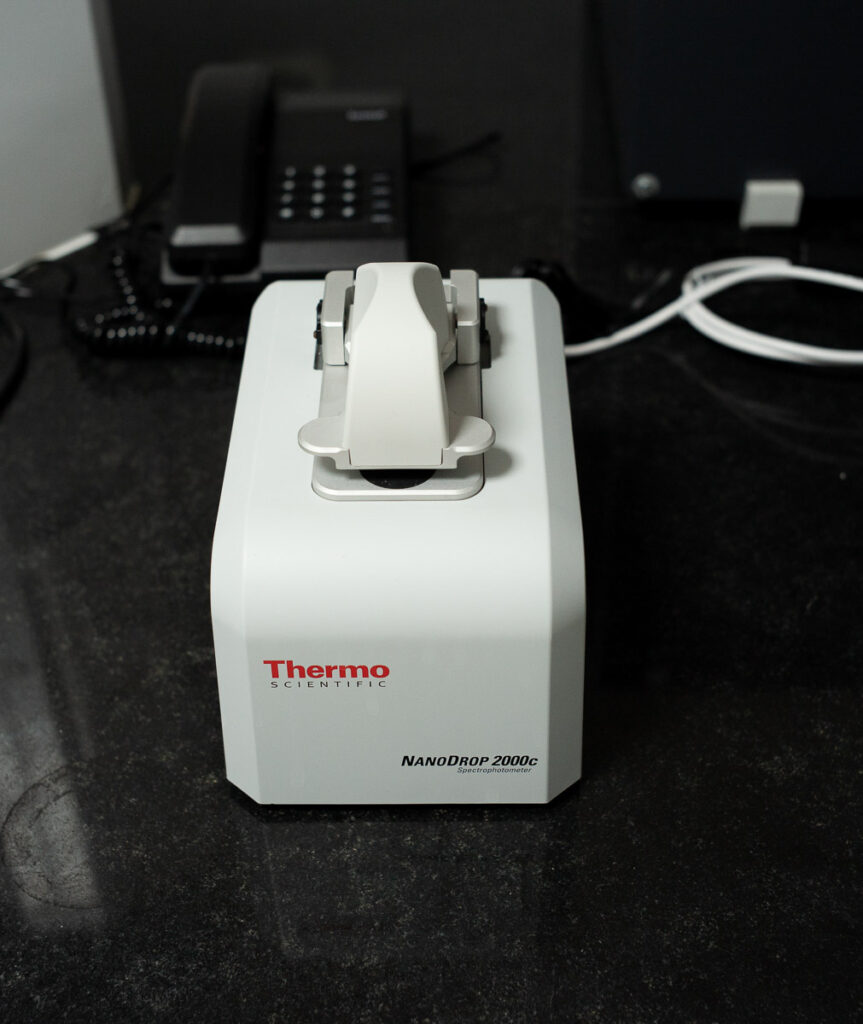 Features
Heating: 37 ± 0.5°C Stirrer: 150-850 RPM
Pathlength: 10, 5, 2, 1 mm
Detection Limit: 0.4 ng/µL dsDNA
Maximum Concentration: 750 ng/µL
To quantify and assess purity of DNA, RNA and Protein.
Multimode Microplate Reader
Varioskan LUX (Thermo Scientific)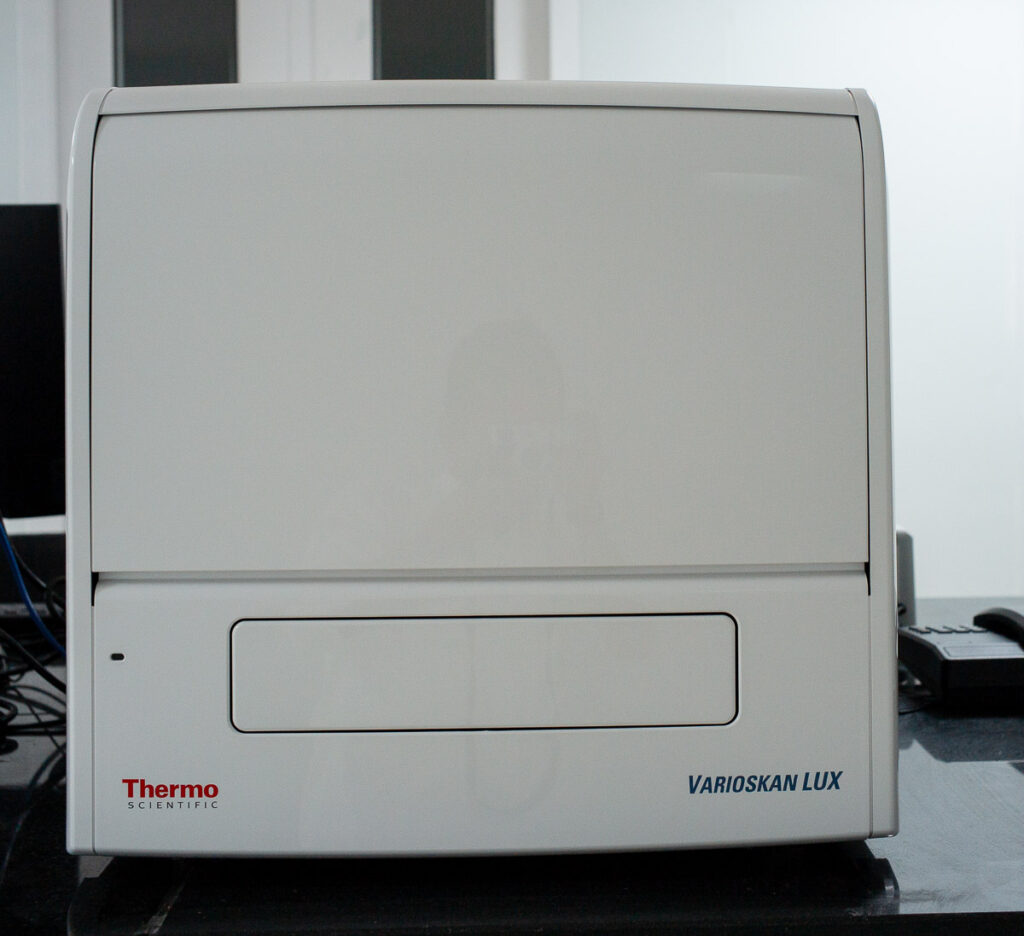 Features
UV-VIS Mode:
Excitation/Absorbance: 200-1000nm
Light source: Xenon flash lamp
Fluorescence Mode:
Excitation/Absorbance: 200-1000nm
Emission: 270-840nm
Light source: Xenon flash lamp
Time Resolved Fluorescence Mode:
Excitation/Absorbance: Fixed at 334nm
Emission: 400-700nm
Light source: Xenon flash lamp
Luminescence Mode:
Excitation/Absorbance: 360-670nm
Incubator and Shaker
Temp. range: From ambient +4°C to 45°C
Shaking type: Orbital
Integrated Gas Module
CO2 concentration range: 0.1% to 15%
CO2 concentration stability: ±0.3% to 5% CO2
O2 concentration range: 1% to 21%
O2 concentration stability: ±0.3% to 1% O2
Capabilities
Reporter gene assays, Growth Kinetics, ATP measurement using Luciferin-Luciferase, Spectral scanning for assay optimization, Integrated gas module for atmospheric control of CO2 and O2 for cell based assays, Live cell calcium imaging studies and high throughput drug screening.