Ferroelectric/Converse Piezoelectric Tester
(Precision Premier II)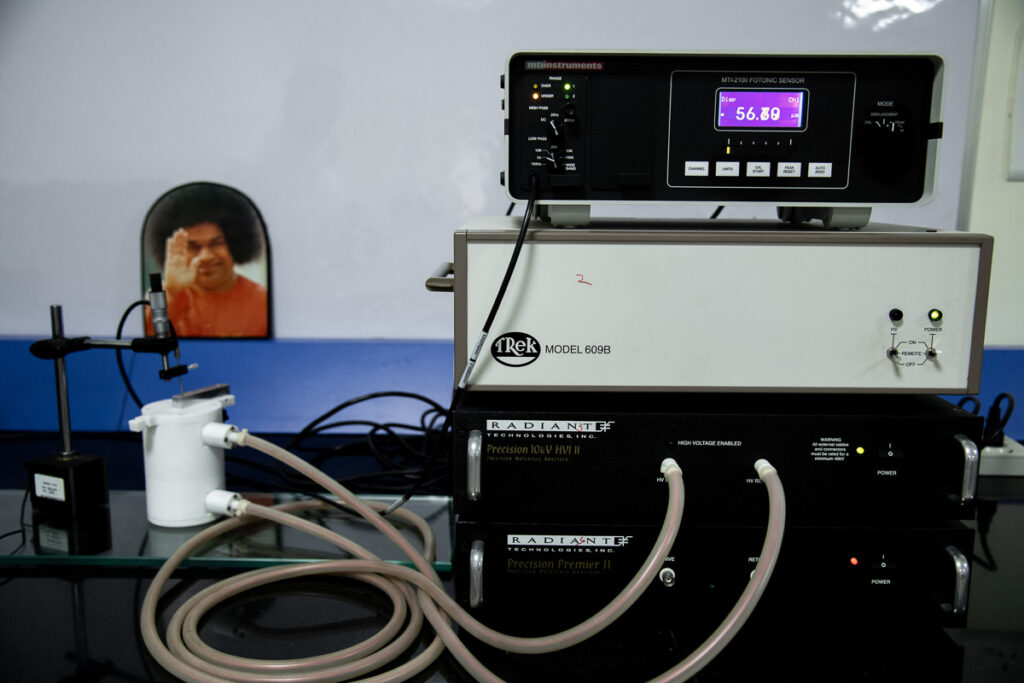 Capabilities
Ferroelectric Hysteresis (PE-Loop) studies, one could obtain parameters that include Ps, Pr, Ec
Piezoelectric displacement (Strain vs Electric field/ Butterfly curve), converse piezo coefficient can be evaluated
Voltage Range (built-in drive voltage): ±10V, ±30V, ±100V, ±200V or ±500V built-in
Voltage Range with an external amplifier and high voltage interface (HVI): 10 kV
Minimum Charge Resolution: 0.80fC
Number of ADC Bits: 18
Minimum Charge Resolution: 0.80fC
Minimum Area Resolution (assuming 1 ADC bit = 1μC/cm2): 0.080μ2
Maximum Charge Resolution: 5.26mC
Maximum Area Resolution (assuming saturation polarization = 100μC/cm2): 52.6cm2
Maximum Charge Resolution with High Voltage Interface (HVI): 526mC
Maximum Area Resolution (assuming saturation polarization = 100μC/cm2) w/o HVI: >100cm2
Maximum Hysteresis Frequency: 250kHz @ 10V | 50kHz @ 30V | 50kHz @ 100V | 50kHz @ 200V | 2kHz @ 500V
Minimum Hysteresis Frequency: 0.03Hz
Minimum Pulse Width: 0.5μs
Minimum Pulse Rise Time (5V): 400ns
Maximum Pulse Width: 1s
Maximum Delay between Pulses: 40ks
Internal Clock: 25ns
Minimum Leakage Current (assuming max current integration period = 1s): 1pA
Maximum Small Signal Cap Frequency: 1MHz
Minimum Small Signal Cap Frequency: 1Hz
Output Rise Time Control: 105 scaling
Input Capacitance: -6fF
Electrometer Input All Test Frequencies for all test at any speed: Yes
Converse Piezoelectric Tester
Converse Piezoelectric / Strain Tester
The MTI-2100 features advanced fiber-optic non-contact sensor using reflectance electronic technologies for precise measurements of displacement, active vibration control, position, and distance for dynamic measurement in cryogenic, vacuum / high pressure, or in high magnetic field and harsh environment. It sets new performance standards with resolution up to 0.01 µin. (2.5 Å) and frequency response from direct-coupled (dc) up to 500 kHz.
Digital display in engineering units
Dual-channel capability permits simultaneous measurements of amplitude and phase
Reflective compensated units available to automatically adjust to target reflectivity changes
Digital display readout in engineering units eliminates the need to convert volts to displacement
Out-of-range indicator notifies the user if the target moves out of the linear range
Features
Interchangeable probe modules allow the user to select from seven standard fiber-optic probe designs, providing 14 different standard measurement ranges and resolutions
High-resolution module resolves to 0.1 µin. standard or 0.01 µin. (2 Å) optional. With external filtering, 0.004-µin. (0.1nm) resolution is possible
Standard 0-to-10 V dc analog real-time output is compatible with most signal conditioning equipment
RS-232 output for computer interfacing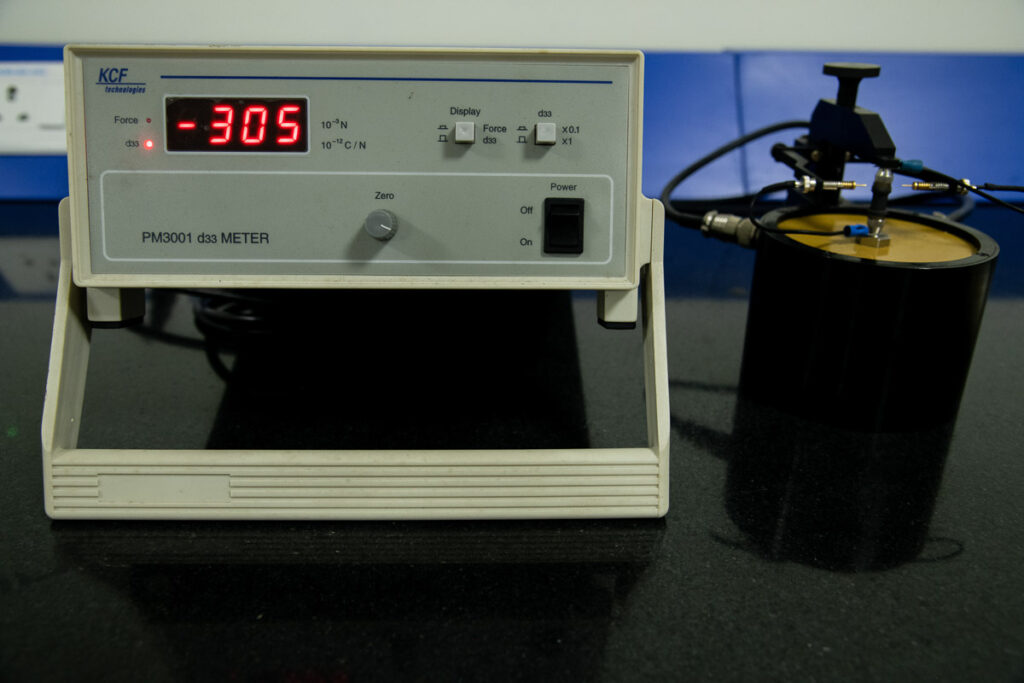 Features
Range: 1-2000 pC/N
Test frequency: 110 Hz
Force amplitude: 250 mN
Capabilities
One could determine the piezoelectric coefficients in two different modes (i.e. d33 and d31) for functional ceramics, composites, etc.
Pyroelectric set-up
(Chynoweth technique)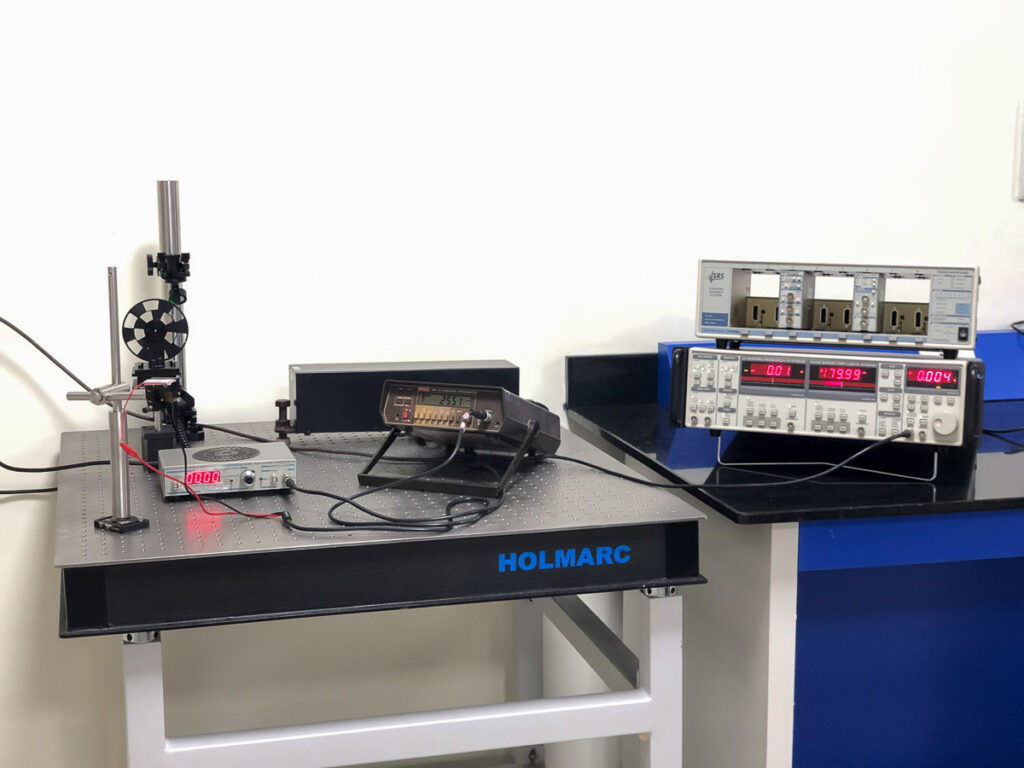 Features
He-Ne Laser Source
Signal conditioner: SRS 830 – Lock-in amplifier
Lock-in frequency range: 1 mHz to 102.4 kHz
Amplitude Sensitivity: 2 nV
Modulator: Variable frequency optical chopper
Capabilities
It is employed to determine pyroelectric coefficient of functional ceramics/polymers/single crystals. These data can be used to design and fabricate pyroelectric detectors and sensors.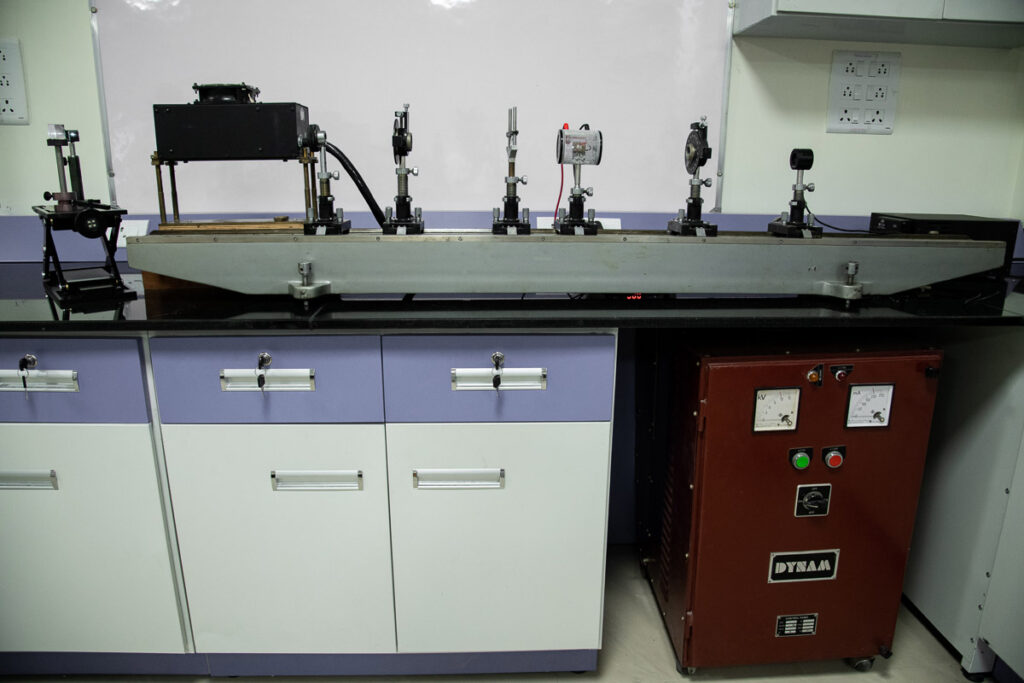 Features
Laser source: Argon-ion Laser
Wavelengths: 457.9 nm, 488 nm, 514.5 nm
Optical Power output: 40 mW
Detectors: Photodiode/Photomultiplier
DC power source: 20 kV / 30 mA
Optical bench with high quality polarizers along with sample mounts
Capabilities
This set-up can be effectively employed to measure electro-optic coefficients of different materials under DC conditions at three specific wavelengths. It has provision to make measurements under AC conditions as well. This forms an effective amplitude/intensity modulator to be exploited for optical communication purpose.
Non-linear optical coefficients measuring set-up
(Second harmonic generation studies)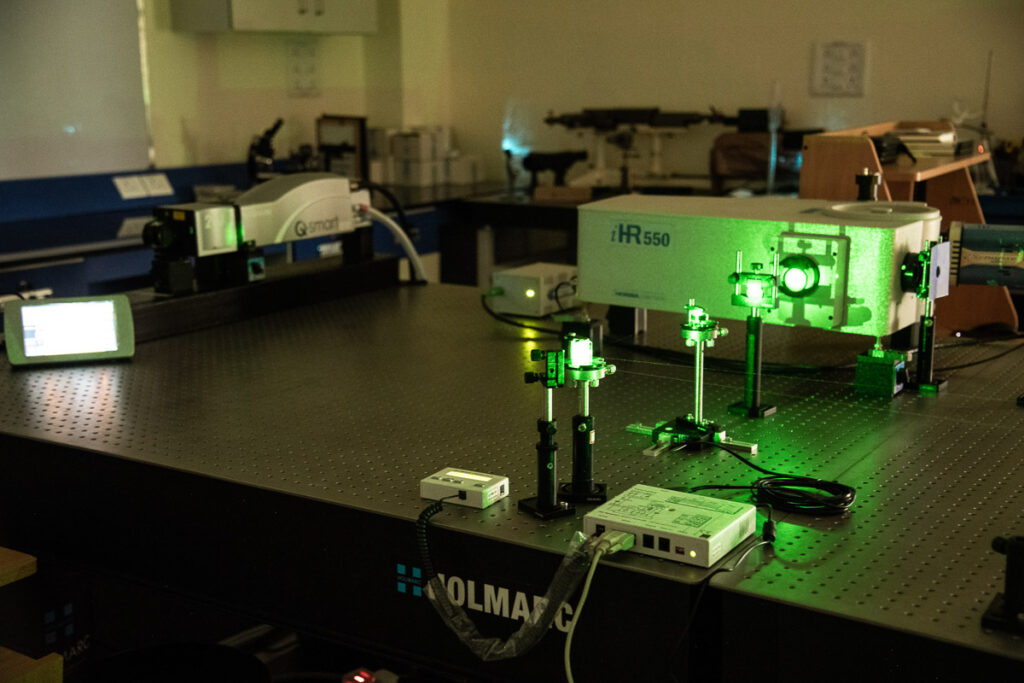 Features
Laser source: Pulsed Nd:YAG laser
Wavelengths: 1064 nm, 532 nm, 355 nm
Optical energy: 850 mJ @ 1064 nm, 400 mJ @ 532 nm, 300 mJ @ 355 nm
Pulse width: 5-10 ns
Repetition rate: 1-10 Hz
Sample rotation stage: 4 mdeg precision
Signal detection: Low light detection PMT unit
Spectrometer: resolution 0.001 nm, wavelength range: 300-900 nm
Capabilities
This set-up is effectively used to make non-linear optical coefficients of functional materials in different configurations. The rotation stage that is associated with it could be employed to generate Maker fringes and therein one can calculate coherence length and NLO coefficients.
Low temperature Raman and Photoluminescence Spectrocopy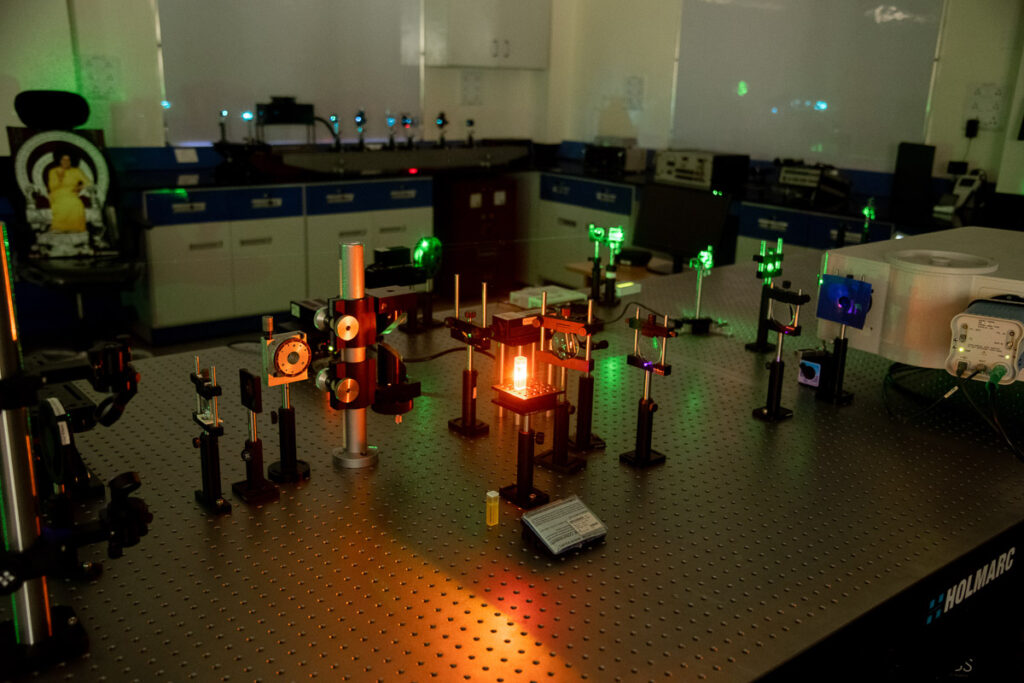 Features
Laser source: Diode lasers (405nm, 532 nm, 589 nm)
Cryostat: Variable Temperature Pour Fill Liquid Nitrogen Cryostat (77 K)
Temperature controller – Lakeshore 320
Spectrometer- ihR550 –Horiba Dispersive spectrometer
Grating: 2400,1200,600 g/mm
Resolution: – 0.001 nm to 1 nm
Optical Filter- Low pass, high pass and band pass filter
Multi-channel Detector: CCD array (1024 x 256 pixels)
Single channel detector: PMT (200 nm to 400 nm)
Capabilities
This platform allows one to monitor both vibrational and electronic transitions of various kinds of samples using both resonant and non-resonant laser excitation. The non-ambient, low temperature measurement permits one to investigate temperature dependent phase transitions to establish structure-property correlations.
Channel Spectrum Method
(Birefringence measurements)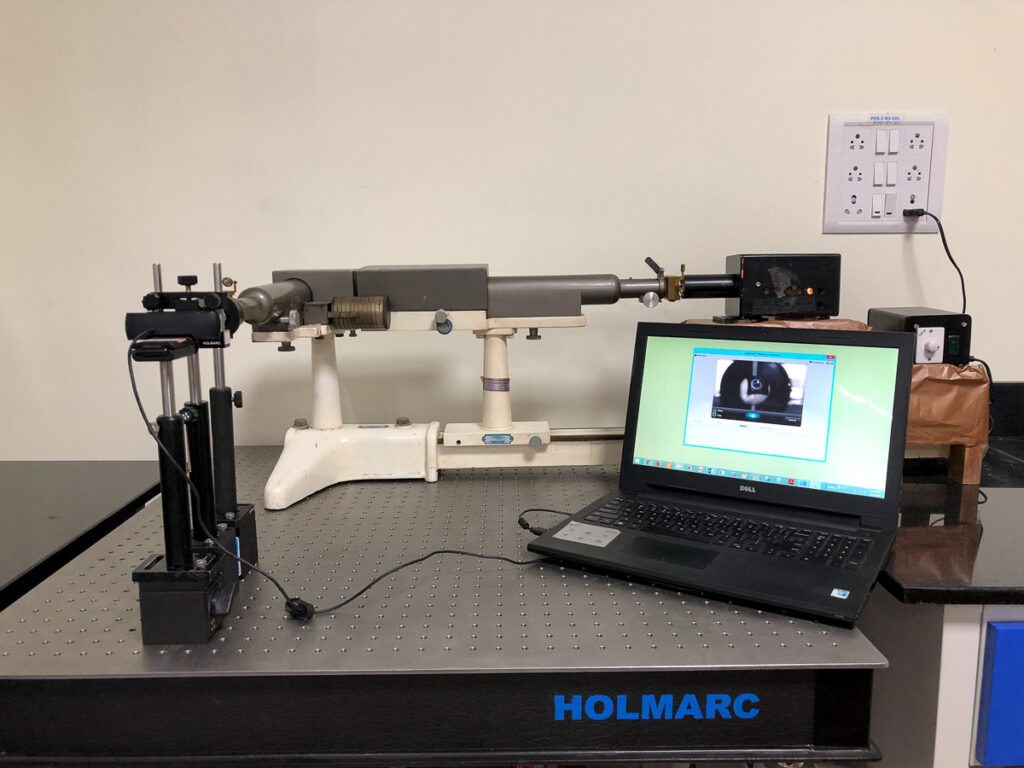 Features
Light Source: Tungsten Halogen lamp
Constant Deviation Spectrometer (CDS) along with a set of polarizers to make dispersion measurements
Capabilities
This set-up would enable one to make birefringence measurements of a variety of samples at different wavelengths of light.
Refractive index measuring set-up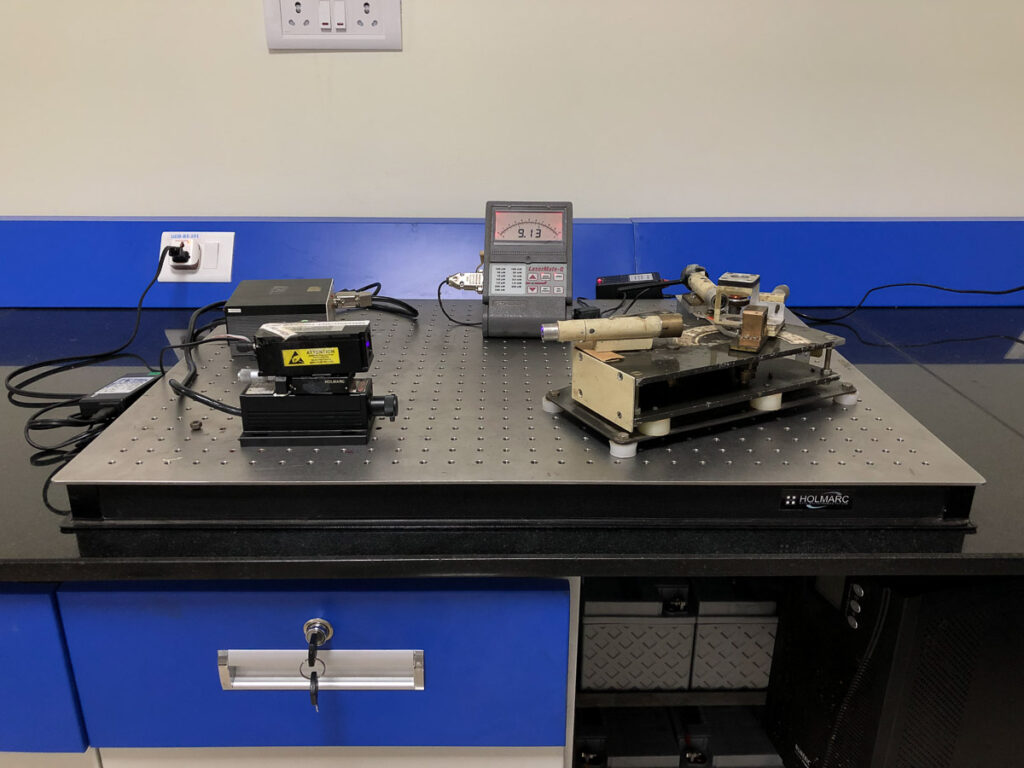 Features
Laser source: RGB lasers
Optical layout: A graduated platform to measure the angle of rotation
Optical components: High quality polarizers along with sample mounts to hold single crystals and glass ceramics
Optical power meter: Coherent make (10nW – 10kW)
Capabilities
A wide range of refractive indices of materials can be measured at different wavelengths of light.