Thermogravimetric Analyzer
(TGA/DSC-1, Mettler Toledo)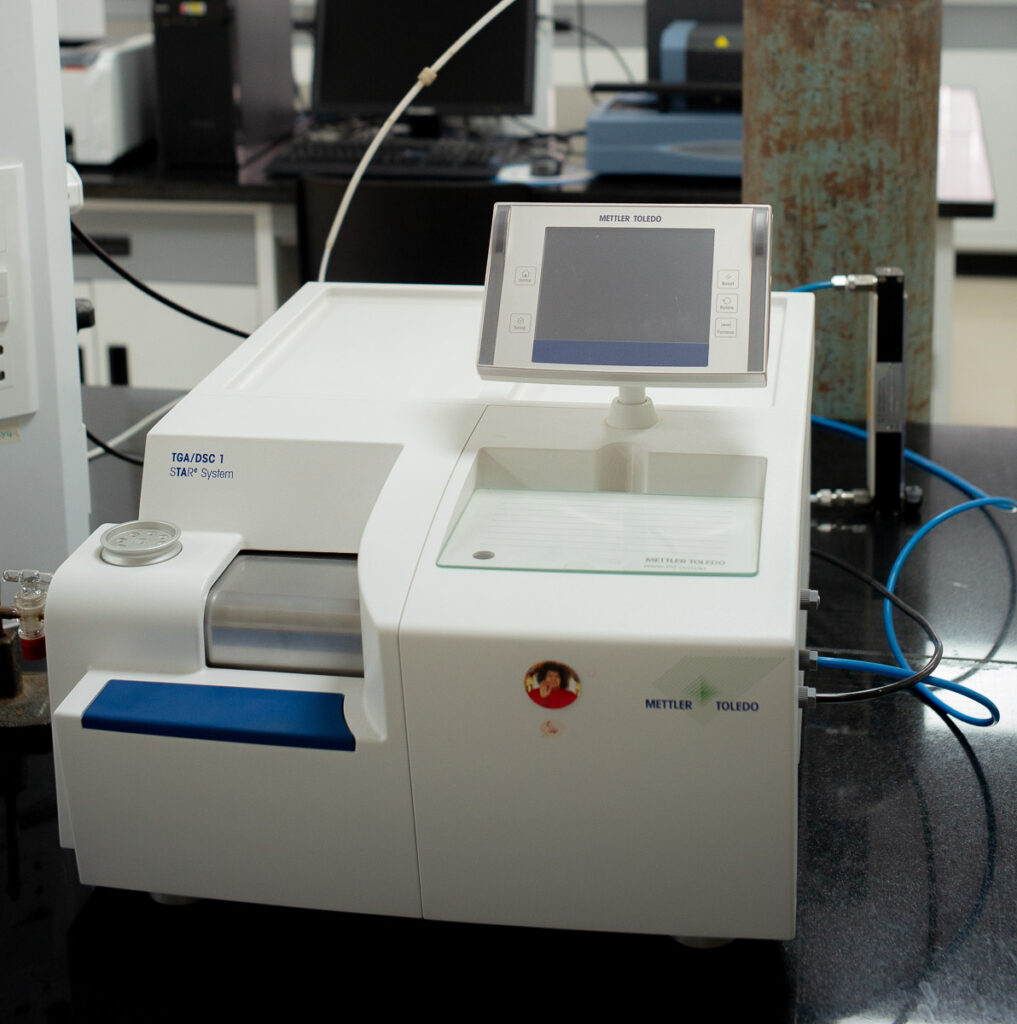 Features
Sub-microgram resolution over the whole measurement range
Analyze samples from 25°C – 1600°C
DSC option for simultaneous measurement of heat capacity associated with thermal events
Validate thermal stability and the related thermal characteristics of the materials.
Differential Scanning Calorimeter (DSC)
DSC 200 F3 Maia Thermal Analyzer (Netzsch)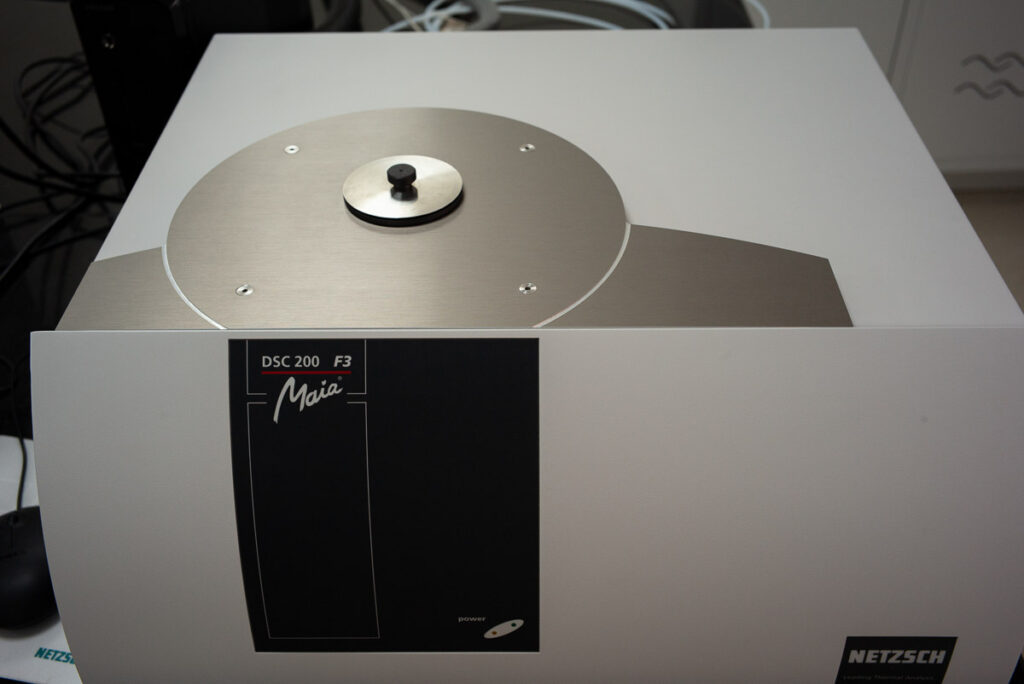 Features
Temp. range: -150°C to 600°C
Heating rates (K/min): 0.001 to 100
Cooling rates (K/min): 0.001 to 100
Sensor: heat flux system
Measurement range (mW): 0 to ± 600
Temp. accuracy: 0.1K
Enthalpy accuracy: generally <1%
Cooling options: Forced air (down to RT)
Atmospheres: oxygen, inert (static, dynamic)
Thermodynamic parameters associated with a variety of materials such as specific heat, entropy and enthalpy change can be assessed. This helps in distinguishing crystalline and non-crystalline materials. The phase transitions associated with plethora of materials can be ascertained.
Dynamic Light Scattering (DLS) Particle Analyzer
Anton Paar – Litesizer™ 500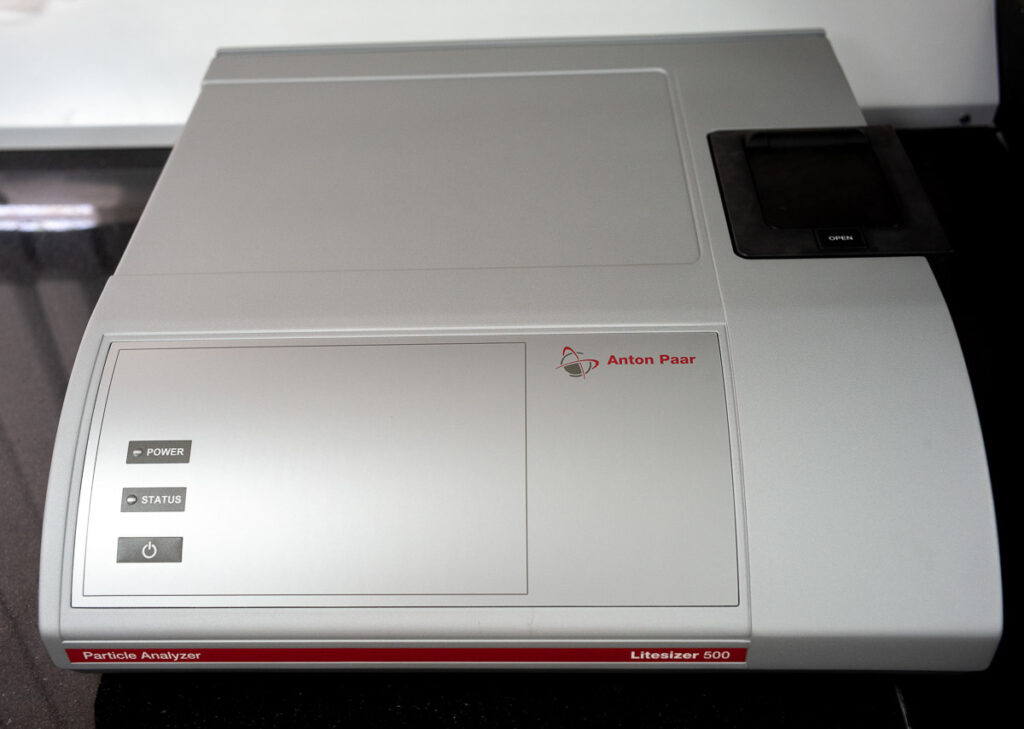 Features
General
Temp. control range: 0-90°C
Light source: Laser/ 40 mW, 658 nm
Particle size specifications
Measuring range: 0.3 nm – 10 µm (particle diameter)
Sensitivity
Min. conc. (protein): 0.1 mg/mL (lysozyme)
Min. conc. (polymer): 1 µg/mL (polystyrene latex)
Min. sample volume: 12 µL
Measurement angles: 15°, 90°, 175°
Refractive index specifications
Measuring range: 1.28 to 1.50
Temp. range: 0°C to 90°C
Wavelength: 658 nm
Min. sample volume: 1mL
Zeta potential specifications
Measuring range: -600 to +600 mV
Molecular mass specifications
Mass: 980 Da – 20 MDa
Particle size: up to 40 nm (diameter)
Mobility: 10-11 m2/V.s to 2 x 10-7 m2/V.s
Size range: 3.8 nm-100 µm
Sensitivity: 1 mg/mL (lysozyme)
Max. sample concentration: 40% w/v
Sample volume: 350 µl
Max. sample conductivity: 200 mS/cm
Capabilities
The Litesizer™ 500 is an instrument for characterizing nano- and microparticles in dispersions and solutions. It determines particle size, zeta potential, and molecular mass by measuring dynamic light scattering (DLS), electrophoretic light scattering (ELS), and static light scattering (SLS).
Interestingly, the Litesizer™ 500 is the only DLS-based particle analyzer that is able to perform a straightforward measurement of the sample's refractive index.
Dilatometer: DIL802 Horizontal Dilatometer
(TA instruments)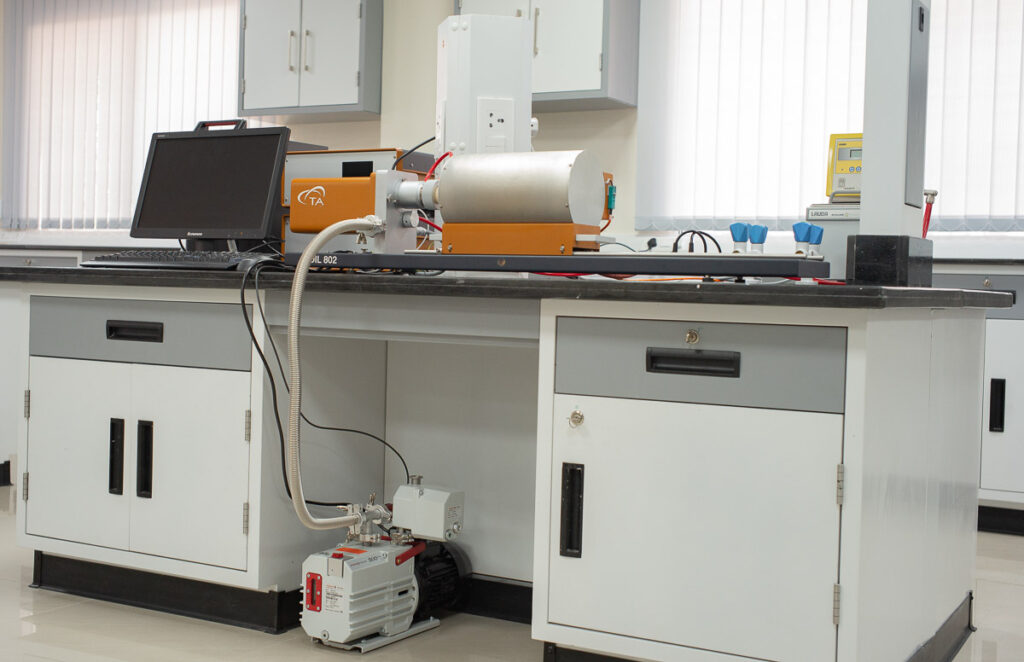 Features
RT to 1350°C
Measuring systems: fused silica, Al203, graphite
Sample length: 0 to 50 mm
Change of length: 4 mm (maximum
Length Resolution: 10 nm
To employ materials in a wide range of temperatures, one needs to have a prior knowledge about the thermal characteristics of materials, specifically its expansion.
This instrument is aptly designed to monitor the expansion of materials on heating, even at elevated temperatures.
DTA: Q600 SDT Simultaneous DSC-TGA
(TA instruments)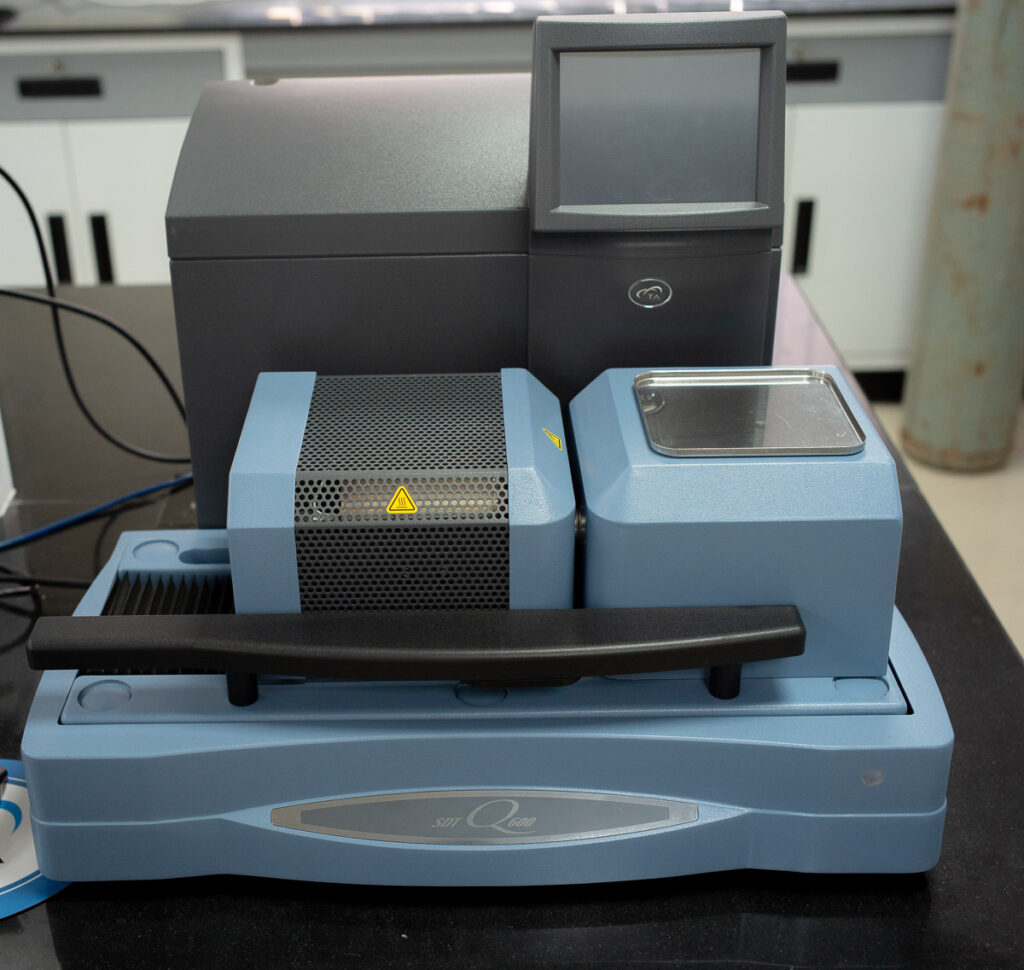 Features
System Design: Horizontal Balance and furnace
Balance Design: Dual Beam
Sample Amount: 200mg
Furnace type: Bifilar Wound
Temp. range: Ambient to 1500°C
Supports both DSC & TGA measurements
Less drift compared to single-beam designs
Independent TGA measurements on two samples simultaneously/li>
The chemical reaction kinetics associated with certain thermodynamic parameters can be studied. This will also help in distinguishing crystalline materials from that of glasses and polymers.
Cary Eclipse Fluorescence Spectrophotometer
(Agilent)
Features
Source: Xe pulse lamp with exceptionally long lifetime, pulsed at 80 Hz
Pulse width at half peak height ~ 2 µs, peak power equivalent to 75 kW
Wavelength range:
Excitation: 190-1100 nm. Zero Order (ZO) selectable
Emission: 190-1100 nm. ZO selectable
Operational excitation: 200-900 nm with standard PM tube. ZO selectable
Operational emission: 200-900 nm with standard PM tube. ZO selectable
Wavelength accuracy: ±1.5 nm
Characterize bio-labels for live cell imaging
Characterizing GPCR oligomerization
Detecting specific bacterial strains using fluorescent assay
Understanding platelet response using cellular signaling
Analyze changes in tertiary structure of proteins
Thermal stability of biocatalysts and pharmaceuticals
This facility is used for both qualitative and quantitative analyses. More specific and sensitive technique than UV-Vis. Fluorescent compounds can be analyzed and estimated at nano molar level.
Cary 630 FTIR Spectrometer
(Agilent)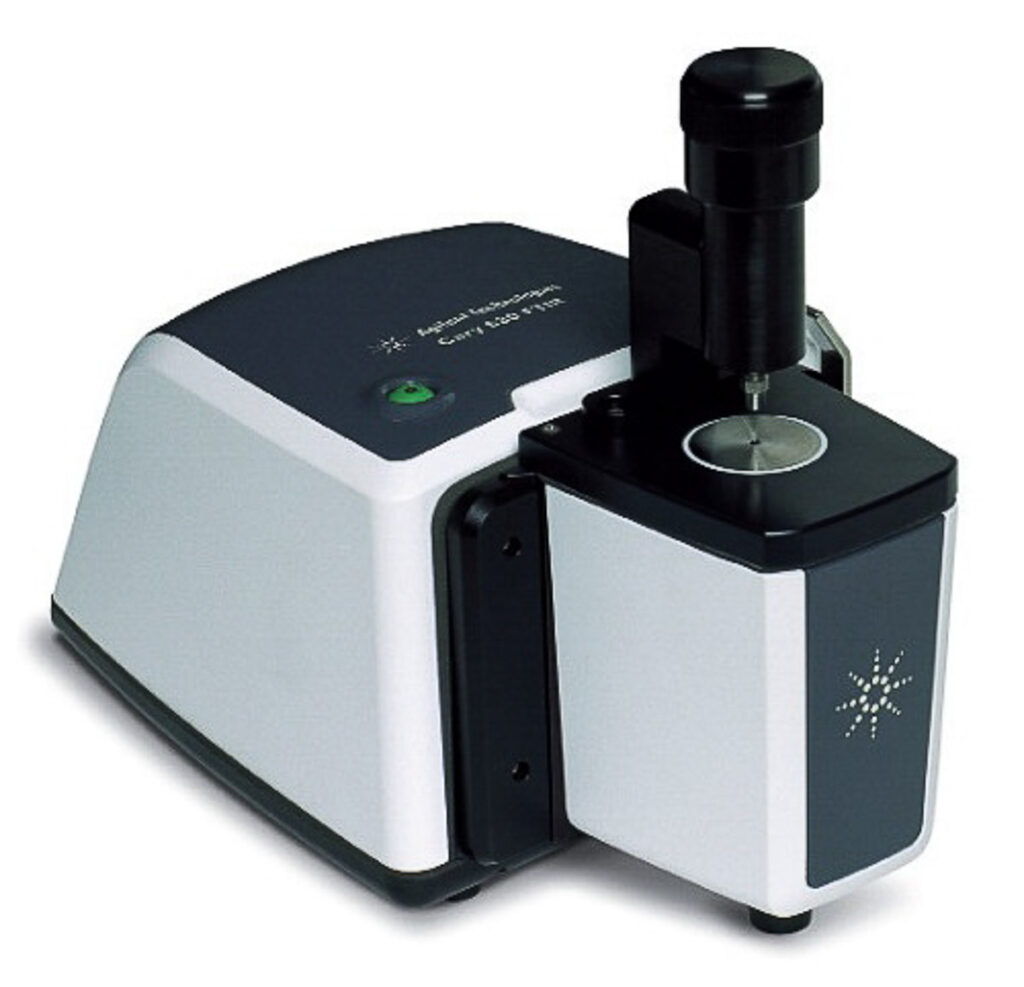 Capabilities
Identify and confirm plastics, elastomers, and adhesive materials
Verify the composition & quality of composites, coatings and thin films
Analyze contaminants during semiconductor processing and solar cell manufacturing
Determination of trans fat content of edible fats and oils
Rapid authentication & detection of adulteration of food, herbal medicines & dietary supplements
QA/QC of various foods, such as coffee, tea, sugar and flour
Free Fatty Acid (FFA) & Iodine Value (IV) determination in oils
Analyze API's and drug products for overall purity and conformity
Determine if drug samples are counterfeit or adulterated
A powerful tool for identifying types of chemical bonds in a molecule by producing an IR absorption spectrum that is like a molecular 'fingerprint'
Qualitative analysis can be done with this instrument. It gives information about the presence of functional groups in compounds. Hence, it is of use in structure elucidation. ATR facility helps to analyse samples in solution state as well.
Cary 60 UV-Vis Spectrophotometer
(Agilent)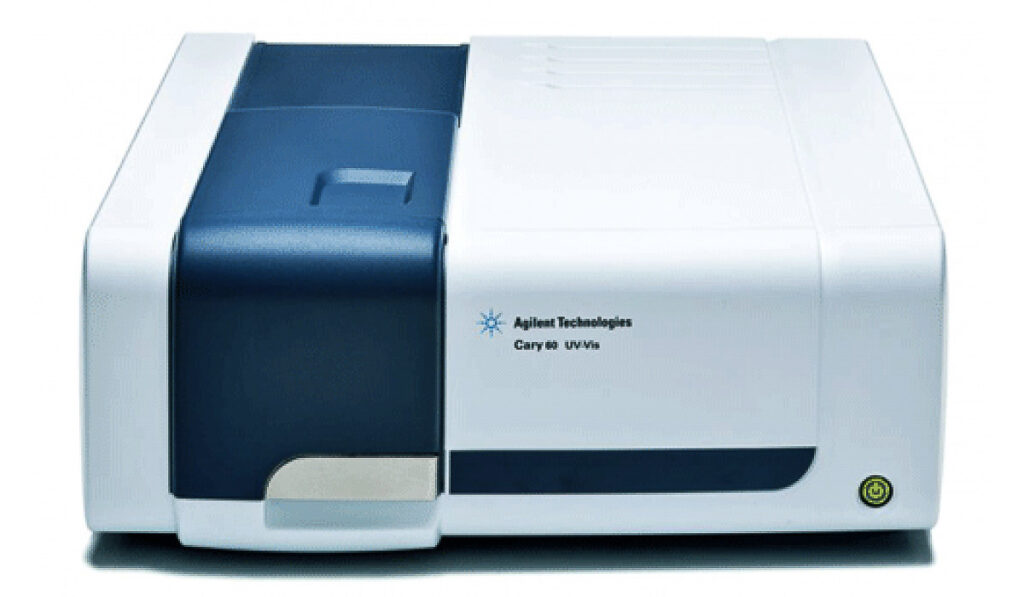 Features
Source: Unique full-spectrum Xe flash lamp (80 Hz)
Monochromator: Czerny-Turner
Grating: Holographic, 27.5 x 35 mm, 1200 lines/mm, blaze angle 8.6° at 240 nm
Detectors: 2 silicon diode detectors. UV-Vis limiting resolution (nm): ≤ 1.5 nm
UV-Vis limiting resolution (nm): ≤ 1.5 nm
oluene/hexane limiting resolution (EP/BP and TGA test): ≥ 1.5
Wavelength range (nm): 190-1100 nm accuracy (nm): ±0.5 at 541.94 nm; reproducibility (nm): ±0.1 nm
Capabilities
Characterization of unknown or newly synthesized compounds
Monitoring kinetics of chemical /biological reactions occurring at sub-sec rate
Measurement of films and optical components
Analyzing small amounts of precious samples (< 4 µL)
Analysis of nutrients in water, food and agriculture
Analysis of turbid solutions or relatively highly absorbing samples
Analysis of bulk optics (e.g., sunglasses)
Study of pigments in art conservation through reflectance measurements
UV/Vis spectroscopy is routinely used in analytical chemistry for the quantitative determination of different analytes, such as transition metal ions, highly conjugated organic compounds, and biological macromolecules. Spectroscopic analysis is commonly carried out in solutions but solids and gases may also be studied.
Microwave Plasma Atomic Emission Spectroscopy
(Agilent) 4200 MP-AES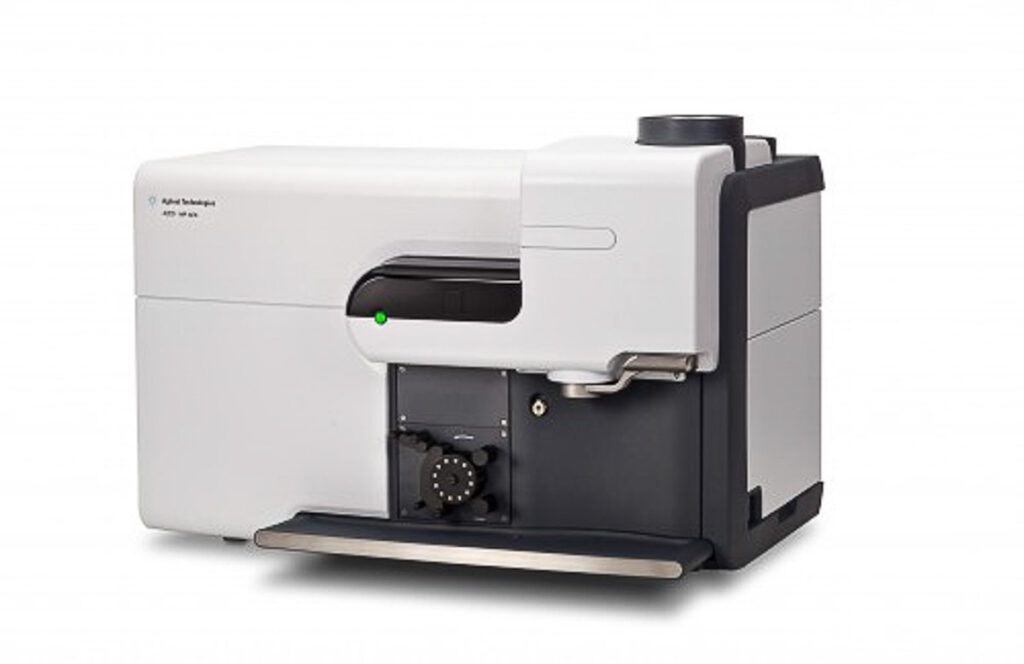 Features
Detector: Hermetically-sealed, UV-sensitive, back-thinned solid state CCD detector (532 x 128 pixels)
Signal stability: < 2% RSD over 2 hours without internal standardization or any form of drift correction
Resolution: < 0.050 nm (measured as FWHM)
Detection limits: 3 sigma detection limits (µg/L) using a 10 second integration time
Pure nitrogen and nitrogen generator IDLs
Element:
Mn 257.610 nm
Ba 614.171 nm
Full environmental range:
Capabilities
MP-AES consists of a microwave induced plasma interfaced to an atomic emission spectrophotometer (AES). It is used for simultaneous multi-analyte determination of major and minor elements. MP-AES employs microwave energy to produce a plasma discharge using nitrogen supplied from external sources or extracted from ambient air, which eliminates the need for sourcing gases in remote locations. Samples are typically nebulized prior to interaction with the plasma in MP-AES spectroscopy.
UV/Vis/NIR Spectrophotometer
(LAMBDA 1050 – Perkin Elmer)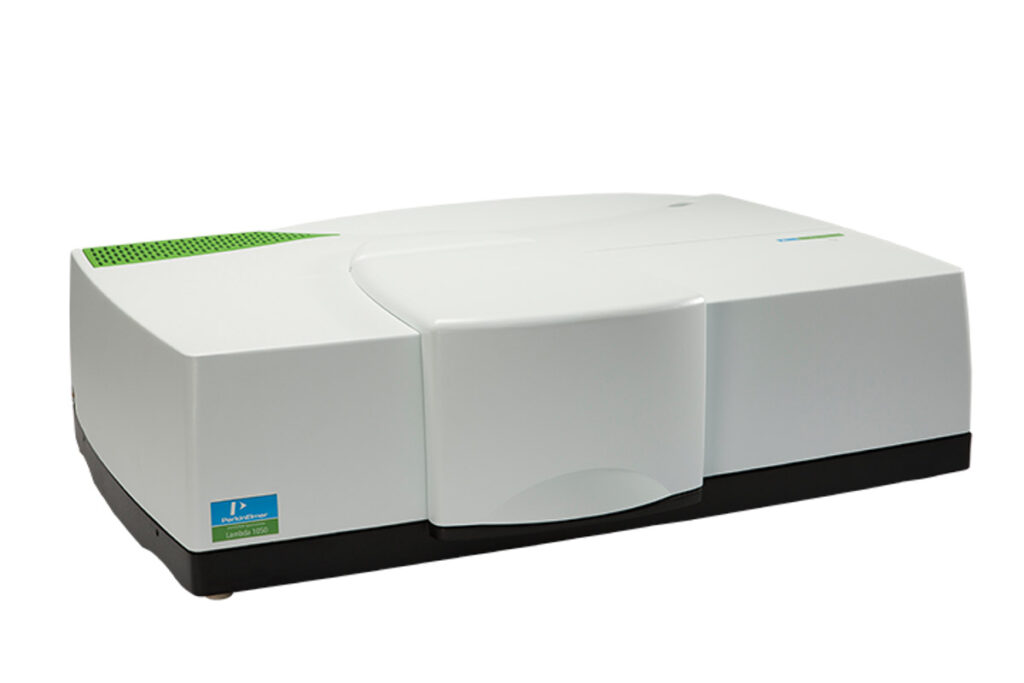 Features
A unique PMT, InGaAs and PbS 3-detector module for testing across the entire UV/Vis/NIR range
Sources of Light: Tungsten-halogen and Deuterium
Operating Range: 175-3300 nm
Resolution: 0.2 nm
Capabilities
The UV/Vis/NIR Spectrophotometer can be used to achieve significant performance breakthroughs across a range of applications; from simple optical absorbance and reflectance measurements a wide wavelength range (175-3300 nm) for solid and liquid samples to quantifying out-of-band blocking characteristics of band pass filters and also measuring the high transmission of next generation fiber optic materials.
The optical transmission windows of a variety of materials in different configurations can be determined.
Brunauer-Emmett-Teller (BET) Surface Area Analyser
(LAMBDA 1050 – Perkin Elmer)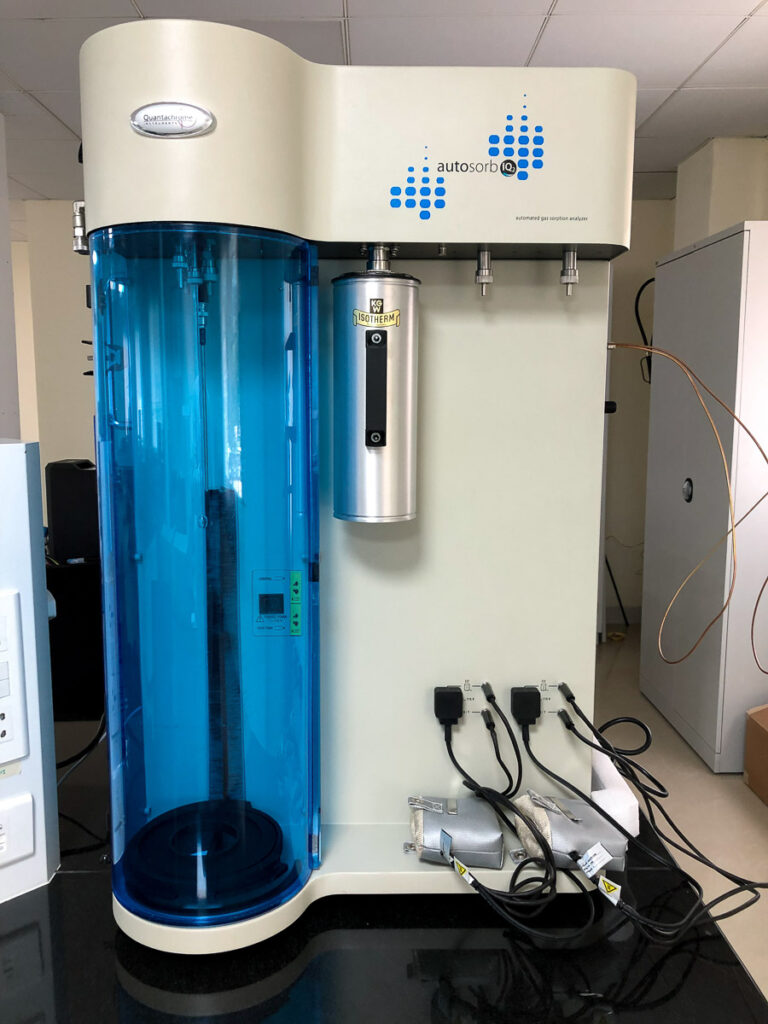 Features
Two micropore analysis stations, and two dedicated built-in sample preparation (Degas) ports
Computer-controlled ramp/hold/test protocols, and a dedicated cold-trap
A dedicated Po (saturation pressure) transducer
Long life dewar (90+ hours, even with two samples
Thermostatted Bath for measurements at, or around, room temperature
Capabilities
Characterization of the mesoporous (2-30 nm) and macroporus (>50nm) materials, including activated carbons/fibers and nano-carbon fibers, metal supported catalysts
Comprehensive physisorption calculations include specific surface area (single and multi-point B.E.T., Langmuir, STSA, t-plot, alpha-s, DR), pore size (BJH, DH, DA, MP, HK, SF, Monte-Carlo, NLDFT, QSDFT) with their corresponding surface area values