High Pressure Stirred Hydrothermal Reactor
Amar Equipments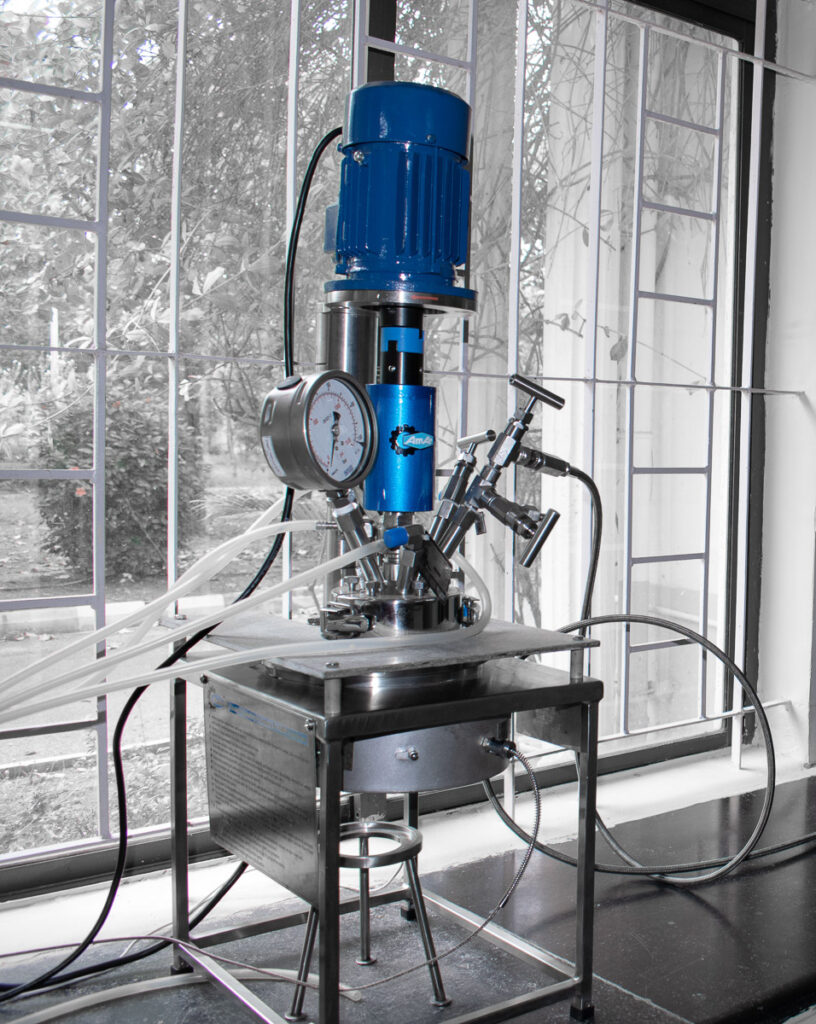 Features
450mL Teflon-lined SS vessel
Design pressure: 100 bar
Maximum working temperature: 300°C (180°C with PTFE liner)
High-pressure reactor with safety rupture disc
Zero-leakage magnetic drive cooling
Two-stage 6-blade turbine stirrer and clamp
External ceramic bar heater and insulation
Gas-purging facility available
Table-top model
Capabilities
Synthesis of chemical compounds (wet chemical synthesis)
The stirred hydrothermal reactor enables the researcher to synthesise compounds under high pressure, controlled temperature, and continuous stirring. This method will allow synthesis of nanoparticles, and control over morphology as well.
Planetary Ball Mill
Planetary Micro-Mill PULVERISETTE 7 premium line, Fritsch GmBH Germany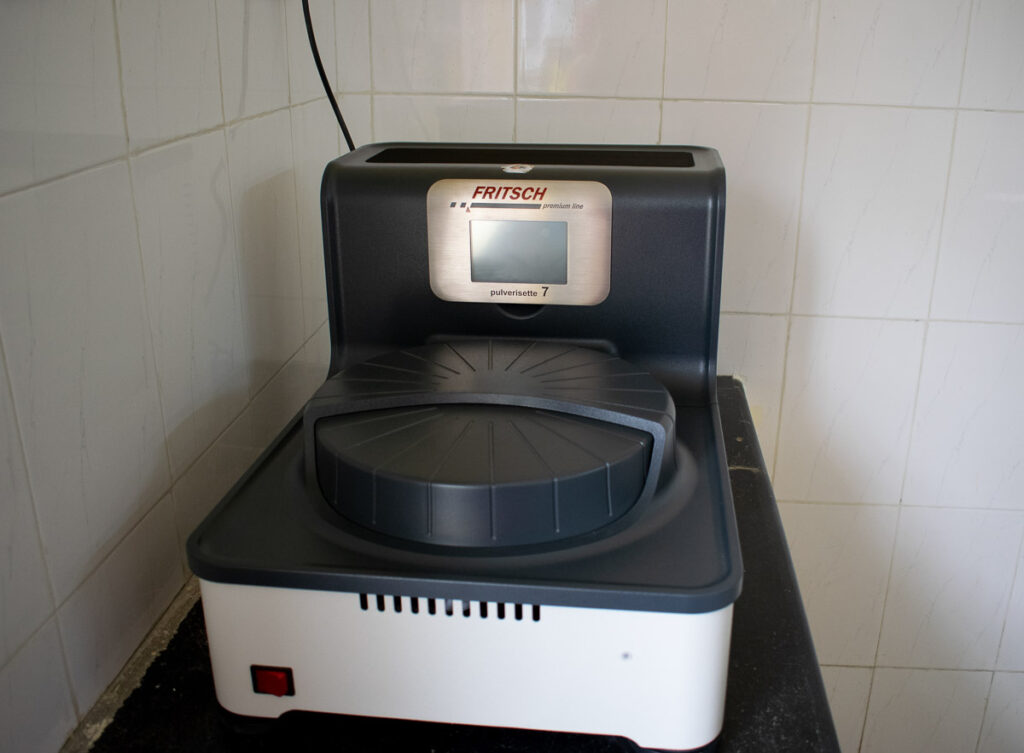 Features
Rotational speed of main disk 100-1100 rpm
Safe operation – due to the revolutionary self-lock, grinding bowls snap into place in the machine without any additional clamping
Blocking of the mill in the event of impermissible operating states
Automatic shut-off functions, if an imbalance occurs
Prevention of impermissible grinding settings due to automatic detection of inserted grinding bowls and optimisation of rotation speed
Automatic parameter checks before each grinding guarantees exact reproducibility
Added time savings and reliability due to fast bowl changes
Simultaneous comminution of up to 2 samples
Capabilities
The Planetary Micro-Mill PULVERISETTE 7 premium line, with two grinding stations, is designed for a broad range of applications, and ideally suited for loss-free grinding down to a final fineness of 100 nm of hard, medium-hard and brittle materials. Depending on the desired final fineness, the grinding can be performed dry, in suspension. In addition to comminution, Planetary Mills can also be used for mixing and homogenising emulsions and pastes, or for mechanical activation and alloying in materials research.
Microwave Reactor
CEM Focused Microwave™ Synthesis System. Model: Discover LABMATE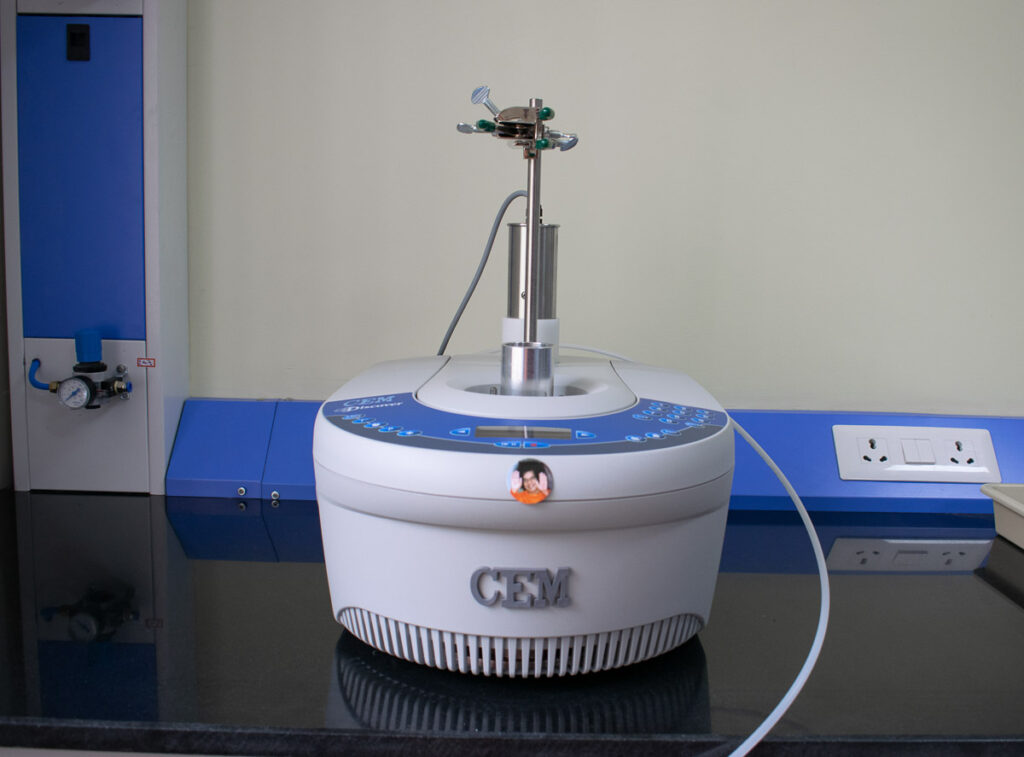 Features
Power output of 0-300 watts (+/- 30 watts)
Self-adjusting,single-mode microwave cavity
Three safety interlocks, and an interlock monitoring system to prevent microwave emission
IntelliVent™ Pressure Control System for an indirect measurement of the reaction vessel contents
Fluoro-polymer sleeved cavity, with cavity access port and microwave leakage choke
Capabilities
To perform chemical reactions under controlled conditions on a laboratory scale
Facilitates either homogeneous- or heterogeneous-solution phase chemistry, solid phase chemistry, or chemistry conducted on solid supports
Accommodates vessels ranging in volume from 5mL to 125mL for reactions performed under atmospheric conditions
A 10mL vessel with septa for reactions performed at elevated temperatures and pressures
Microwave energy is applied to the vessel contents (reactants, catalysts, salts, solvents, and/or solid supports) to accelerate the chemical reaction. The microwaves interact with the reactants, intermediates, catalysts, solid supports and salts, providing unique opportunities for the synthetic chemist. It primarily helps the researcher in the discovery and optimisation of the new product-development process.
Heidolph Rotary Evaporator
Hei-VAP Value Digital, G3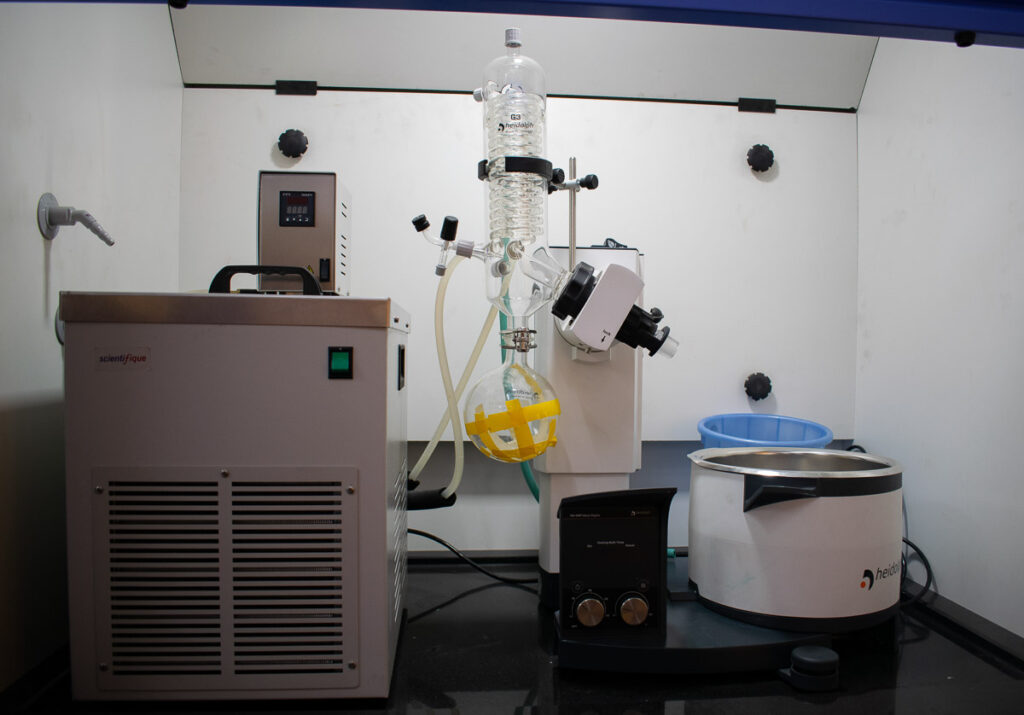 Features
Hand/Motor lift: Hand lift
Lift distance: 155mm
Rotation speed: 10-280 rpm
Heating capacity: 1300 W
Temperature range of the heating bath: 20°C to 100°C H2O/20 – 210°C oil
Temperature accuracy of bath: ±1°C
Bath temperature protection heating bath: cut-off at 5°C difference to set temperature
Overheat protection: 250°C
Display bath temperature: Digital
Condensing surface: 1400 cm2
Supply power: 1400 W
Standard supply voltage: 230 V/50 Hz
Operating conditions: 5°C to 31°C at 80% relative humidity, no condensation 32-40°C linear decrease down to 50% relative humidity
Dimensions with glassware set G3: 739 × 490 × 887 mm (w × d × h)
Capabilities
Chemical-resistant vacuum seal allows for years of operation
Bath-power-cable coupling complies with protection class IP67 to reduce corrosion and short circuits
Detachable panel allows for the highest operational safety from outside closed fume hoods
A separate on/ off switch for heating prevents unintentional heat-up, and the button is illuminated for visual control
A metal support between the heating bath and the base unit prevents bath instability
Safety bath will power off if temperature overshoots by 5°C, or runs dry
The flange made of chemical-resistant PPS reduces corrosion and maintenance
Non-sticking vapour tube, with patented clamping sleeve, eliminates broken glass
Heraeus Multifuge X3 FR Centrifuge
Thermo-Scientific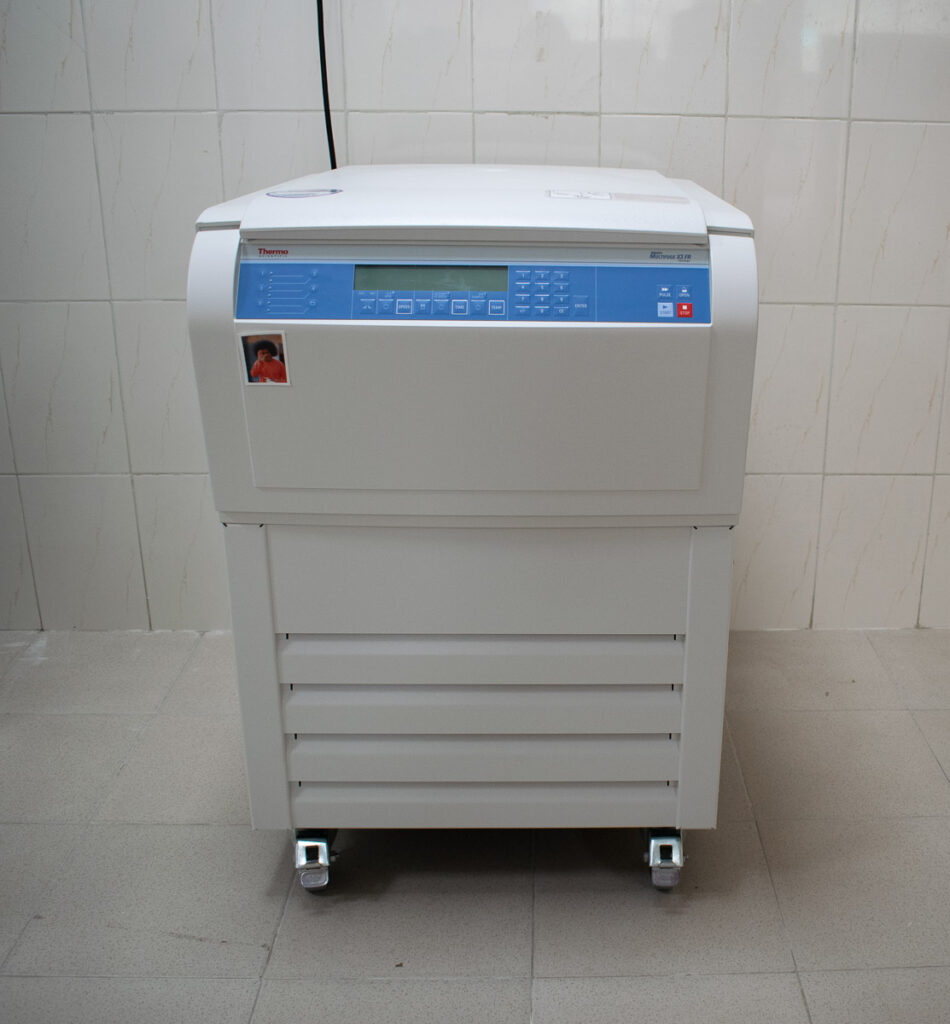 Features
Program Storage: 99 programs (5 with direct access key)
Run Time: 99h, 59 min plus HOLD
Capacity: 4 x 1000mL
Max. RCF: 25,314 x g
Max. Speed: 15,200 rpm
Refrigerated: Yes, CFC-free refrigeration system
Temperature Range: -10°C to +40°C, pre-cooling with direct button
Display: Digital
Electrical Requirements: 230V 50/60Hz
Secure locking system allows easy push-button installation and exchange of rotors
Fiberlite F15-6x100y Fixed-Angle Rotor
Fiberlite F14-6 x 250 Fixed Angle Rotor
Fiberlite F21-48 x 1.5 Fixed-Angle Rotor
TX-750 Swinging Bucket Rotor
Capabilities
The high-speed refrigerated centrifuge is suitable for processing temperature-sensitive samples. It includes a variety of rotors applicable for a wide range of biological samples of various volumes, at different temperatures.
Separation of components in various biological samples related to cell culture, microbiology, proteomics, genomics, biochemistry, molecular biology, bio-production, blood, etc.
All Quartz Double Distillation Unit
BOROSIL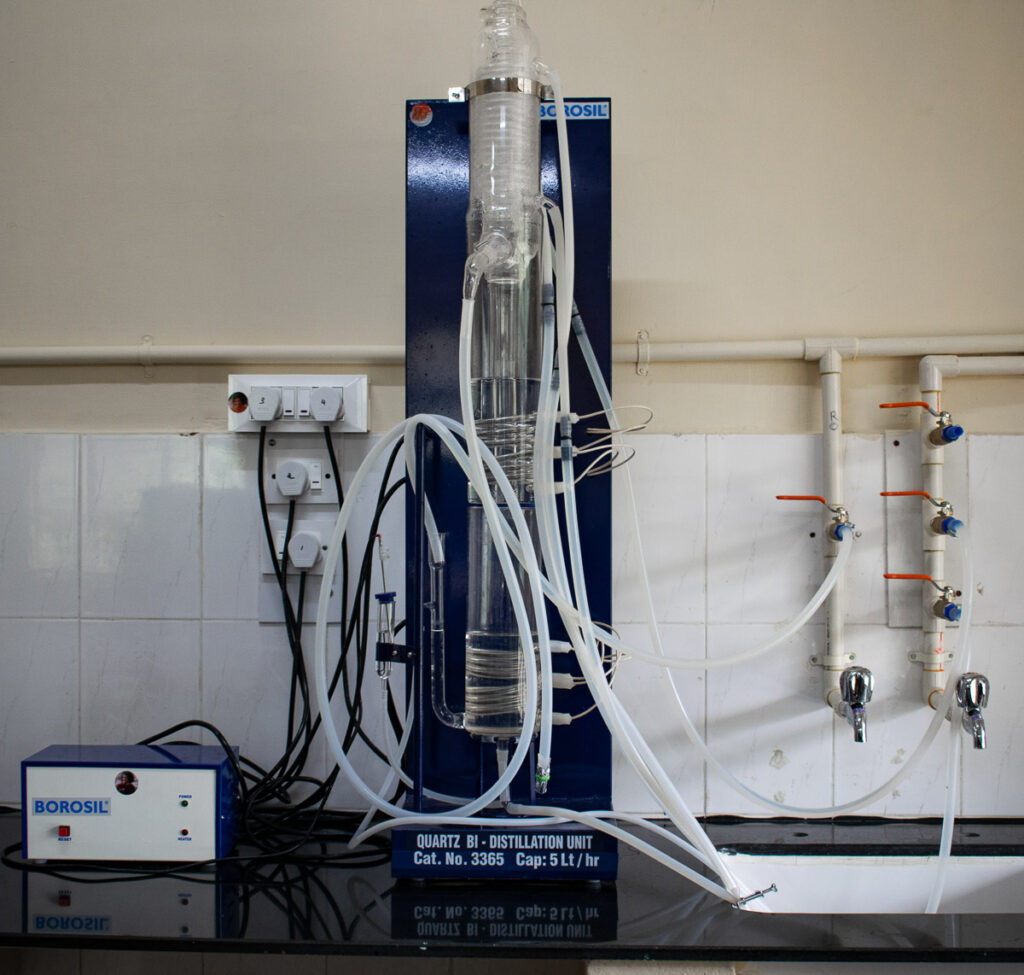 Features
Distilled water output capacity: 5L/h
Consumption of cooling water: 150 L/h
Distillate temperature: 65-75˚C
Purified water pH: 6.9-7
Capabilities
Collection of highly purified pyrogen-free double distilled water.
Upright Freezer
Vestfrost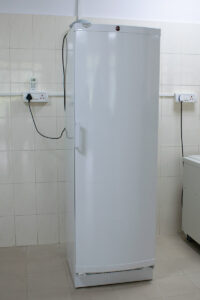 Features
Single Solid Door
Optional digital controller with display
8 shelf + drawers
Super-freeze function
High temperature alarm
Capacity: 344L
Capabilities
A -25˚C upright freezer with separate shelves and drawers for segregated storage of different biological and chemical samples.
Sample Concentrator
Stuart
Features
Fast, efficient sample concentration
Suitable for all tube configurations
Height of the sample concentrator gas reservoir is located on an adjustable stand for accurate height control
The gas delivery needles are available in either 76mm or 127mm lengths to suit various tube heights
Optional PTFE coating is available for corrosive solutions
Capabilities
Sample concentration
Enzyme analysis
Sample incubation & boiling
Wet washing
The Stuart sample concentrator is a fast and convenient way of concentrating multiple samples in a block heater at once. Utilising a simple nitrogen gas delivery system, the sample concentrator passes gas over the surface of the samples via stainless steel needles. This, in combination with the heat from the block heater below, produces ideal conditions for fast, efficient evaporation.
Probe Sonicator
Branson SonifierSFX 150c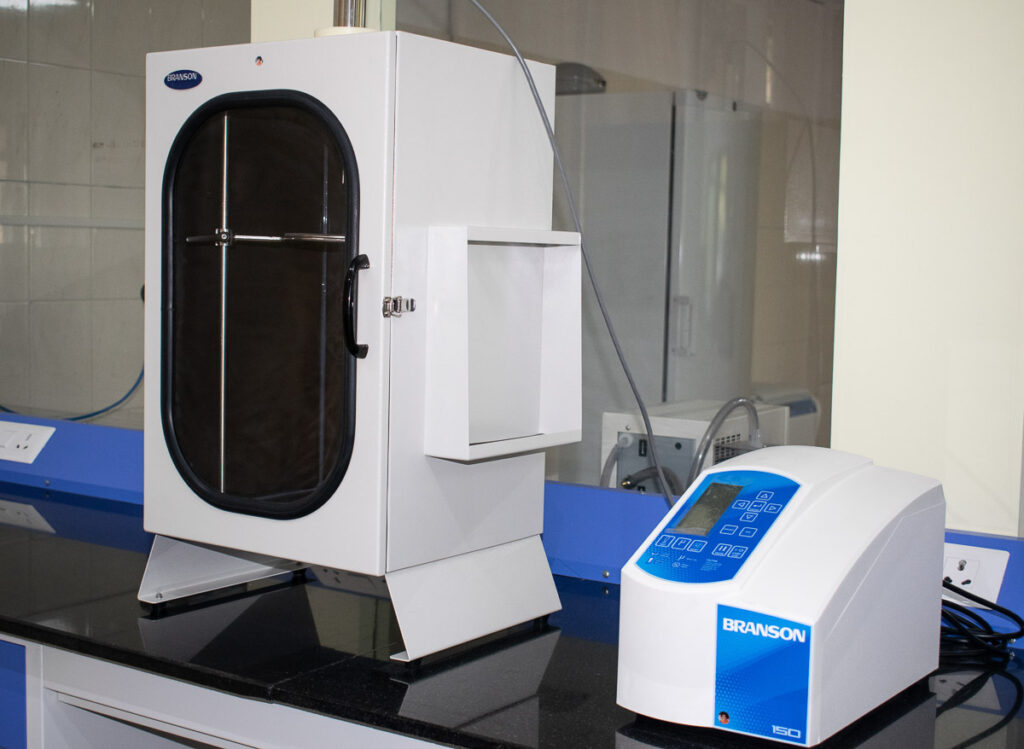 Features
Ergonomic handheld converter with contoured grip and LED indicator
Quiet operation at 40 kHz
Continuous or pulsed ultrasonics
Time and energy modes with energy pulsing
Experiment progress indicator
Capabilities
Cell Disruption & Lysis
Dispersal of Nanoparticles
Fine Mixing
Degassing
The probe sonicator is designed for low-volume applications. It is the only cell disruptor and homogeniser of its type that includes a handheld converter designed for ergonomic comfort and easy control to simplify and speed up experiments. The recessed push-button helps prevent unintended activation, while the LED indicator light lets you know when it is energised.
Digital Dry Bath
Labnet Dual Block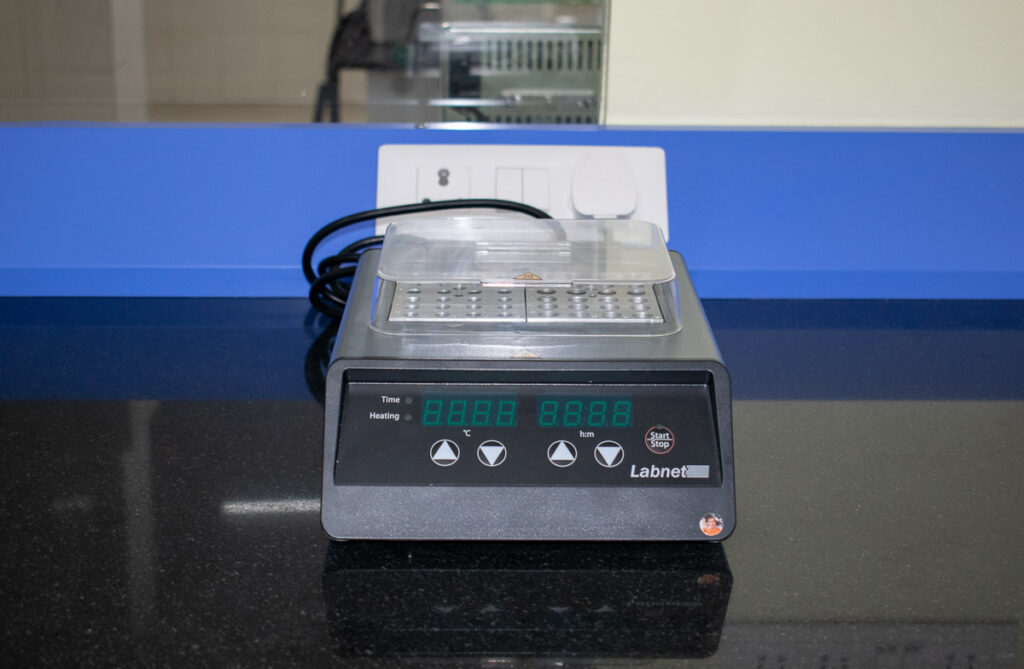 Features
Dual-heating block
Temperature range: ambient +5 ºC to 150 ºC
Temperature Uniformity: ±0.2ºC
Display increments: 0.1ºC/min
Timer from 1 min to 99 h 59 min
USB interface
Capabilities
HPLC & LC-MS sample preparation
Applications in clinical, molecular biology and other fields
Labnet digital dry bath is robust, versatile, and quality equipment suitable for advanced research applications. Labnet's integrated microprocessor provides precise and accurate control of temperature. Its high-quality, precision-engineered blocks provide excellent thermal contact. The result is accurate, reproducible, and ensures safe heating of samples.
Vacuum Concentrator
MiVac Duo, DUC – 23050-L00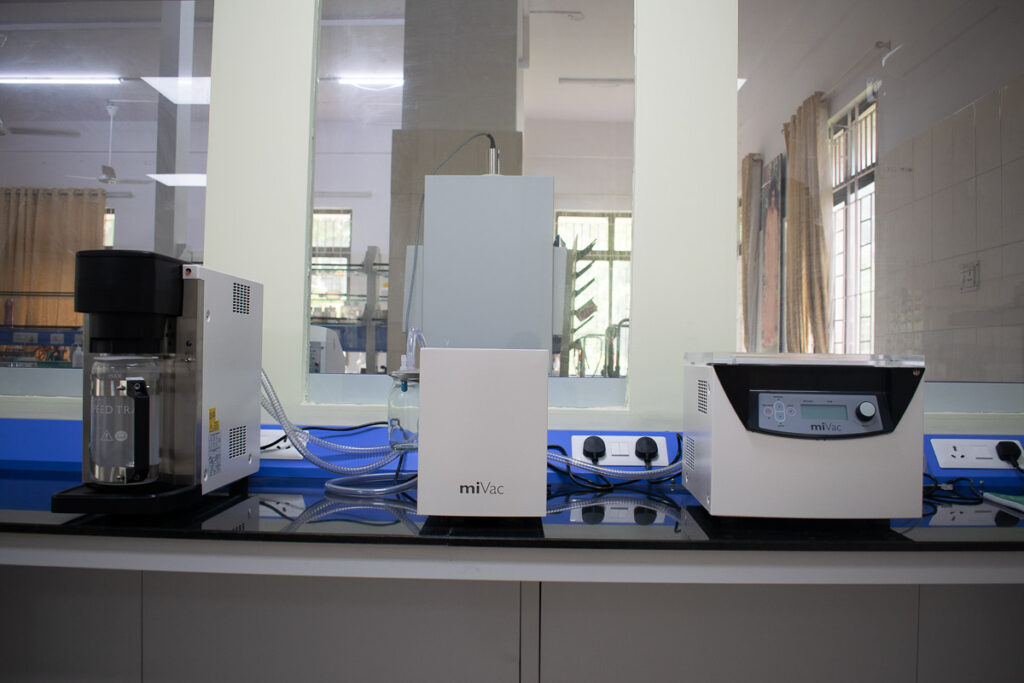 Features
Builin high-performance vacuum pump
Concentration chamber with electro-magnetic
drive for quiet, maintenance-free operation
Fixed-angle aluminium rotor for 1.5mL/2mL micro-centrifuge tubes
Clear, acrylic lid to monitor progress
Temperature range: 30º C – 80º C
Max g-force: 250
Fixed speed: 750 rpm
Timer up to 99 min
Fast evaporation
Environmentally friendly
Capabilities
Mass spectrometry sample preparation
Clinical & diagnostic testing
DNA concentration
Oligonucleotides and DNA purification
MiVac is a new range of centrifugal concentrators, featuring built-in special methods for removing organic solvents, water, and water mixtures from a variety of sample formats, including tubes, microplates, vials, and round-bottom flasks, thus improving performance, and optimising concentration time.
Stomacher Lab Blender
BagMixer®400 CC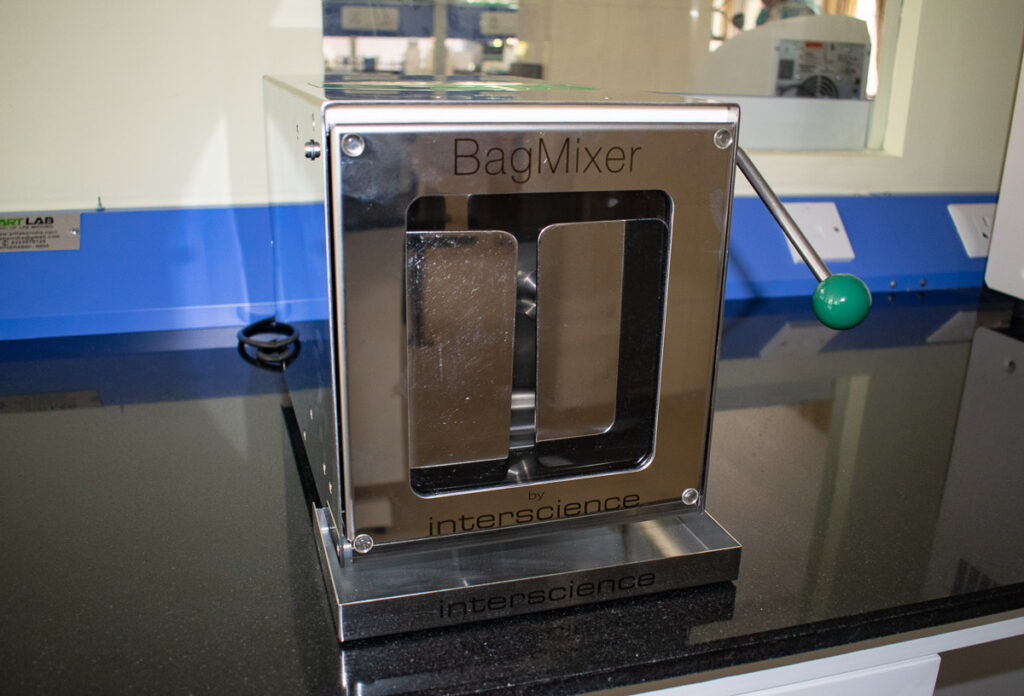 Features
Digital screen
Capacity: 50 to 400 mL
Leak-free Q-tight® system
270° opening door
Silent brushless motor
Blending power indicator
Blending speed – 4 to10 strokes per second
Adjustable blending power: up to 28 kg of pressure
Window-door
Security drip-tray
Removable and auto-clavable paddles
Click and Clean® system
Compact and ergonomic
Capabilities
Homogenises different biological samples
Provides sterile conditions during homogenising
Useful for microbiological examination of various biological samples
BagMixer® 400 CC® is an easy-to-use and powerful lab blender. It is adapted to all kinds of applications, with a guarantee of optimal bacterial extraction. It is a great tool for lab analyses, avoiding all risks of cross-contamination.
Spray Dryer
Technosearch Instruments
Features
Suitable for Aqueous / solvent feed
Evaporation Rate: 1L/h of water evaporation
Drying Temperature: Ambient to 280°C, accuracy +2°C in step of 0.1°C through Digital PID controller
Air Heater Capacity: 3.0kW
Blower Capacity: 80 Nm3/h with variable frequency drive, in steps of 0.1 Hz
Blower Motor: 0.25HP x 2800 rpm, three phase (Single phase 230V AC input & three phase 230V AC output)
Feed Pump Capacity: 1200mL/h with 3mm ID tube with variable speed control in step of 1mL/min capacity controlled through Microcontroller
Spray System Co-current – 0.7mm, two fluid spray nozzles
De-blocking system: Manual Spring Loaded
Hot Air Flow: Co-current
Capabilities
Quick drying of liquids is achieved by the application of hot gases which efficiently turn solutions into dry powders.
Virtually any feedstock that can be pumped — solutions, suspensions, slurries, melts, pastes, gels, can be spray dried
Spray drying produces powders of uniform particle size and ensures minimum flavour loss
Inorganic and organic products like pigments, corn starch and milk can be dried
Encapsulation of food aromas and volatile oils
Calciums / Carbonators / Aluminium Chloride, Zeolite, etc.
Miscellaneous polymers and resins for allied industries: Milk, milk derivatives, soybean products, tea, coffee, instant foods, baby foods, weaning foods, egg products, chocolate, etc. Palm / Orange / sandalwood/ groundnut / Cod liver oil, etc.
Encapsulated flavours or fragrances / perfumes: Mono-/ mixed spices, day-to-day body odours – Brut, Eu-de-cologne, Musk, Lavender, Rose, Sandal wood, etc.
Reactive/ disperse dyes for textile-dyeing and engineering pigments, optical whiteners, etc.
Quality Ceramics with special electro-mechanical properties for tiles, ceramic, ortho-dentistry, etc. Ready-to-make soft drinks /cocktails, etc. Specialty alloys, precious metals, etc.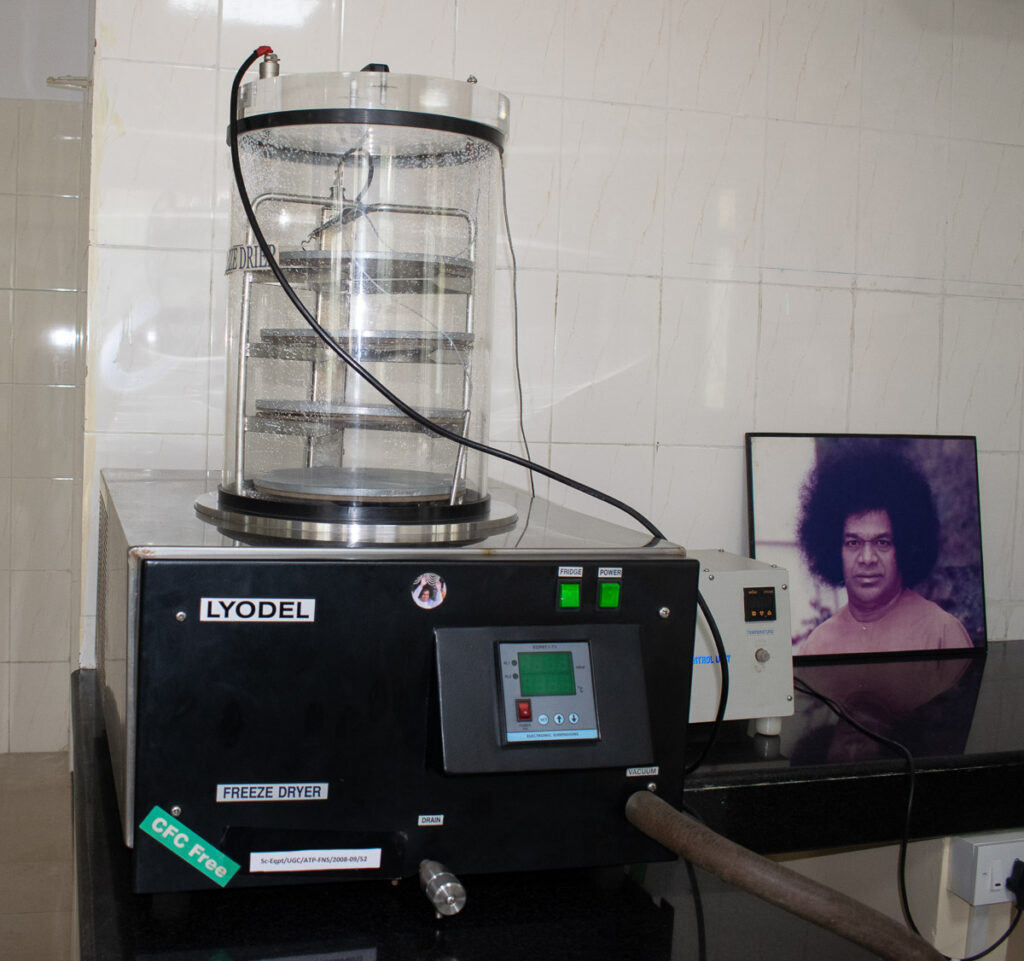 Features
Condenser with maximum ice capacity of 5 kg, temperature -55 (±5˚C) @ 20˚ ambient, volume of 7.2 L, and evaporation rate of 85-95 cc/h
Compressor (Danfoss Germany) with heat extraction rate of 180 kcal/h at -35˚C
Instrument has digital RTD temperature gauge, and digital Pirani vacuum gauge
Capabilities
The freeze drying process can preserve antibiotics, anticoagulants, antitoxins, enzymes, fungi, biological reagents, biological standards, blood fractions, vitamins, yeasts and ferments, and culture media.
The Lyodel model (Delvac) is a multipurpose freeze dryer. It is used for the lyophilisation of the bulk sample, using trays. The vertically positioned ice condenser, and bottom drain in the front, makes this bench top Lyodel model easy to use. The control panel has digital indication for both condenser temperature and vacuum pressure.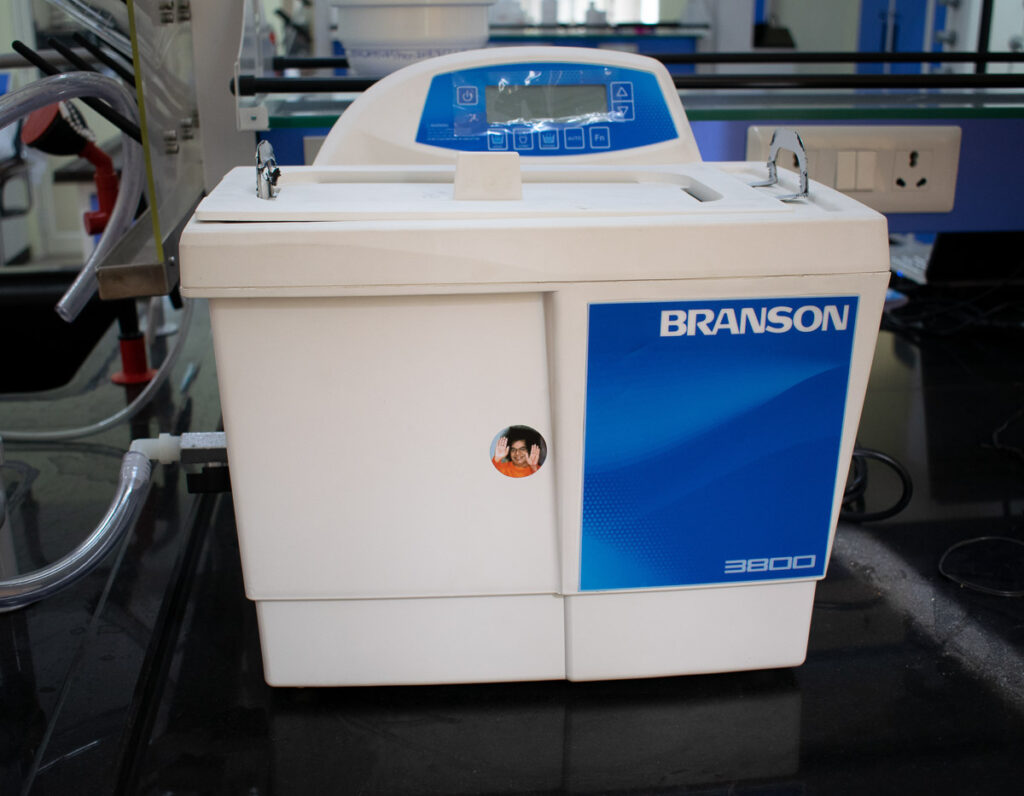 Features
Bath size 290 mm (11.5 in.) × 150 mm (6 in.) × 150 mm (6 in.)
Bath volume: 5.7L. Degassing can be set up to 99 min
Timer can be set to 99 minutes or run continuously
Heated cleaning – upto 69°C / 156.2°F
Self-adaptive technology
Fully Programmable
High/ low Power Control
Branson 100-916-335 Mesh Basket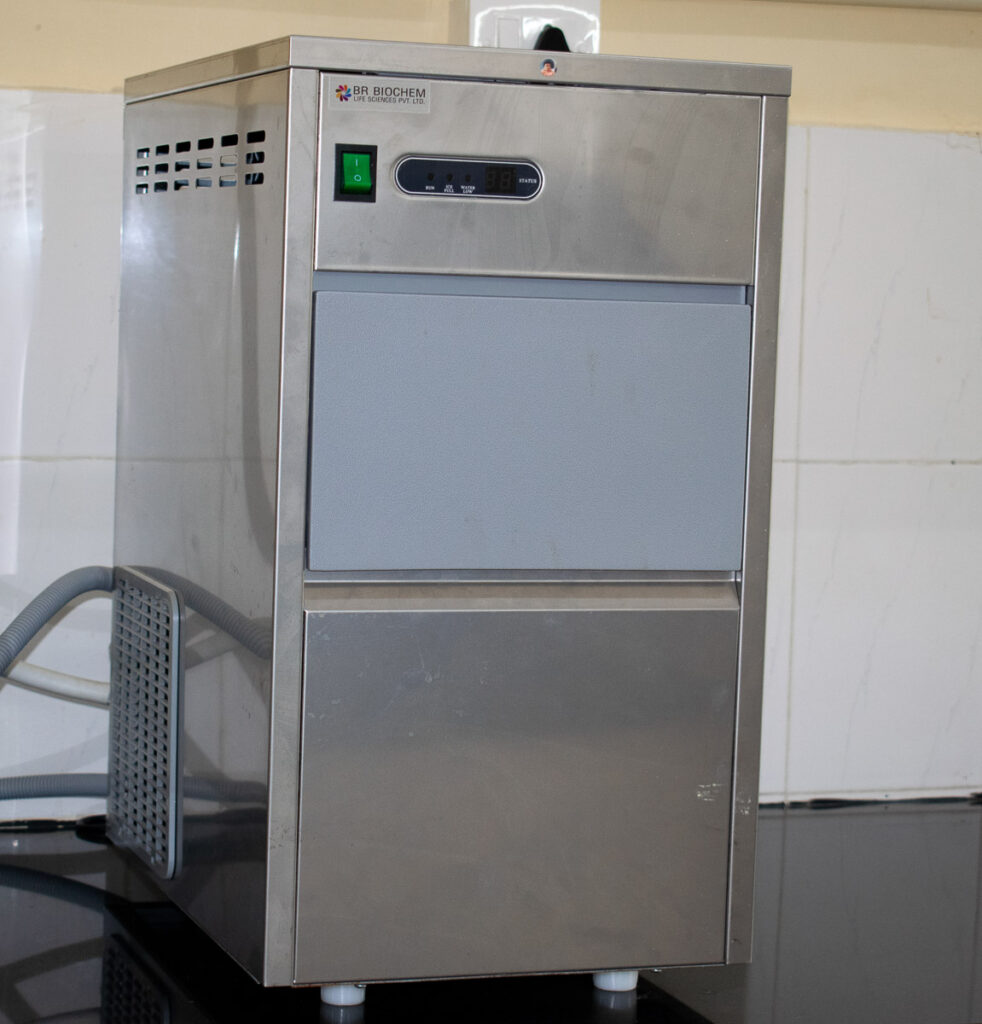 Features
Ice-making capacity: 20kg/24h
Ice Storage: 10kg
Air Cooling
Stainless Steel 304 Exterior
Adjustable Feet
Slide-Away Access Door
World-Famous Brand Compressor
Fully Automatic Controller
Improved Design For Higher Reliability
Micro-Analytical Balance
Radwag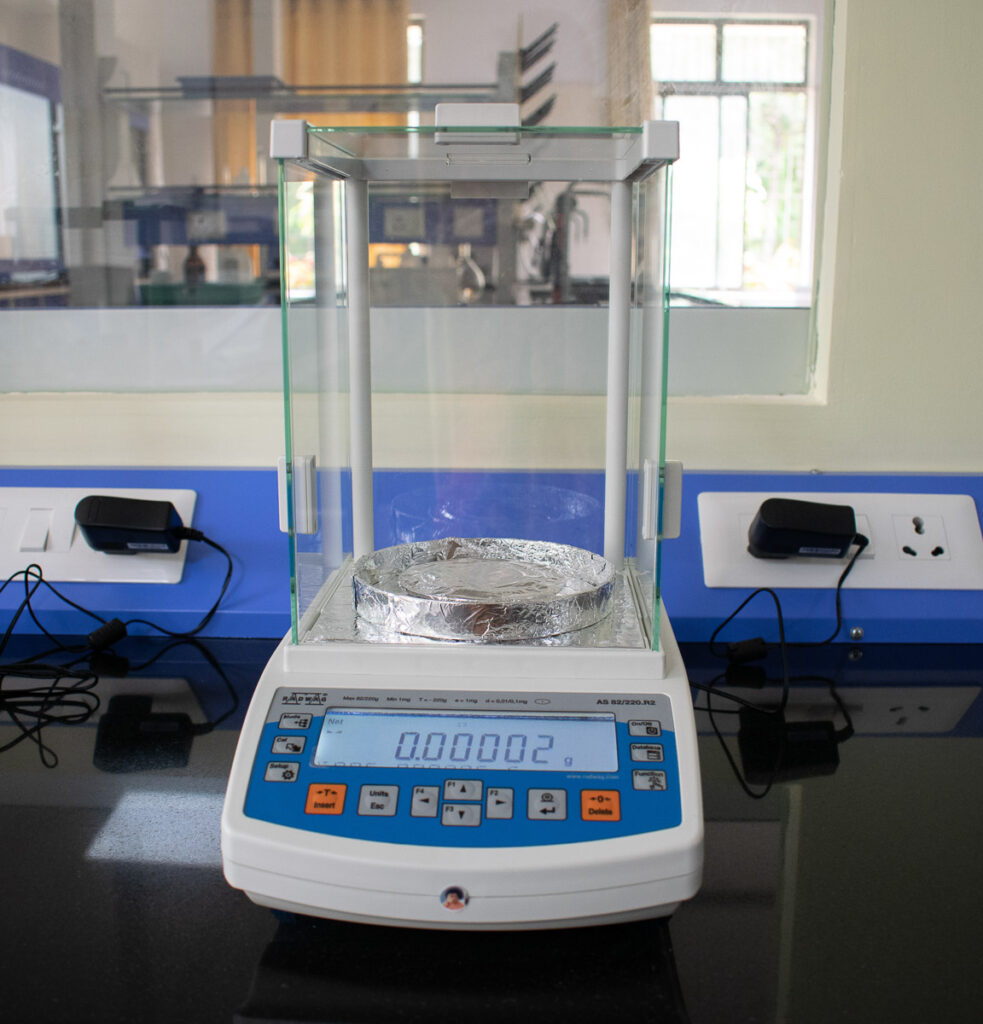 Features
Maximum capacity: 82/220 g
Minimum load: 1 mg
Readability [d]: 0.01/0.1 mg
Tare range: -220 g
Repeatability: 0.015 mg
Linearity: ± 0.06 mg
Sensitivity drift: 1 ppm/°C in temperature 10°C to 40°C
Minimum weight (USP): 30 mg
Minimum weight (U=1%, k=2): 3 mg
Stabilisation time: 6/3, 5s
Adjustment: internal (automatic)
Communication interface: 2×RS 232, USB-A, USB-B, Wireless Connection (optional)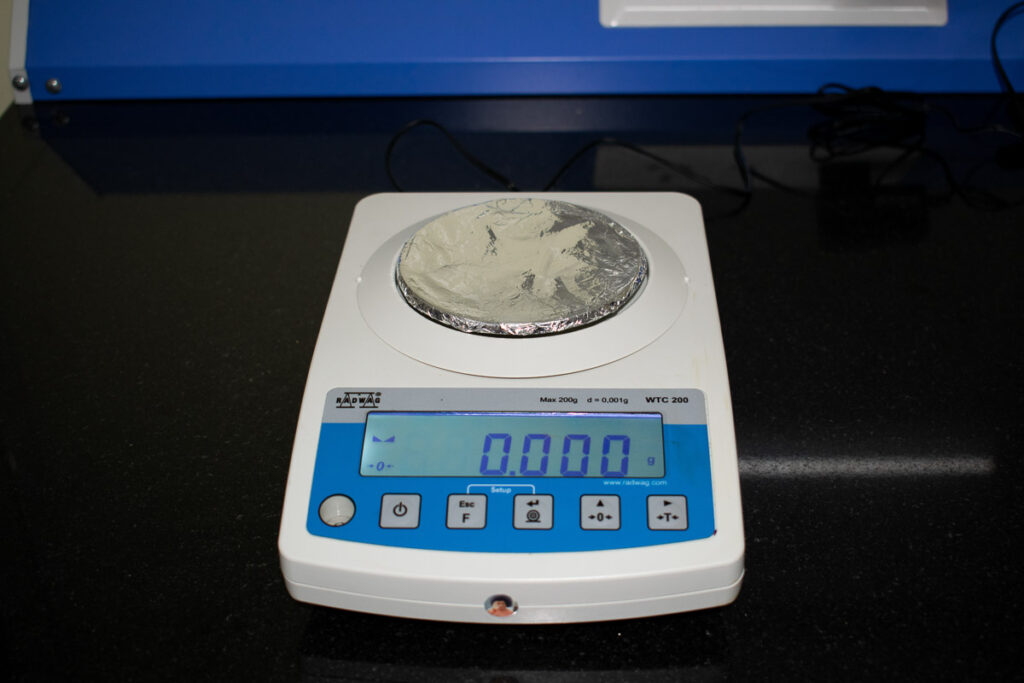 Features
Max. capacity: 220 g
Minimum load: 10 mg
Readability [d]: 0.1 mg
Tare range: -220 g
Repeatability: 0.1 mg
Linearity: ±0.2 mg
Stabilisation time: 3.5s
Pan Size: 100 mm
Model No: WTC 200
Maximum capacity [Max]: 200 g
Readability [d]: 0.001 g
Tare range: -200 g
Repeatability: 0.002 g
Linearity: ±0.004 g and stabilisation time: 2 sec
Orbital Shaker with Temperature Control
Newtronic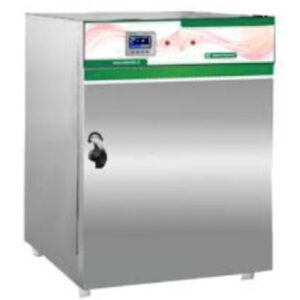 Features
Chamber Volume (Litres): 270
Platform Size mm: 745 x 490(15kg)
Internal Dimensions (H x W x D) mm: 450 x 900 x 670
External Dimensions (H x W x D) mm: 700 x 1380 x 1020
Temperature Range: 5ºC to 60ºC (Accuracy): ± 1ºC
Inner and outer Chamber S S 304
Touch-screen display
Universal Platform to accommodate interchangeable molded clamps of assorted sizes for different capacity of flasks: 100mL, 250mL, 500mL
PLC-based Temperature Controller
Variable speed from 50 rpm to 300 rpm
Shaking amplitude 25 mm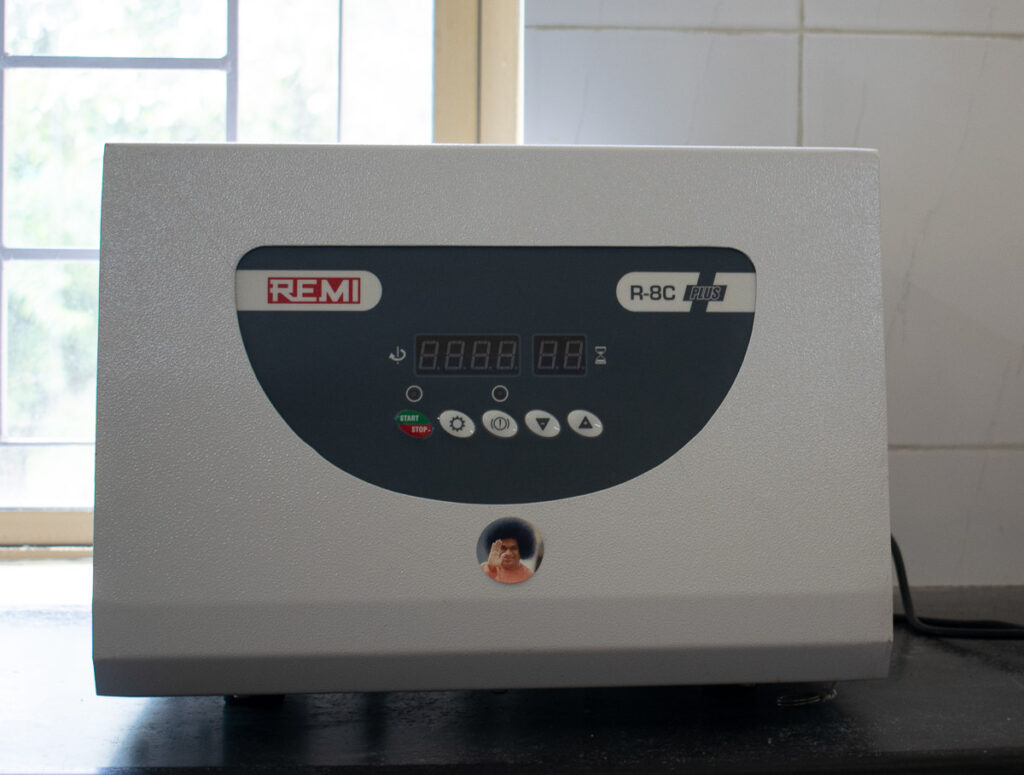 Features
With swing out rotor for 6×50 mL tubes
Model of rotor: ER S6 50
Max. speed: 6000 rpm with timer 0-99 min
Dimensions: 38 cm x 47 cm x 30 cm
Capabilities
Laboratory Centrifuge is suitable for routine sample analysis in biochemical and chemical applications. It is used for separation of fluids and solids from liquids, based on their density.
Hydraulic Pellet Press
PCI Analytics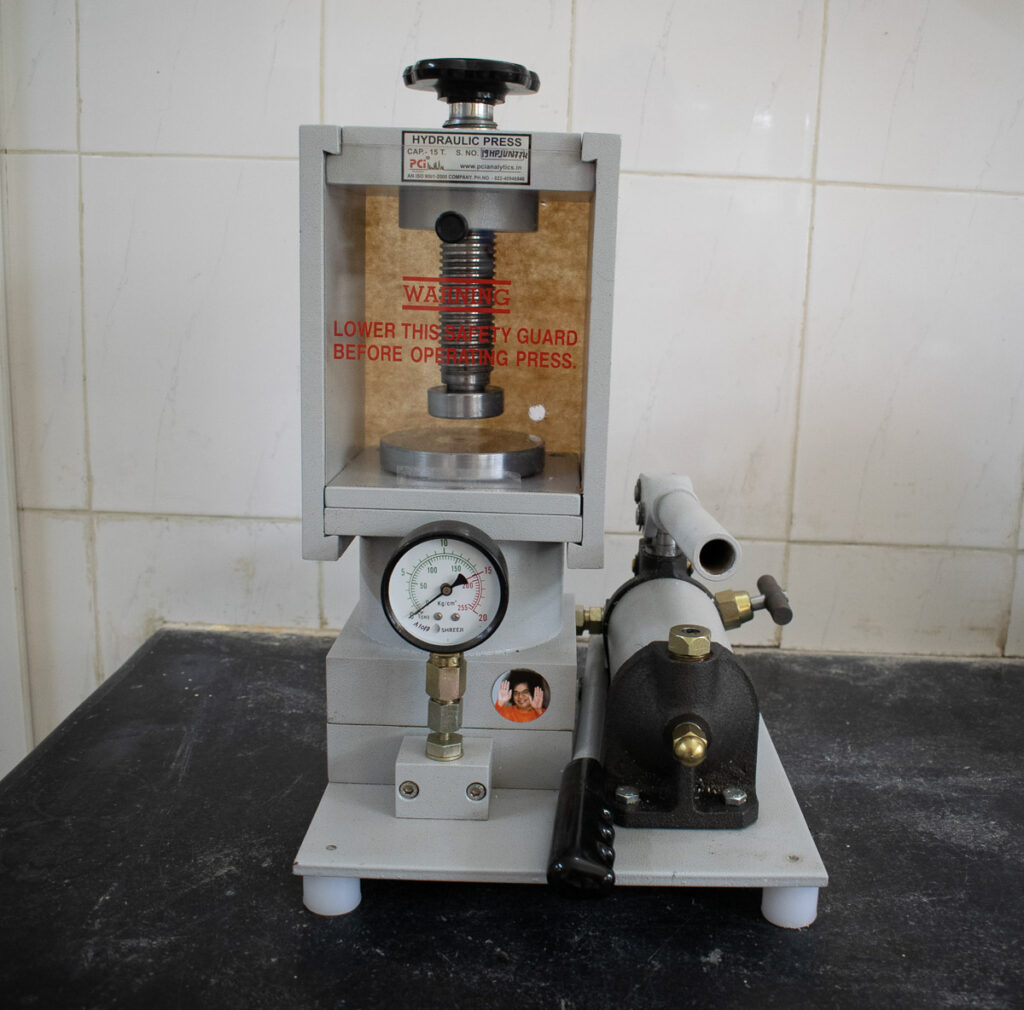 Features
15 ton hydraulic pellet press
Dimensions: 30cm x 27cm x 42.5cm
Overall weight: 50kg
Maximum permissible pressure: 15 ton
Maximum permissible holding time: 10 min
Size of die set: 13 mm
Hydraulic oil capacity: 400mL
Capabilities
Hydraulic pellet press is a compact, elegant, and robust hand-operated machine. It is used for compaction of pellets used for various applications such as XRF, FTIR, dielectric, density measurements, and so on.