Eight students including an alumnus from the SSSIHL have successfully passed the actuarial exams administered by the Casualty Actuarial Society (CAS), USA, as per the results announced by CAS in June 2023.
The CAS exams are considered amongst the most challenging in the Actuarial field and are well known for their level of difficulty. The success of these students is a great source of inspiration for other students and aspirants and a matter of great pride for the department and the Institute. It is indeed a rare accomplishment, as only a few universities around the world attain such levels of success.
Congratulations to the students for successfully passing:
MAS I (Modern Actuarial Statistics I): 1) Kasyap Sathya (II B.Sc.), 2) Saiprasanna G (II B.Sc.), 3) Sumanth Chebrolu (I M.Sc. Math), 4) Srinand N Hegde (I M.Sc. Math), 5) Hursh Gupta (II B.Sc.) and 6) Abhiishek Chugh (alumnus)
MAS II (Modern Actuarial Statistics II): 1) Sathya Sai Sri Charan 2) Arrnav Dutta and 3) Hursh Gupta all students of the II B.Sc. programme.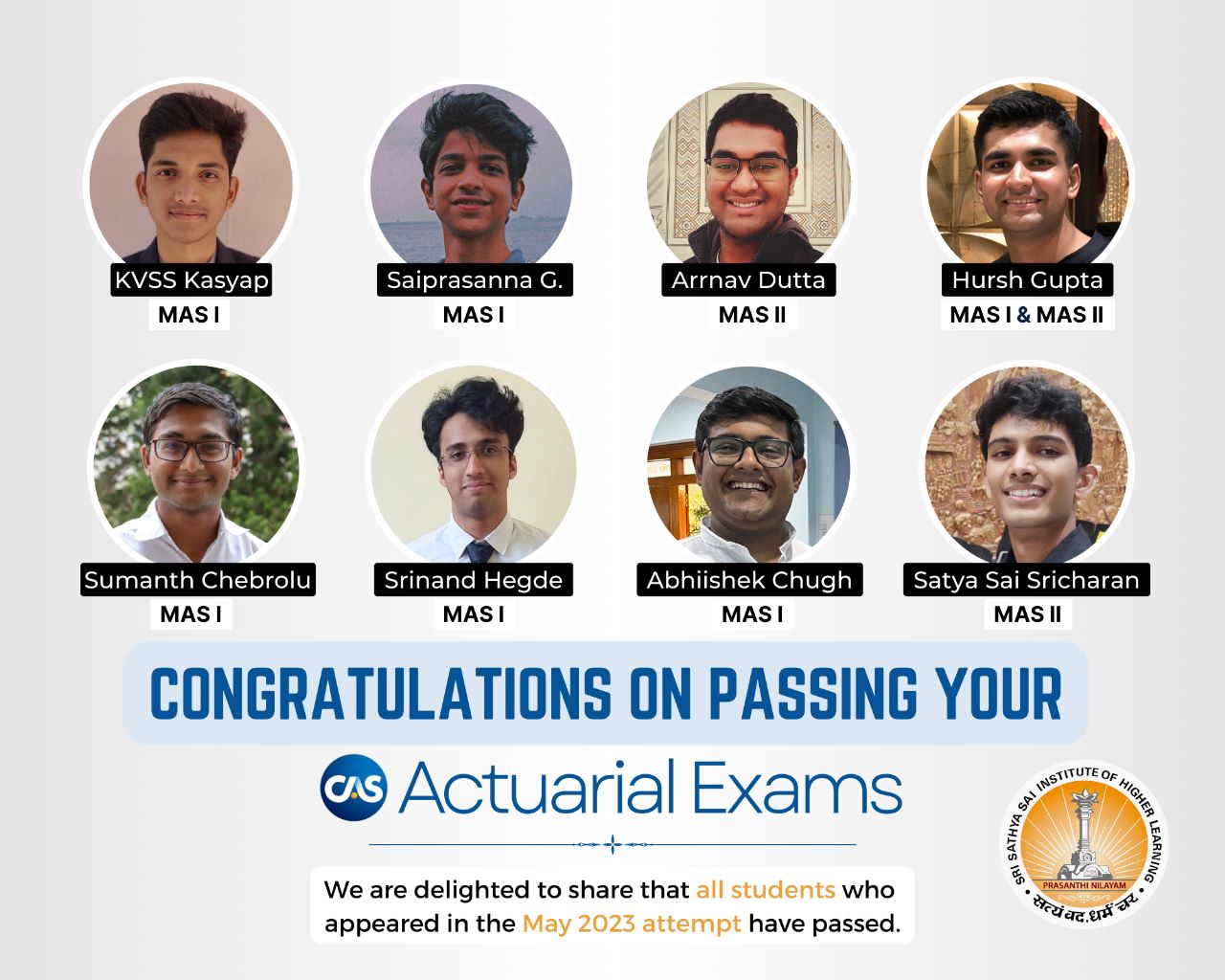 About SSSIHL Actuarial Data Science:
To date, 60+ students have successfully passed various actuarial exams, since the inception of the Actuarial Data Science programs in 2017 at SSSIHL.
In 2022, SSSIHL was the first Indian Higher Education Institution to have received the 2022 CAS University Award, since the inception of the CAS University Award Program in 2016. SSSIHL is also one of the first HEI, to award a Ph.D. in Actuarial Science in India.
SSSIHL has been offering Actuarial Data Science programs since 2017 and is actively involved in research specifically in the area of fraud detection. It has to its credit about 36 research papers/book chapters, 27 dissertations in the non-life actuarial stream, and 2 PhDs awarded in the area of actuarial data science.
About CAS:
The Casualty Actuarial Society (CAS) is a leading international organization for credentialing and professional education. Founded in 1914, the CAS is the world's only actuarial organization focused exclusively on property and casualty risks and serves over 9,100 members worldwide. CAS members are experts in property and casualty insurance, reinsurance, finance, risk management, and enterprise risk management. Professionals educated by the CAS empower businesses and government to make well-informed strategic, financial, and operational decisions.
About SOA
The Society of Actuaries is the largest professional society for actuaries in the world with 31,000 members and 36,000 candidates (those working towards becoming an actuary) in more than 100 countries.
For over a century, SOA has advanced actuaries as leaders in measuring and managing risk to improve financial outcomes for individuals, organizations, and the public. That's taken the form of cutting-edge research, continuing education, and the fostering of a community of peers supporting each other.
About IAI
The Institute of Actuaries of India (IAI) is a statutory body established by an Act of Parliament, viz. The Actuaries Act, 2006 for regulating the profession of Actuaries in India. The IAI has over 8218 members of which 7409 are students, 569 Fellow, and 231 Associates.