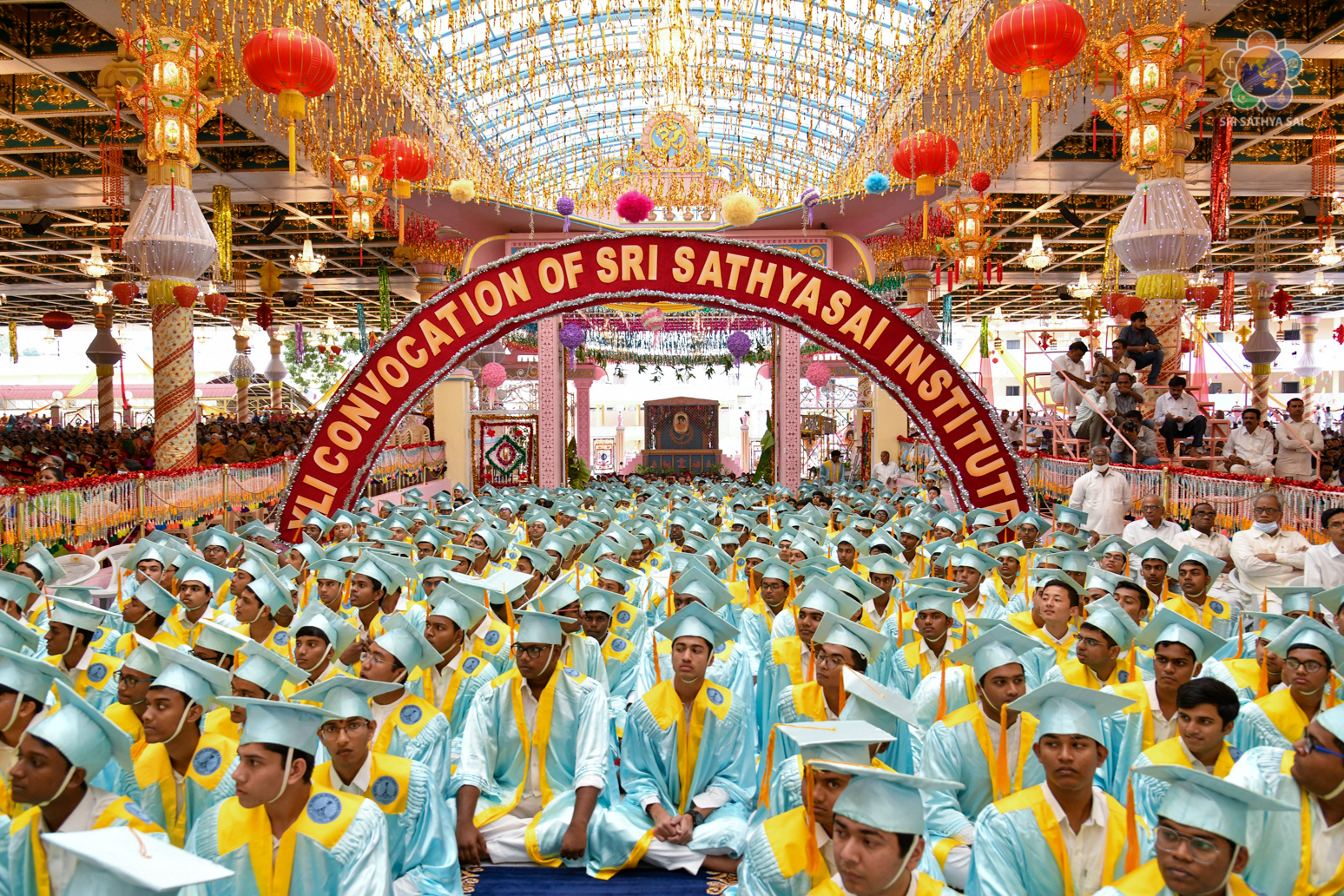 SSSIHL Annual Convocation – 2022
I hereby solemnly declare and promise that, I will in my daily life and conversation, and in thought, word and deed, conduct myself as befits a member of the Sri Sathya Sai Institute of Higher Learning. I will to the utmost of my capacity and opportunity, support the cause of sound learning, humanity, morality and spirituality. As far as lies in me, I shall uphold and advance the social and indeed all round welfare of my countrymen and fellowmen.
---
Convocation Oath
Sri Sathya Sai Institute of Higher Learning
Sri Sathya Sai Institute of Higher Learning (SSSIHL) (Deemed to be University) held its 41st Annual Convocation in Sai Kulwant Hall, Prasanthi Nilayam, Andhra Pradesh, in the Divine Presence on 22 November 2022 at 10:30 a.m.
The grand ceremony saw the Honourable Chancellor, Shri K Chakravarthi, IAS (Retd.), admit candidates to their degrees.
SSSIHL was honoured to have Shri Somanath S, a Distinguished Scientist, Secretary, Department of Space, and Chairman, ISRO, as the chief guest for the event.
The event began at 10:30 a.m. when the Chief Guest along with the Chancellor, Vice-Chancellor, Registrar, Controller of Examinations, Members of the Sri Sathya Sai Institute of Higher Learning Public Charitable Trust (PCT), the Board of Management, Directors, Deans, and Heads of Departments, entered the Sai Kulwant Hall in Prasanthi Nilayam with the Registrar of the University carrying the ceremonial mace.
Following the invocatory Veda chanting from Taittriya Upanishad, on the request of the Vice-Chancellor, Prof. (Dr.) C B Sanjeevi, the Convocation was declared open in the Divine voice of the Revered Founder Chancellor Bhagawan Sri Sathya Sai Baba.
The programme included speeches by the Vice-Chancellor, the Chief Guest and the Revered Founder Chancellor (video broadcast of a previous Convocation Address).
View pictures here.
Ph.D. Awardees 2022
Sai Krishna S B – Biosciences
A Systems Biology Approach to aid Biomarker Discovery and elucidate the mechanisms in Rheumatoid Arthritis (RA)
Ashwin Ashok Naik – Biosciences
Systems analysis of Avascular Necrosis of Femoral Head shows involvement of deregulated pathways and iron metabolism in pathophysiology: Potential biomarkers and therapeutic targets
Sai Kiran M – Chemistry
Groundwater defluoridation and wastewater dye remediation by shape engineered functionalised polyvinyl alcohol based adsorbents
Prashant Rai – Chemistry
Design and synthesis of Spirobibenzopyrans, Benzopyrylium salts and Myo-inositol derivatives as potent biological agents and structure-activity relationship of the non-linear optical response of Chalcone derivatives
Sai Prasad Nayak – Chemistry
Green Nanocomposites as Electrocatalysts for Detection of Biomolecules and Fuel Cell Applications
Ranendra Pratap Biswal – Chemistry
Metabolic Profiling of Ganoderma, Neem Toddy and Averrhoa carambola Fruit Extracts Using UHPLC-ESI-QTOF-MS
Sai Shyam – Computer Science
Robust Watermarking Methods using Discrete Wavelet Transform and Deep Convolutional Neural Networks
Srikanth Khanna – Computer Science
Novel Applications of Fractional Derivatives in Image Pre-processing and Segmentation
Ashrita C Haldipur – Food and Nutritional Sciences
Macronutrient and phytochemical content, metabolomic phenolic profile, in vitro and in silico antidiabetic potential and in vivo glycemic response of traditional Indian pigmented rice varieties
G Aditya – Management
Three Essays in Behavioural Finance: Studies on Investor Resilience, Managerial Conviction, and Corporate Attention Seeking
Saikrishnan S – Management
Viewing consumer decision making in health insurance markets through the lens of behavioral economics
U Pranav – Management
A Study of Corporate Social Responsibility in Secondary Education in India
Bishal Chhetri – Mathematics
Within-Host, Between-Host and Multiscale Mathematical Modeling Studies with reference to COVID-19 Pandemic
Rahul Raju Pattar – Mathematics
Global Well-Posedness and Regularity Issues Associated with Singular Hyperbolic Cauchy Problems
Ananth V S – Mathematics
Optimal Control Studies for Additional food provided Prey-Predator Systems involving Holling Type III and Type IV Functional Responses
Lavanya Rathi P – Physics
Investigation of Tin-doped Magnetite Nanoparticles and Nanocomposite Films for Dielectric and Microwave Shielding Applications
K Rajasimha – Physics
Facile Fabrication Methods for an Integrated Lab-on-a-Chip using Femtosecond Laser Micromachining
Gold Medalists 2022
Sandeep Roy (Bachelor of Arts)
Panditi Bhagawan (Bachelor of Science (Hons.) in Mathematics)
Ujjal Chettri (Bachelor of Science (Hons.) in Physics)
Dattatreya Parija (Bachelor of Science (Hons.) in Chemistry)
Somanath Shyam Sundar (Bachelor of Science (Hons.) in Biosciences)
Anusha Chappa (Bachelor of Science in Food and Nutritional Sciences)
Kamath Sudeep Sudarshan (Bachelor of Commerce (Hons.))
Kotra Ravi Teja (Bachelor of Business Administration)
Thakur Rohit Singh (Master of Arts in Economics)
Palacharla Sahithi Chowdary (Master of Science in Mathematics)
Bharath Chandran T (Master of Science in Chemistry)
Bibhuprada Acharya (Master of Science in Physics)
Immadi Siva Ratnakar (Master of Science in Mathematics)
Madamsetty Sai Veena (Master of Science in Food and Nutritional Sciences)
Krishna Kanth Gunta (Master of Science in Data Science and Computing)
Sri Naga Sai Vasanthi Guggilam (Bachelor of Education)
Kodam Akhil (Master of Business Administration)
Rishi Sridhar Rao (Master of Technology in Computer Science)
All Rounder Gold Medalists 2022
Prajoyli Sharma (M.B.A.)
Aravind Narayanan (B.Com. (Hons.))
Desetti Sai Nandan (M.Tech.(CS))
Jagarajupalli Pavan Kumar Reddy (B.B.A.)
Annual Convocation Drama
Each year on the day of the Annual convocation, students of Sri Sathya Sai Institute of Higher Learning put together a drama presentation in the Divine Presence. This year, a drama, titled Bangaru! – The Call of Love was offered at thy lotus feet.
---
Related Posts